Weatherproofing your house is an important way to keep your home safe and protected for years to come. Weatherproofing also can help reduce your utility costs and extend the lifespan of your windows and doors.
You may think that you only need to weatherproof your house for winter. However, it's also important to ensure your home is ready to withstand all the seasons, including summer, spring, and fall. This article will explore some effective and easy ways to weatherproof your house.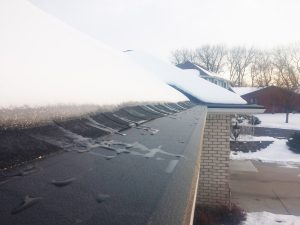 Helmet Heat can help your gutters stay protected during the long winter months.
Weatherproofing For Winter
Winter is one of the most important times to look into weatherproofing house ideas. Snow, sleet, rain, and blizzards are all common occurrences during Wisconsin winters. These can wreak havoc on your home, so it's important to look into how to weatherproof your home efficiently.
Depending on where you live and how severe your winters are, there are various ideas that you can utilize in order to weatherproof your home for winter. Some of the best ways to create a weatherproof house for winter include:
Insulate Your Home
Insulating your home is one of the most effective ways to create a weatherproof home. Cold air may be seeping through your windows, leading to increased utility costs and the potential for damage. Poor insulation is one of the leading causes of increased energy bills and issues with weather as well.
Installing Asher's energy-efficient windows to reduce drafts can help you improve your insulation and protect your home. You can also use caulking or weather stripping to seal off any cracks and keep out any cold winter air or excess snow or ice.
Upgrade Exterior Doors
Another way to weatherproof your home is by replacing or upgrading your exterior doors. If you have an older home or simply haven't replaced your doors in a while, this could be contributing to higher utility costs or other issues for your home.
Asher's weather-resistant storm doors provide multiple benefits to help weatherproof your home, including:
Thick door frames
Tempered glass
Fade-resistant finish
Increased energy efficiency
Bolstered home security
Protect Roof and Gutters From Ice and Snow
Ice dams, which are a buildup of ice and water in your gutters, stop water or debris from flowing off your roof. Unfortunately, this can cause damage over time, such as:
Interior water stains
Moisture buildup
Leaks in the roof
Damages to gutters or shingles
However, investing in Asher's Gutter Helmet and Helmet Heat gutter protection can ensure that your roof and gutters stay protected from ice dams. Our gutters divert away 33% more water than traditional systems. Also, our Helmet Heat will protect your home for the long run, making our gutters a great investment for the intense Midwestern winters.
Winter is one of the best times to invest in new weatherproofed windows to help insulate and protect your home for the colder months.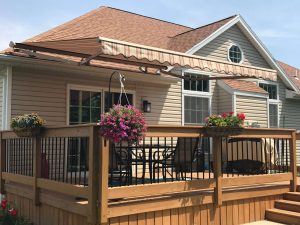 Weatherproofing House For Spring And Summer
Spring and summer can also cause potential damage to your home if you don't take the proper precautions. While you don't have to worry about the cold air and snow anymore, spring and summer bring intense heat, long rainy seasons, and windy weather.
Weatherproofing your home for spring and summer usually includes conducting an energy audit of where your home may be losing energy due to heat or drafts. From here, you can see what areas of your home need updating. However, some great tips for weatherproofing your house for these seasons include:
Maintain Cooling Efficiency
The heat can drain your utility bills just as quickly as the cold can. If your home is struggling to stay cool and your AC unit is running overtime, this can quickly drain your utilities and energy. In order to maintain cooling efficiency in your home, you can:
Install a programmable thermostat
Get thick, blackout curtains for sunny days
Fix any leaks around windows or doors
Look into energy-efficient lightbulbs that don't give off as much heat as incandescent ones
Enhance Ventilation
Ventilation may also be the culprit of your home having issues with heat or drafts in the summer or spring. If your ventilation system isn't up-to-date, this may be causing your HVAC unit to run overtime trying to cool your home down. This can lead to increased heat and utility bills.
In order to enhance your ventilation, make sure to clear out anything that may be blocking your vents. It may also be worth looking into your HVAC unit to see if it needs to be updated or replaced, as this can also cause issues with properly ventilating your home.
Protect Roof and Gutters From Hail Storms
During the spring and summer, hailstorms can occur more often than you may think. This can damage your roof and gutters, especially if your home is unprepared.
Helmet Heat can work wonders in these warmer months as well. No matter when your home may experience hail storms, our systems can make sure that your roof and gutters stay protected for years to come. Our self-regulating heating cable systems ensure that your home combats hail quickly.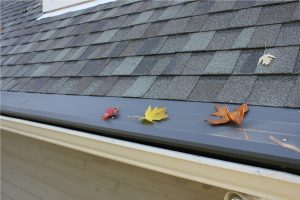 Our Gutter Helmet system is the #1 gutter guard company that can help protect your home. 
Weatherproofing Home For Fall
While fall brings beautiful leaves and cooler weather, it is also prone to ice and intense gusts of wind. Fall also means that winter is right around the corner, meaning that it's a great time to make sure your home gets weatherproofed in time for the even colder weather.
Weatherproofing your house for fall often includes checking over your roof, windows, and siding for any potential damage before the winter comes. Also, some great ways to ensure that your home stays warm and protected from the cold and gusty fall weather include:
Maintain Gutters and Downspouts
Keeping your gutters and downspouts clear and clean in the fall is a great way to ensure your home stays weatherproofed. Our seamless gutters and gutter guards mean that you won't have to clean your gutters ever again.
Our downspouts also divert away twice as much water than traditional systems do. This helps keep your home safe and protected from any buildup, debris, or other issues with your gutters and downspouts.
Seal Cracks and Gaps
Cracks and gaps in your doors, windows, and molding may cause issues with heat loss or air seeping in or out. This can create issues with your home losing energy and allowing the elements inside.
You can look into getting weather stripping or even creating your own door jambs with homemade materials. For example, you can use a towel to cover up cracks until you can invest in another way to keep your home weatherproofed from the elements.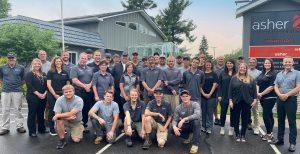 Asher Has Your Western Wisconsin Weatherproofing Home Solutions
If you're looking to weatherproof your house, Asher Lasting Exteriors is here to help. We know just how crazy Midwestern winters and other seasons can get, meaning that we're committed to making sure that your home stays protected for the long run.
Our Gutter Helmet and Helmet Heat gutter protection options ensure that your gutters and downspouts stay functional during any season. You won't have to worry about ice dams or other debris buildup. Get in touch with us today, and we will work with you on weatherproofing your house so that you won't have to worry about the elements.