Properly maintaining your home throughout the year is important for overall upkeep, safety, and functionality. Creating a home maintenance plan can help you stay organized during every season of the year while ensuring your home looks its best for years to come. 
A home maintenance plan should include both interior and exterior repairs, inspections, and cleanings. This way, you can make sure that potentially dangerous or large issues don't sneak up on you. Read on to learn more about developing your own seasonal home maintenance checklist.
Ensuring that your gutter system is up-to-date and functional is an important part of regular home maintenance.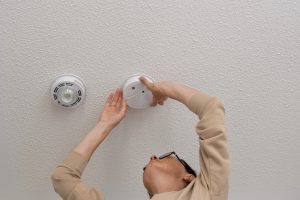 Monthly Home Maintenance Checklist
Developing a monthly home maintenance checklist will help you prevent larger issues in the long run. It also ensures you maintain your home value year-round, no matter the season. Monthly maintenance tasks can usually be done by yourself, meaning you won't have to worry about spending too much time or money doing these tasks.
Some of the most important home maintenance tasks to look into each month include:
Testing all smoke detectors and carbon monoxide alarms
Checking your water softener and heater
Cleaning out your garbage disposal
Inspecting HVAC air filters
Checking all outlets and electrical cords to ensure they are working properly and don't have too much wear
Inspecting your bathroom and kitchen for any leaks, water damage, or clogged pipes
Setting aside a day each month to look into these tasks can help you stay organized and on top of your house maintenance.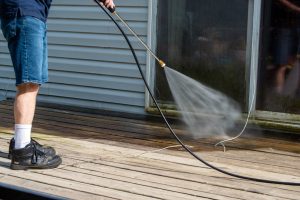 Spring Home Maintenance Checklist
Winters can be harsh on your home, especially if you live in an area like the Midwest. A spring home maintenance checklist can help fix any issues the cold and snowy weather may have caused, such as clogged gutters or a damaged roof. Spring maintenance home care tips also help prepare your home for the warmer weather that summer will bring.
Some tasks that should be on your spring cleaning and maintenance checklist include:
Inspecting your roof for any leaks or damage
Cleaning your gutters and downspouts
Installing Gutter Guard for easier gutter upkeep throughout the year
Repairing any cracks or chips in your driveway or walkway
Checking seals around doors and windows
Washing your home's siding, windows, and deck/porch
Inspecting your septic tank and sump pump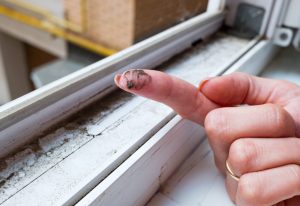 Replacing your windows during the spring is a great time to ensure the safety and longevity of your home.
Summer Home Maintenance Checklist
While you may want to be lounging on the lake or basking in the warm sun during the summer months, it's still important to take some time to complete a summer home maintenance checklist. The heat and storms of this season can cause issues with your home's irrigation system, patio, and windows, leading to potentially larger issues down the line.
Completing any exterior home maintenance is ideal during the warmer months, so it's important to consult any professionals during this time as well. Some essential tasks to include on your summer maintenance checklist are:
Cleaning your windows and window panes
Inspecting your deck and patio for any damage
Testing your home's sprinkler system
Cleaning and organizing your garage or shed
Inspecting your dryer vent
Cleaning your kitchen's exhaust fan filters
Checking your foundation in preparation for the colder months
Doing some interior deep cleaning, like your fridge or cabinets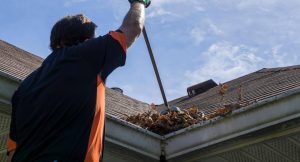 Fall Home Maintenance Checklist
The fall months are a critical time for home maintenance. Autumn helps you prepare your home for the colder months ahead, ensuring everything is in working order before the ice and snow set in. Completing a fall home maintenance checklist can also help you enjoy a cozy and efficient home during winter.
During the fall, it's important to:
Rake leaves and clear the yard of debris
Check your fireplace and heating system for any damage
Clean and inspect your gutters in preparation for more precipitation
Inspect your home for anything that may cause heat to leak out, such as drafts or issues with caulking
Inspect insulation
Check on your water valves and faucets
Inspect your water heater for any leaks
Clean your dryer vent
Ensure your HVAC system is working properly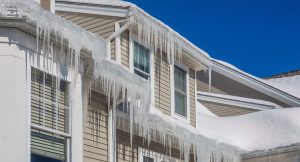 Replacing drafty doors and windows before the winter months can help you stay energy efficient and warm. 
Winter Home Maintenance Checklist
Preparing your home for winter is an imperative step in creating a home maintenance checklist by month. The harsh elements during these colder months can cause or exacerbate many issues in a home, such as frozen pipes and improper ventilation. Also, ice dams can wreak havoc on your home's roof and gutter system, which is why installing safeguards like Helmet Heat can help prevent damage.
Completing a winter house maintenance checklist can protect your home from weather-related damage. Your homeowner's maintenance checklist for the colder months should include the following tasks:
Insulating pipes to prevent freezing
Checking the roof for ice dams and installing Helmet Heat
Covering your air conditioning unit
Inspecting your snowblower and other snow removal equipment
Cleaning your drains and garbage disposal
Inspecting your foundation for any open vents or other insulation issues
What Is The Most Important Home Maintenance Task To Do Annually?
While a seasonal home maintenance schedule is imperative, there are other annual tasks that should not be neglected. An annual home maintenance checklist should include:
Cleaning and inspecting your septic tank
Checking your fire extinguisher
Deep cleaning several appliance features, such as refrigerator coils and exhaust fans or vents
Inspecting your hot water heater
Ensuring your windows and doors are working efficiently
Inspecting your home's valves
Looking at heating ducts
Sealing grout
Inspecting for termites or other foundational issues
Replacing your home's windows and doors can ensure eco-friendly energy efficiency and update your home's look and feel.
Home Care Tips To Keep Up With Annual Home Maintenance
While creating your own home maintenance plan may seem daunting, there are many tips that can help you not feel overwhelmed. For example, creating a home maintenance calendar helps you keep track of everything you need to do and keep it organized. You can also start a budget for any potentially costly repairs that these maintenance plans may necessitate. This way, you won't feel blindsided by any upcoming costs.
Ongoing home maintenance is a continual investment for you and your home. It helps ensure that you and your family stay comfortable, safe, and within your budget when problems arise. Professional inspections and repair companies can also take a lot of the guesswork or confusion out of your plan as well.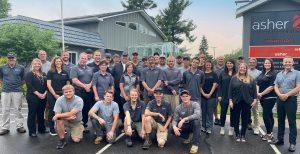 Asher: Western Wisconsin's Exterior Home Maintenance Experts
Creating a home maintenance plan helps keep your home safe throughout all seasons of the year. If you find yourself in need of replacing your windows, doors, or gutter systems during one of your monthly checkups, Asher Lasting Exteriors is here to help. Our Helmet Heat helps keep ice dams away, and our seamless rain gutters divert 33% more water away from your own compared to traditional systems.
For assistance with preparing your home for any of the seasons, get in touch with our skilled team today. We only work with the best systems to ensure that you get the service you deserve.