More and more people are looking to incorporate energy-efficient solutions to make their home more sustainable. Investing in green home improvements not only helps make your home more eco-friendly, but these projects can even improve your home's overall value and appearance. 
There are many ways to incorporate environmentally friendly improvements to your home. While some projects require a higher upfront cost, the energy and money savings in the long run easily pay themselves off. Here are some of the best green home improvements you can add to your own home.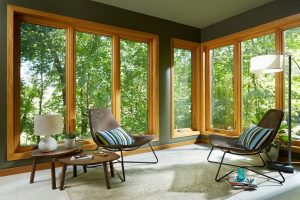 Asher's energy-efficient doors can help make your home beautiful and more eco-friendly. 
Energy-Efficient Windows: The Gateway to a Greener Home
Energy-efficient windows are a great sustainable home improvement for a more eco-friendly home. The type of windows you have drastically affects how well your home's heating and cooling works. For example, investing in dual-pane windows can help:
Improve your energy bill
Provide protection and insulation from the elements or weather
Soundproof your home better
These windows have a spacer placed between the two panes of glass. Then, a gas – such as argon – is put into this space. This helps increase the window's insulation abilities so that they won't leak heat or cold as much as single-paned windows. This is a great green home improvement to utilize, since as much as 30% of heating and cooling in residential homes is lost through windows.
The ROI of Energy-Efficient Windows
The efficacy of energy-efficient windows will not only reduce your carbon footprint but will also reduce your utility bill each month. The U.S. Department of Energy estimates you'll save between $125 to $465 per year from this eco-home improvement. If you're looking for how to be more eco-friendly at home, investing in energy-efficient windows drastically reduces greenhouse gas emissions.
Asher's Eco-Friendly Window Solutions
At Asher, we are passionate about helping homeowners reduce their environmental impact while also providing them with beautiful windows for their homes. Renewal by Andersen windows are made with their exclusive Fibrex composite material, drastically reducing home heating and cooling loss. Renewal by Andersen windows also ensure:
Durability
Longevity
Easy Maintenance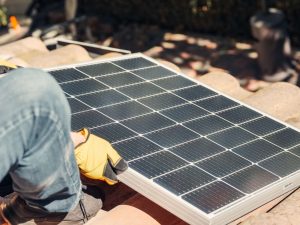 Solar Panels: Harnessing the Power of the Sun
Solar panels are another eco-friendly home improvement you can utilize. While installing solar panels does require a high initial investment, they easily provide a long-term return on investment. There are also tax credits that you can take advantage of the new 30% Residential Clean Energy Credit to lessen the overall financial impact.
With the increasing technological advancements in solar power in recent years, these green home upgrades are also getting easier to attain and install. If your home gets enough sunlight and you're interested in clean energy for your home, solar panels are a fantastic option for home energy renovations.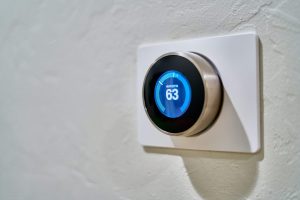 Before looking into getting solar panels installed, ensure that you meet with a qualified contractor to assess the quality of your roof. 
Smart Thermostats: Automate Your Energy Savings
Another way to go green with home improvements is smart thermostats. These thermostats can be programmed to heat or cool your home at certain times automatically. For example, if you're going to be away for most of the day at work, you can program your thermostat to make sure no heat or air conditioning is being used. This can dramatically help you save on your energy bill each month.
With recent technological upgrades, these thermostats can often even be programmed from an app on your phone. Smart thermostats generally save you almost $200 a year on your energy bill, meaning they easily pay for themselves in no time.
How to Choose the Right Smart Thermostat
When looking for eco-friendly home improvements like smart thermostats, it's important to ensure that you get the one that works best for your home's needs. When looking for a thermostat, make sure that you take into consideration the following features:
Compatibility with your HVAC and electrical systems
Overall price
How well it connects to your wifi or smartphone
If installation will be needed
How easy it is to use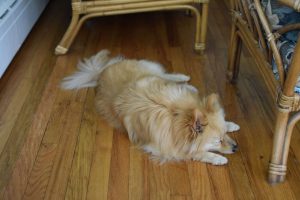 Sustainable Flooring: Walk the Talk
The type of flooring you have in your home may have more of an environmental impact than you think. We all know that wood floors, while beautiful, take a heavy toll on forests around the world. They also have a high carbon footprint. Vinyl flooring isn't much better and isn't recyclable.
That's why investing in eco-friendly home renovations like sustainable flooring is a great way to reduce your environmental impact. Higher quality material floors, like bamboo, cork, and recycled materials, last for decades and are much better for the environment.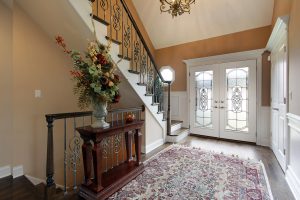 Eco-Friendly Doors: The Other Half of the Thermal Envelope
Another eco-friendly home improvement to invest in is insulated and thick doors. Energy leaks out of doors just as much as it does with windows, especially if your current door isn't made with the right materials. For a green home renovation, the best types of materials for energy efficiency include:
For truly sustainable home improvements, investing in insulated doors is a great way to save money on your energy bills.
Asher's Sustainable Door Solutions
At Asher, we pride ourselves in providing homeowners with a wide range of energy-efficient and stylish doors. Our doors offer maximum energy savings and protection from the elements. Our Andersen brand sliding patio doors can be crafted to let in plenty of natural light while still keeping your home insulated.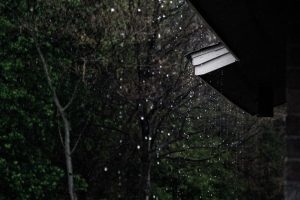 For more information on how doors can transform your space, our blog provides plenty of tips. 
Water Conservation: Low-Flow Fixtures and Rainwater Harvesting
With the ever-increasing amount of wildfires and water scarcity, learning how to conserve water is imperative for sustainable home remodeling. One way to do this is to invest in a tankless water heater, which only heats water when needed, therefore cutting down on water usage during showers or while doing the dishes.
A few other ideas include installing low-flow shower heads, utilizing a dual flush toilet, or even harvesting rainwater for everyday activities around the home. These small changes can make a big impact on your overall water usage and energy consumption.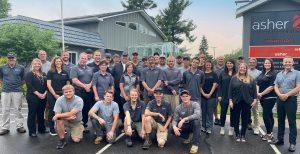 Asher Has Western Wisconsin's Eco-Friendly Window And Door Solutions
Asher Lasting Exteriors can help you be more eco-friendly with our windows and doors. We only work with the best systems, meaning that you get the best quality and protection from the elements. Our number one goal is to ensure that you're happy with your home, so we will work with you every step of the way during the project.
If you're ready to start making green home improvements to your space, get in touch with our team at Asher Lasting Exteriors today. We are ready to help you start saving money, protecting the environment, and making your home look beautiful.