Two of the most popular replacement window choices on the market today are vinyl and Andersen Fibrex. Choosing the right replacement window frames can be overwhelming. However, if you take the time to do your research, your next replacement windows just might be one of the best investments you ever make.
Windows may be a costly investment, but, if you choose carefully, they can last for decades to come. There are several factors involved in window choice, and Fibrex beats vinyl in many of these areas. Because it is a composite replacement window, Fibrex isn't just the stronger, better quality option; it's also the more eco-friendly option. Let's take a closer look and compare these two window frame materials.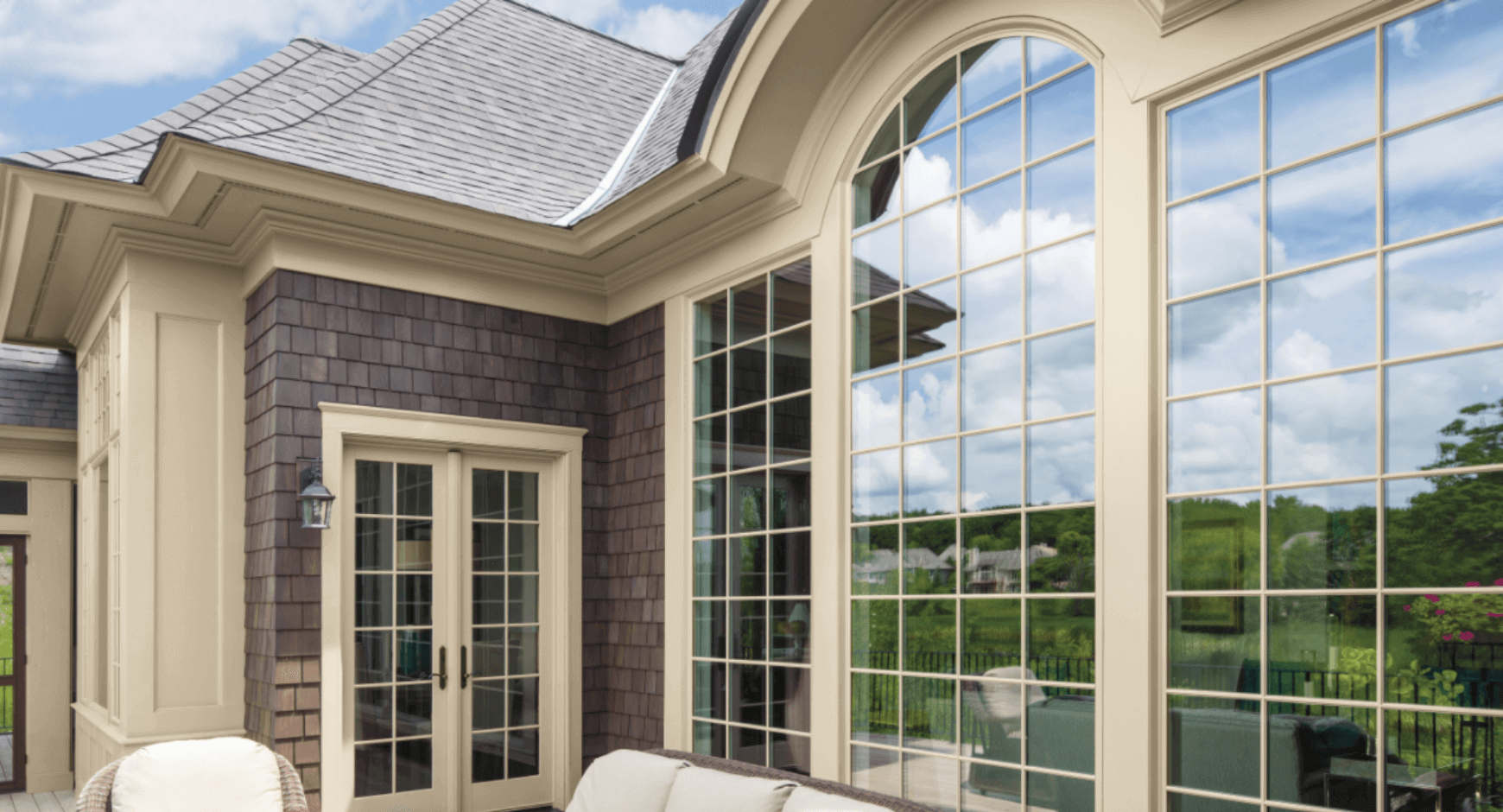 What Are Fibrex Windows?
What is Fibrex? This window material is made exclusively by Andersen Windows. Its unique material combines wood fibers and thermoplastic polymer to create composite wood.
Although there are a few different composite options on the market, this version is the most sought-after alternative to vinyl windows due to its strength and durability. The fiber tech polymers hold up well in all climates and are resistant to the decay, cracking, and warping you may see in vinyl windows.
Fibrex windows are:
Sustainable
Great in all climates
Energy-efficient
Durable and long-lasting
Contact us today to find out if Andersen Fibrex window frames are right for you. We proudly serve homeowners in and around Menomonie and Eau Claire, WI.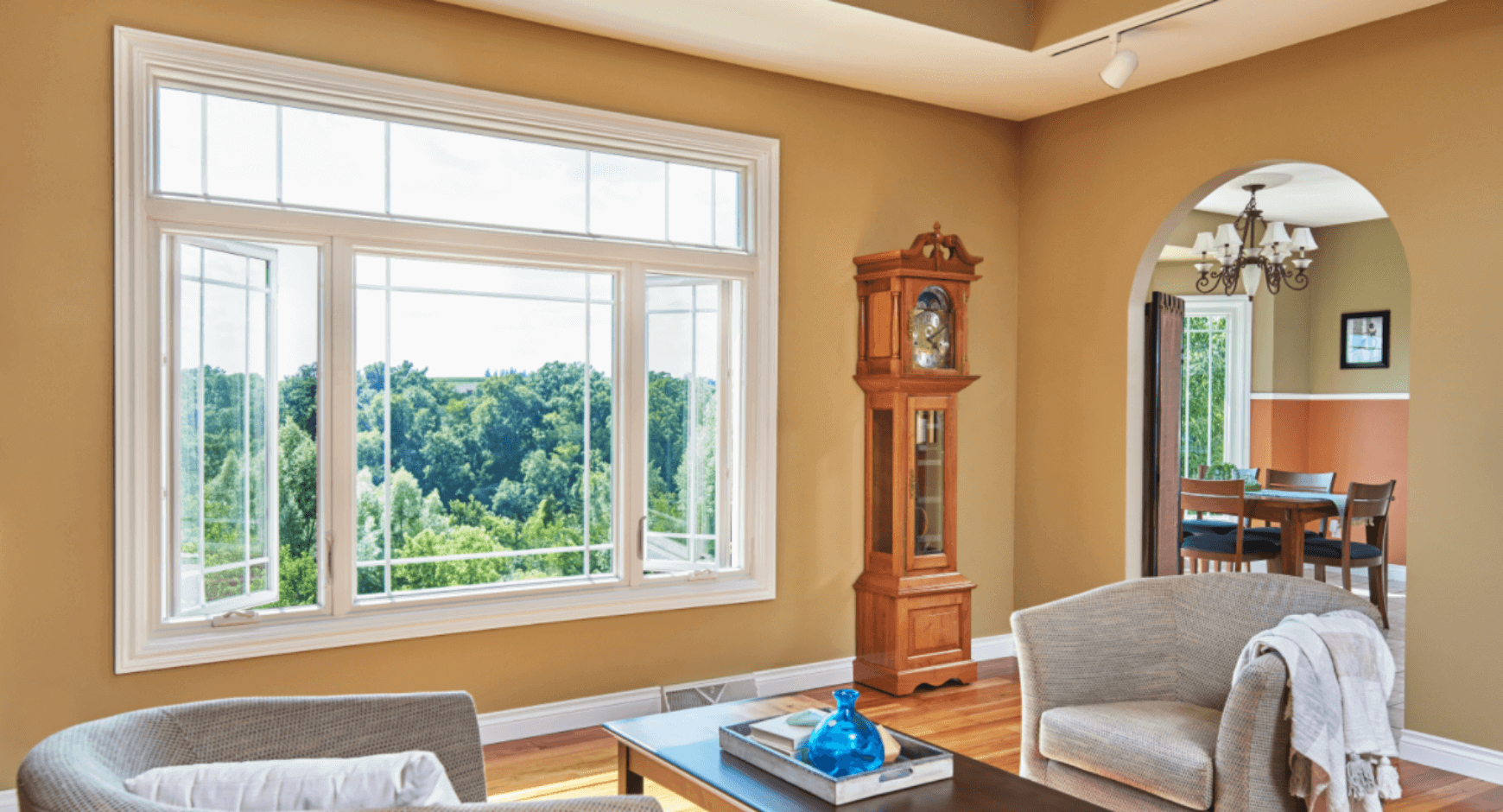 What is Fibrex Material Made Of?
Andersen Fibrex consists of 40% wood fibers. The remaining 60% is made from thermoplastic polymer. These materials are then fused together, resulting in products that are twice the strength of vinyl.
Thermoplastic Polymer – some of which is reclaimed, makes up 60% of the material used in these windows.
Wood Fibers – mostly reclaimed from Andersen's own manufacturing process, makes up the remaining 40% of the material used.
Finishing material – Consumers can opt to purchase these windows in a wood or paint finish.
How Well Does Fibrex Material Age?
Fibrex windows will not disappoint. This strong, durable option lasts at least 35 years, even in the most extreme climates. The thermoplastic polymer coating protects the wood fibers against moisture, preventing mold, rot, and decay.
What Makes Andersen Fibrex Material Sustainable?
Part of their composition is reclaimed materials from Andersen's own manufacturing processes. What's more, they're not only eco-friendly but are also at least twice as strong as vinyl. You will never encounter peeling or cracking as you may with vinyl, particularly as it ages. Choose Fibrex, and you won't need to worry about replacing your windows for decades to come.
Fibrex vs Vinyl: Are Composite Windows Better Than Vinyl?
Which is better, vinyl or Fibrex windows? While both window materials have their merits, Fibrex windows are the better option. Vinyl windows are a cheaper option, but they are prone to wear and tear over time and will need to be replaced sooner. Extreme temperatures make it difficult to open the windows because the vinyl expands and may eventually warp or crack.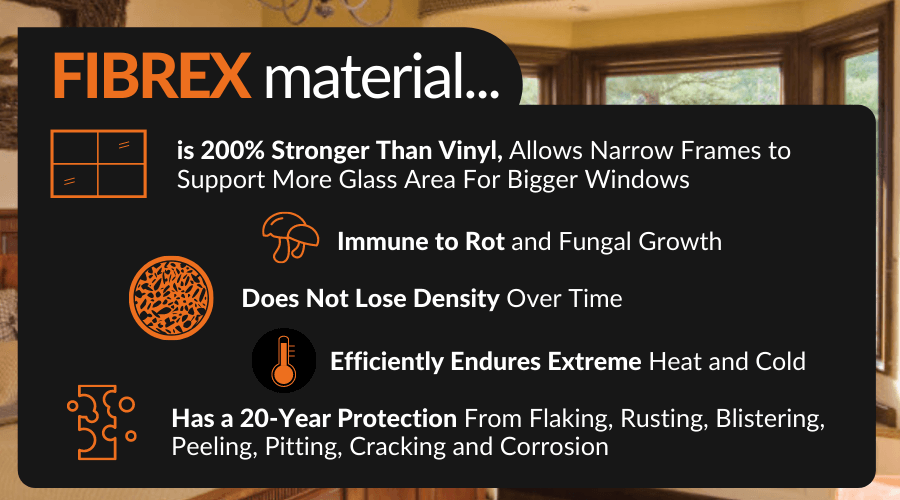 Let's compare vinyl vs. composite windows:
Strength: While vinyl windows are strong, Fibrex is twice as strong no matter how volatile the weather may get. The strength doesn't deteriorate over time – these windows will last for decades.
Durability: Fibrex windows are the more durable option. They're far less prone to chipping, warping, or rotting.
Decay Resistance: Vinyl can get dirty, stained, and collect mold. With its unique materials, Fibrex windows are easy to clean and won't mold or rot.
Heat Distortion Point: In hot climates or direct sunlight, Fibrex won't bend or warp. On the other hand, vinyl may warp when exposed frequently for long durations.
Thermal Expansion: Fibrex's thermal expansion is low, so you can expect it to expand and retract very little. Vinyl has a much higher rate of expansion, making vinyl window frames susceptible to warping and cracking over time.
Insulating Properties: Fibrex blocks thermal transfers at a higher rate than vinyl which can help you save on heating and air conditioning.
Compressive Strength: Fibrex composite windows have greater compressive strength in vinyl. This is why composite windows have a thinner frame and more glass.
Green Benefits: Fibrex is made partly by reclaimed materials, making them the environmentally-friendly option.
Contact us today to find out if Andersen Fibrex window frames are right for you. We proudly serve homeowners in and around Menomonie and Eau Claire, WI.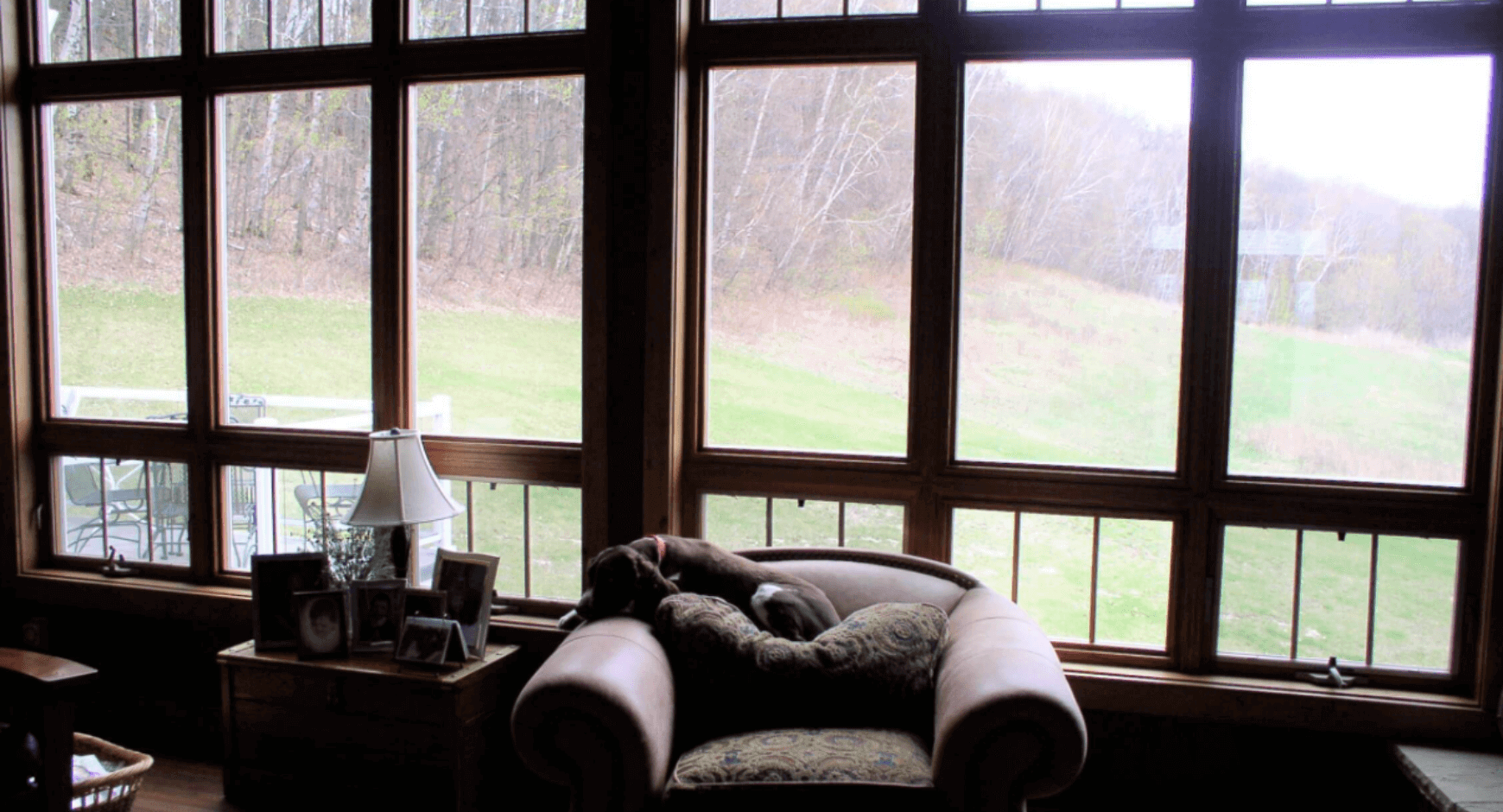 Pros and Cons of Fibrex Windows 
Are composite windows better than vinyl? Composite Fibrex windows are superior to vinyl in many areas, including durability, energy efficiency, and environmental impact. One disadvantage is they come with a higher price tag, but you'll save time and money in the long run because Fibrex has almost double the lifespan of vinyl.
What Are the Advantages of Fibrex Composite Windows?
There are many benefits to choosing Fibrex for replacing your windows.
Environmental: As a mostly eco-friendly option, Andersen Fibrex windows are made from recycled materials.
Energy-Efficiency: One perk of composite frames that they're an energy-efficient option. They provide protection against thermal transfers at a much higher rate than vinyl.
Durability: Composite windows stand up well in extremely hot, cold, dry, or humid climates. They expand and contract very little and are resistant to decay.
What Are the Disadvantages of Fibrex windows? 
It's important to also take into account the disadvantages. Fibrex doesn't have many, but cost and installation should certainly be considered.
Cost: This material is more expensive than other options when it comes to the window itself, as well as installation.
Distribution: Because this composite wood frame is exclusive to Andersen, you can expect unmatched quality, but you may need to wait a little longer for installation than you would for a more standard material like vinyl.
Installation: Installation costs run higher than vinyl, particularly larger windows such as Andersen double-hung vinyl windows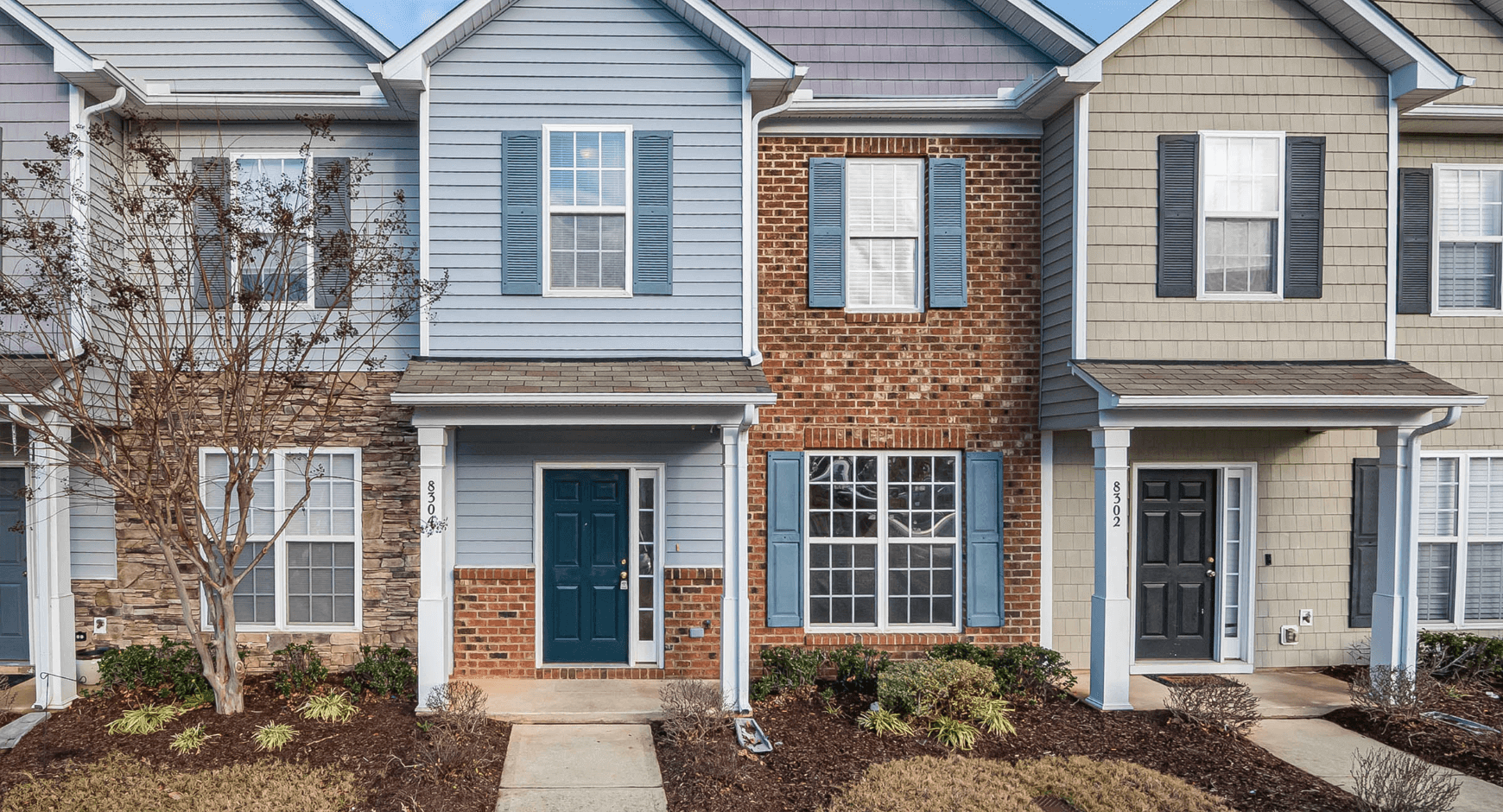 Pros and Cons of Vinyl Windows
How do vinyl windows compare? Cost is certainly a primary factor. While they may seem cheaper upfront, that may not be true in the long run. Vinyl window frames are strong, but they don't withstand extreme weather very well, and they are prone to warp and decay. Though they may not be as durable as Fibrex, they do hold up better than other materials against the elements, such as wood.
What Are the Advantages of Vinyl Windows?
Vinyl windows have been a popular option for many years. What makes homeowners so interested in vinyl over Fibrex?
Cost: Vinyl is a cheaper option when it comes to material and installation. You'll also find their average lifespan of 20 years is longer than other materials.
Durability: While vinyl may not be as durable as Fibrex, it is much more durable against the elements than other window materials, like wood.
Options: Vinyl windows come in a variety of sizes and finishes, making them simple to match the color of your home.
What Are the Disadvantages of Vinyl?
If cost is the number one consideration for your replacement window frames, vinyl may seem like a no-brainer. Keep in mind the lower price tag might not mean it's the more cost-effective option. Among other factors, its shorter lifespan should be taken into account. If you sit down and do some calculations, you may actually find that the extra cost now will save you substantial amounts of money later.
Lifespan: Vinyl windows have a lifespan of 20 years vs. the 35 years of Andersen composite windows.
Wear and tear: Andersen vinyl windows (as well as any other brand of vinyl windows) are prone to wear and tear over time, especially in extreme climates. Humidity, cold, and heat can cause the frames to warp, rot, or peel.
Less glass: Vinyl isn't strong enough to hold the weight of glass. As a result, you'll find that vinyl window frames are thicker than Fibrex to ensure they can hold the weight.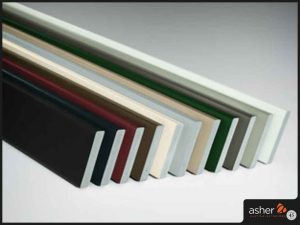 Replace Your Old Windows With Andersen Fibrex Today
It's clear that Andersen's Fibrex is one of the best, most advanced window technologies on the market. These durable windows hold up well against the most extreme conditions, are energy-efficient, and require little maintenance over the years. While they may seem pricey up front, they last so long that they're a money-saver in the end. Choose Fibrex, and you'll enjoy your windows for decades to come.
Reach out to our team today to get a FREE estimate on your Andersen Fibrex windows. We proudly serve Eau Claire, Chippewa Falls, Mondovi, Bloomer, Menomonie, Black River Falls, and surrounding areas in Wisconsin.
Replacement windows are a significant investment that shouldn't be taken lightly. Whether you're replacing a few windows or need new windows for your entire house, Asher has high-quality products from the most trusted brands on the market. Andersen Fibrex windows are reliable, long-lasting, and fully customizable with your choice of interior-exterior color combinations, hardware finishes, and grille patterns. Learn more about our window services and request a free estimate.