Asher Lasting Exteriors, a family-owned exterior remodeling business in Eau Claire, WI, has been providing the highest quality products and workmanship to customers in Eau Claire, Chippewa Falls, Mondovi, Bloomer, Menomonie, Black River Falls, Hayward, Medford, La Crosse and surrounding areas in Wisconsin and parts of Minnesota and Iowa since 1974.
It all started in the little town of Mondovi, Wisconsin. Mike and Nadine Asher founded Asher's Siding & Insulation and ran the business out of their home and warehouse there. After several years in Mondovi, Mike and Nadine moved the company to Eau Claire, to a 'real' office and warehouse. The company's success caused them to outgrow their location on the East side of Eau Claire and they built an office on the West side of Eau Claire. After several years at this location, they are now on a quest to finding a new home as they have also outgrown this location. In 2000, the company was purchased by Mike and Nadine's son, Chad Asher. Chad had worked in the business since he was a teenager, starting as an installer and moving through the different facets of the business, which eventually set him up for success to take over the family business. During this time, he also attended UW Stout where he studied Business Administration.
Home building and interior remodeling was added to the mix of home improvement services, consequently the name was changed to Asher Enterprises. In 2013, the focus returned to home exterior remodeling and with this emerged Asher Lasting Exteriors. As the years have progressed, Asher has become more and more focused and specialized in specific products, thus creating a unique specialized expertise in the products we offer today. Chad has continued to keep the same values his parents had and thrives to always maintain the excellent product and installation methods that have proven successful over the past 49 years.
In 2021, Asher has expanded into the La Crosse, WI area and now covers the southwestern part of Wisconsin, southeastern part of Minnesota and northeastern part of Iowa. We have a new showroom location in Onalaska! Visit us at 9432 State Rd 16 in Onalaska, between Starbucks and FedEx Office!
Asher has completed thousands of projects installing windows, doors, gutters, gutter protection, retractable awnings and other exterior-related products. Let us help you with your next project!
We understand and fully appreciate the investment you are making in your home. It is not only a big investment, but a big decision. When seeking and selecting a contractor, you want to make an informed determination. At Asher, we feel the more you know about our gutters, windows and doors, and the way we do business, the more obvious your decision will be.
Talk to our customers. They'll tell you how satisfied they are in working with us. In fact, on a yearly basis over 98% of our past customers have told us that they are VERY SATISFIED with their Asher experience and say they would recommend us to a neighbor or friend. In addition, Asher continues to carry an overall "A" rating with Angie's List and an A+ rating with the Better Business Bureau. Check out what our customers have to say about us!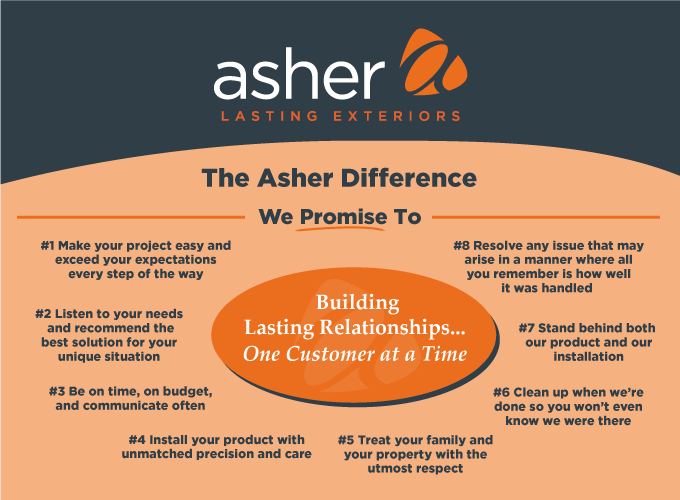 Asher Lasting Exteriors was founded on the principles of customer satisfaction, quality craftsmanship, cutting edge innovation, and a commitment to building techniques and construction materials that promote environmental sustainability. Our aim is to be consistently above industry standards and focus on customer service and quality products, as opposed to lower-bid work.
We have developed amazing partnerships with our suppliers and continue to provide only the best quality products. Check out the longevity of our partnerships with our suppliers below. We don't use a good/better/best system, we only use one supplier and use the best system.
ABC Seamless…since 1986
Gutter Helmet…since 1994
Renewal by Andersen…since 2004
Provia Door…since 2008
Sunesta Awnings…since 2016
We take pride in our work and it shows after 49 years in business.