Your front porch is often the first space that visitors see when they come to your home. Sprucing up your front porch can help create a welcoming or aesthetic space. If you've been struggling to come up with front porch ideas for your home, look no further.
Your front porch can have many purposes. It can be a welcoming space to spend time outdoors or simply an aesthetic and inviting area to enhance your home's curb appeal. No matter the purpose of your front porch, transforming your home's entryway can be budget-friendly and appealing. Our guide can help you find the front porch ideas that are perfect for your space.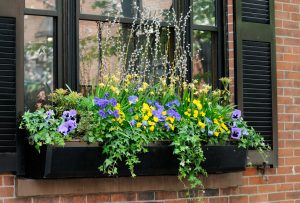 Your front entry door helps enhance the look and feel of your front porch, and Asher's entry doors can fit any design aesthetic you want.
Window Planters And Flower Boxes
Simply adding some window planters and flower boxes to your front porch can help increase your front porch curb appeal. This is a relatively inexpensive idea as well, and it adds a gorgeous pop of color that can help enhance your home's natural beauty. Planters and flower boxes can complement your windows or entryway to create an inviting look.
However, it's important to pick plants that will thrive in the climate you live in. If you live in a warm and sunny climate, some good ideas can include:
Lantanas
Hydrangeas
Geraniums
Zinnias
On the other hand, if you live in colder or shadier climates, some plants that will thrive while designing a front porch are:
Wintergreen
Camellias
Snowdrops
Winter pansies
These entry porch ideas can help make your entryway look more inviting.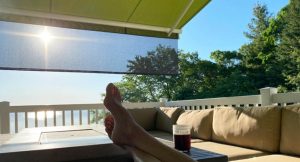 Decorative Awnings For Sun Protection
If you're looking for covered front porch ideas, utilizing decorative awnings for sun protection can help elevate your space. These awnings offer both aesthetic and functional benefits, as they can decorate your front porch while protecting you and your family from the sun.
There are various types of awnings you can utilize for your outdoor porch ideas, such as:
Pergola awnings
Freestanding awnings
These front porch covering ideas can be customized to match your porch and home's design as well. These awnings are a great way to make it more enjoyable to spend time outside during the sunnier months.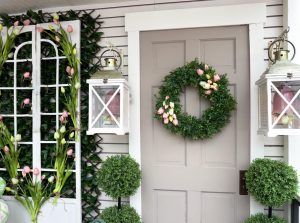 Seasonal Door Decor
You don't have to renovate your front porch to create an inviting space completely. One of the best porch design ideas to simply and cost-efficiently update the front of your house is adding seasonal decor. Whether it's for Halloween, Christmas, Easter, or any other seasonal occasion, this can quickly add warmth and character to your front porch additions.
One of the best ways to do this is to add wreaths to your front door. These can change with the seasons. For spring, you can have vibrant florals, and during the winter, you can change to cozier greens and reds. No matter your home is aesthetic, seasonal door decor can match what you're looking for.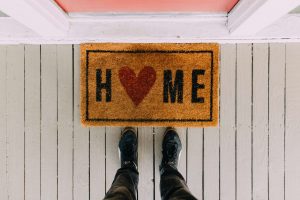 Adding a wreath or even upgrading your front door entirely can help update your home's front porch. 
Statement Welcome Mats
Who doesn't love a witty or personalized welcome mat? These front porch entry ideas can add character to your home while making a strong first impression as well.
These mats can easily elevate simple porch designs, or they can tie together an already established style. You can find statement welcome mats that are quirky, funny, and silly, or you can even order a personalized one that matches your taste. The charm of these mats can even create a good conversation starter with new friends or a postage worker.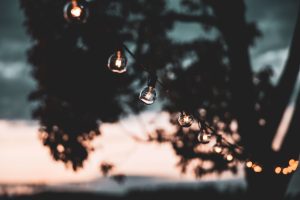 Hanging Lanterns and Lighting Fixtures
You can help create beautiful front porches by adding in hanging lanterns or light fixtures. Lanterns or lights can create an inviting ambiance. It can also help create a comforting space to spend time after the sun has gone down.
These front porch designs can also help accentuate your windows, awnings, doors, or other decorations. No matter what kind of design you're going for, you can utilize lights to add curb appeal to your home and warmth. Depending on your style and theme, some different lighting options you can hang up include:
String lights
Lanterns
Sconces
Pendant lights
Candles (make sure these aren't next to anything too flammable, though)
Decorative bulbs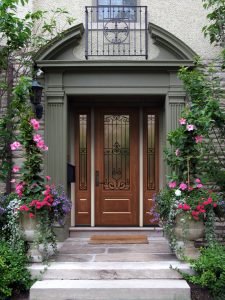 Potted Plant Displays
Potted plant displays are versatile and are great open front porch ideas for your home. You can add color and greenery not only with the plants, but you can also match the pots to your home's decor.
Make sure you keep in mind the plants that will work best for where you live. You can creatively arrange your plant displays in various ways, such as:
Using multiple pot sizes and heights
Using bright and colorful pots for a pop of color
Lining your stairway with potted plants
You can also incorporate plants that thrive in the shade so you can place them under your awning or near your windows. This front porch inspiration can quickly elevate how inviting your home is.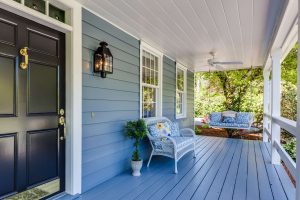 Asher can help weatherproof your home. An easy start is to install a new storm door.
Hanging Or Stationary Swing
Almost all front porch styles can benefit from the charm of a hanging or stationary swing. These fun additions often work best when you have a larger front porch, as these need plenty of space to swing or hang. You can place it under your veranda and have a cozy spot to read outside or enjoy the changing seasons.
Also, to ensure that your swing lasts for the long run, invest in a protective cover. This way, you can safeguard it from the elements while enjoying your swing for years to come.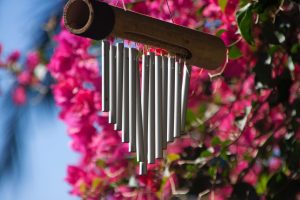 Wind Chimes And Hanging Decor
Wind chimes can help create a tranquil and calm atmosphere on your front porch. Wind chimes go with almost any decor style as well.
You can also utilize various forms of hanging decor for porch ideas to add design and character to your entryway. You can hang these wind chimes or decor on your awnings, windows, or even over the front door. These can add comfort, serenity, and soothing effects for your front porch renovation ideas.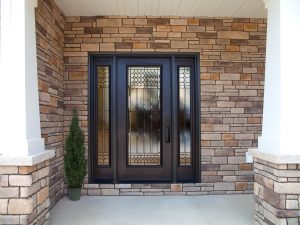 Glass Accents
If you have a small front porch, some other cool porch ideas to add to your space are to incorporate glass accents. This helps invite people into your house while still having privacy. Glass accents like stained glass or decorative items are a great way to incorporate unique accents into your space.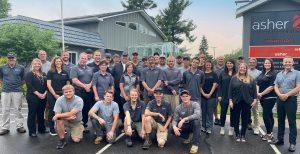 Asher Has Your Front Door, Window, And Awning Solutions In Western Wisconsin
If you've been looking for ways to spruce up your front porch, Asher Lasting Exteriors is here to help. Our entry doors help make a statement for your home. We can customize your new door to your needs, ensuring that your aesthetic and design tastes are followed. Our ProVia exterior doors are also durable and will last for years to come.
We offer fiberglass and steel front door options, and all of our doors feature the added security feature of security plates and heavy-duty ball-bearing hinges. If you're interested in new and innovative front porch ideas and are ready to take your space to the next level, get in touch with us at Asher today.