Are you seeking backyard inspiration to spark ideas for your outdoor space? Discover your dream backyard hidden within these 17 outdoor design ideas. From landscaping tips to DIY projects and more, we've got everything you need to make your backyard ideas a reality. Beautiful backyard living is just around the corner.
Amazing backyards are a work of passion and achievable no matter where you live. They are the perfect spaces for entertaining, relaxing, and spending time with the family. As the days grow warmer, we all want to get outside either to simply sit on the porch or play in the yard. Take some time this spring to make your backyard the perfect summer getaway.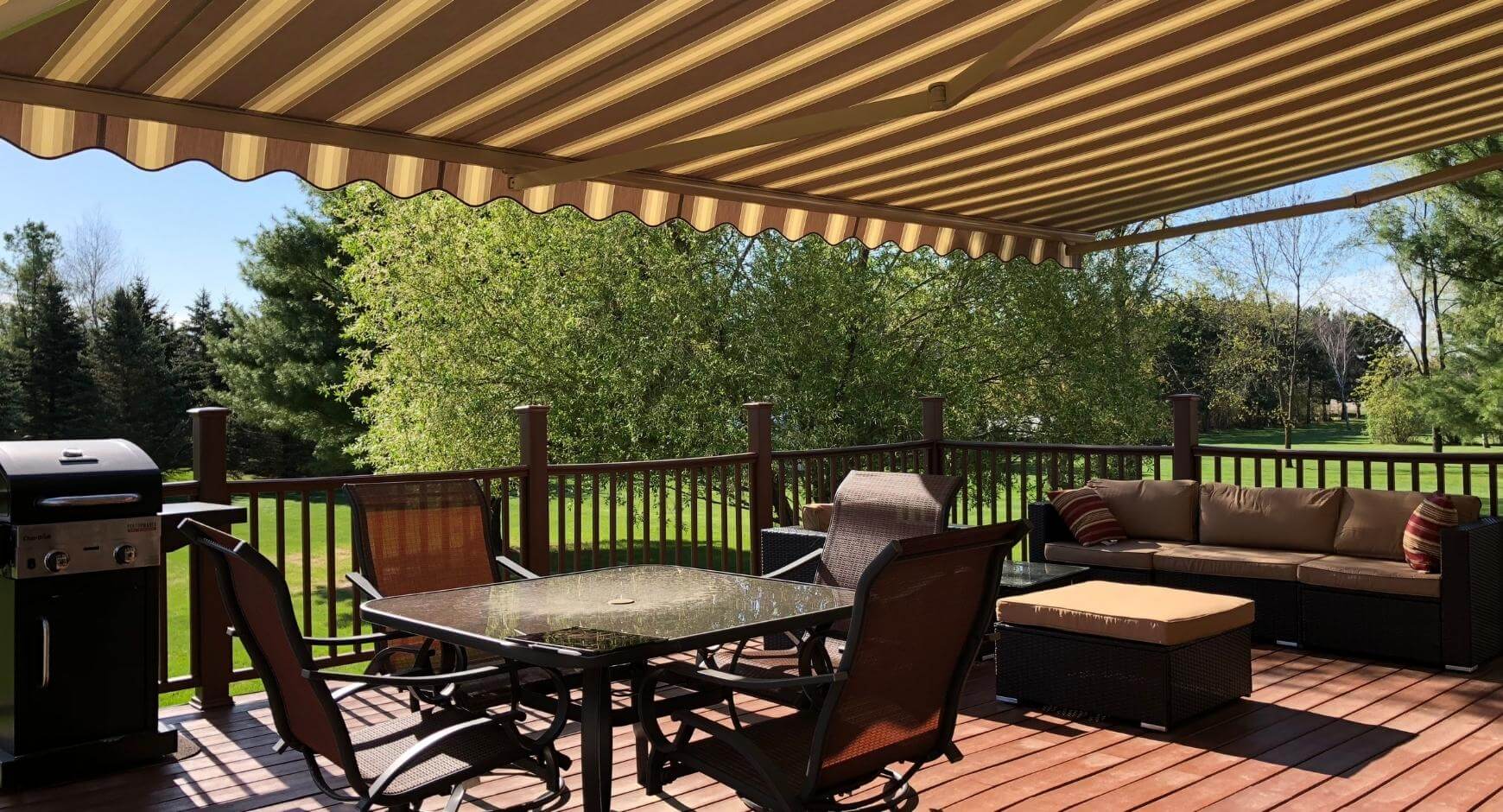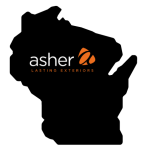 Considering a few patio remodel ideas? Contact the experts at Asher for a free consultation to see how we can help make your dreams a reality. 
Ideas for Beautiful Backyard Living
Everyone has a different idea of the perfect backyard. Some would love to dive into a swimming pool after a long day, and others would prefer to gather around the fire. Your backyard is the perfect space to let your ideas run wild unbound by the rigid walls of your home. Let your garden flourish and pave a winding stone path to the spot where you can truly relax. If you're having trouble imagining it, just take a look at these 17 backyard living ideas to reignite your imagination.
Table of contents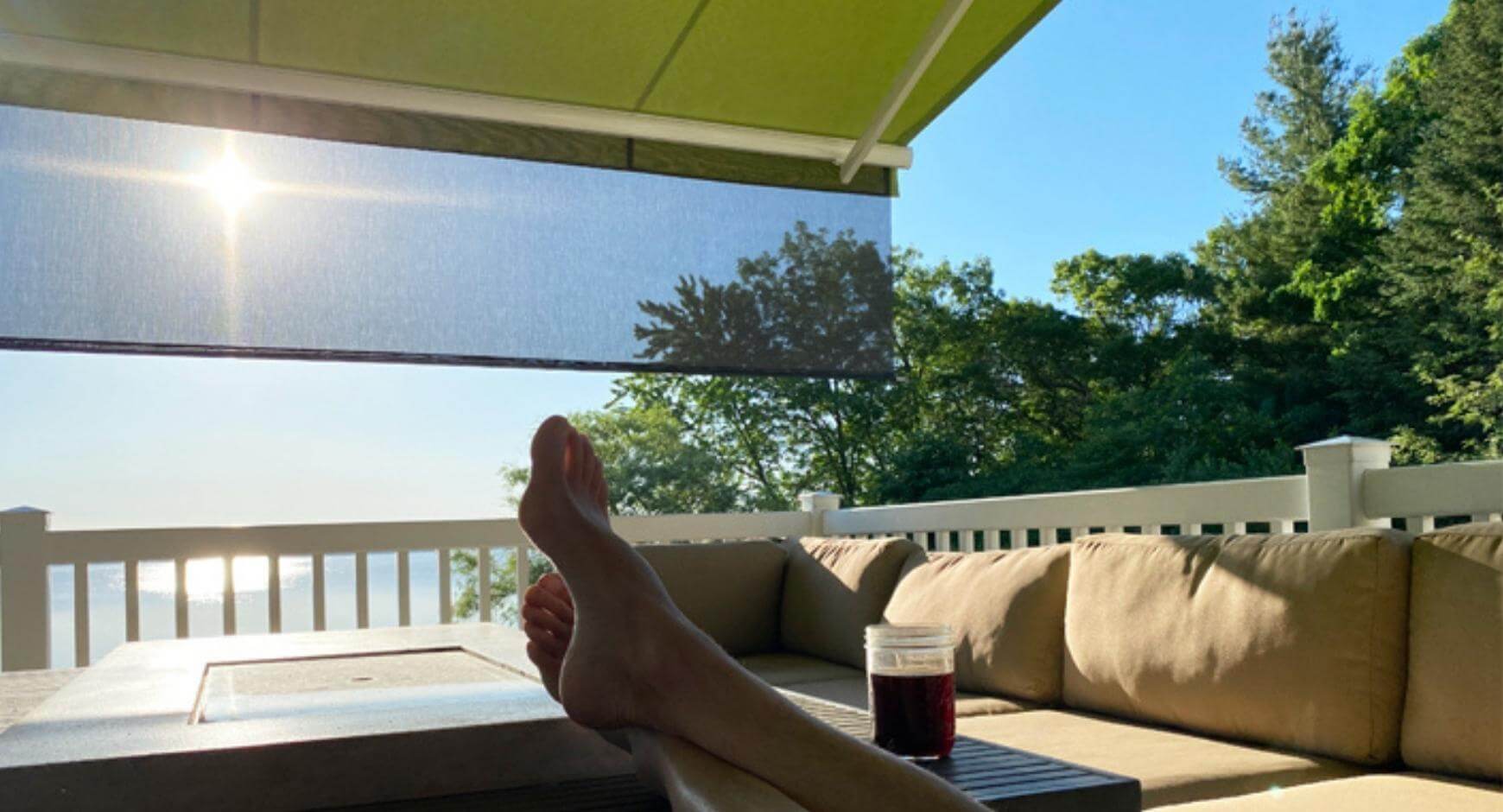 Keep Relaxation Top of Mind
Backyards are ideal for relaxing, reading a book, and unwinding from the day. When considering your outdoor sitting area ideas try to make them as relaxing as possible. Create a spot with good shade, comfy seating, and a place to kick your feet up.
You can also try drowning out the city noise with a water feature and put your mind to rest next to the sounds of a babbling brook. The same can be said about a crackling fire or a garden sanctuary for songbirds. Whatever your paradise sounds like, make it relaxing with these timeless elements.
Plenty of shade
Comfortable lounge seating
Ambient noise to drown out the world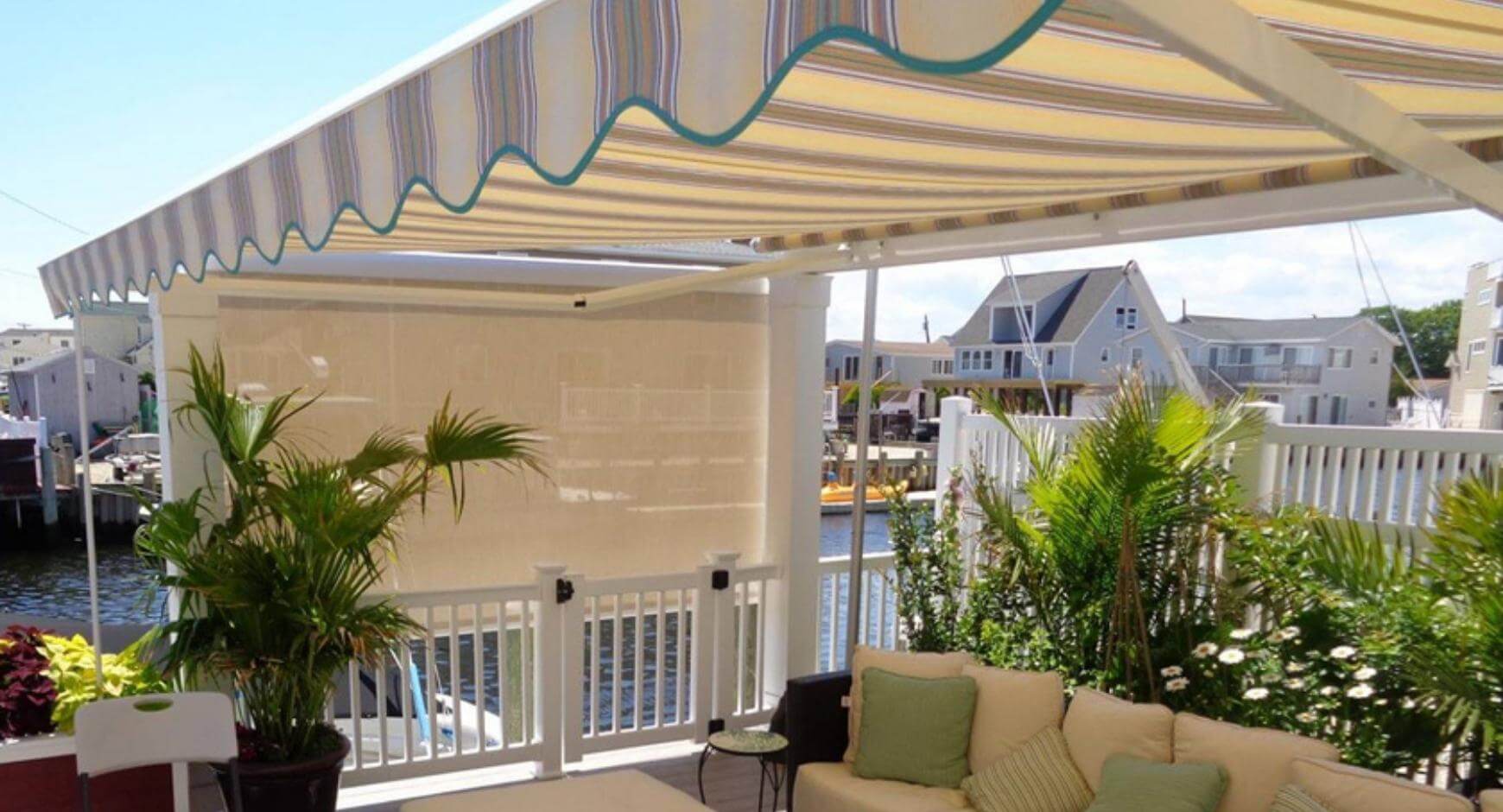 Simple Plants and Greenery
Backyard decoration can quickly get out of hand with one too many garden gnomes or birdhouses. Keep it simple with some outdoor plants to add a bit of shade and color to your yard. You'll want to do some research first to see which plants will thrive in your climate zone.
Landscaping isn't reserved for houses with dirt and grass backyards. You can easily add rows of potted plants to your porch like the photo above. It's sure to give you the feeling of being in nature even if you live in a big city. Simple plants can provide a ton of benefits:
Added splash of color
Natural decoration
Protection from the sun and wind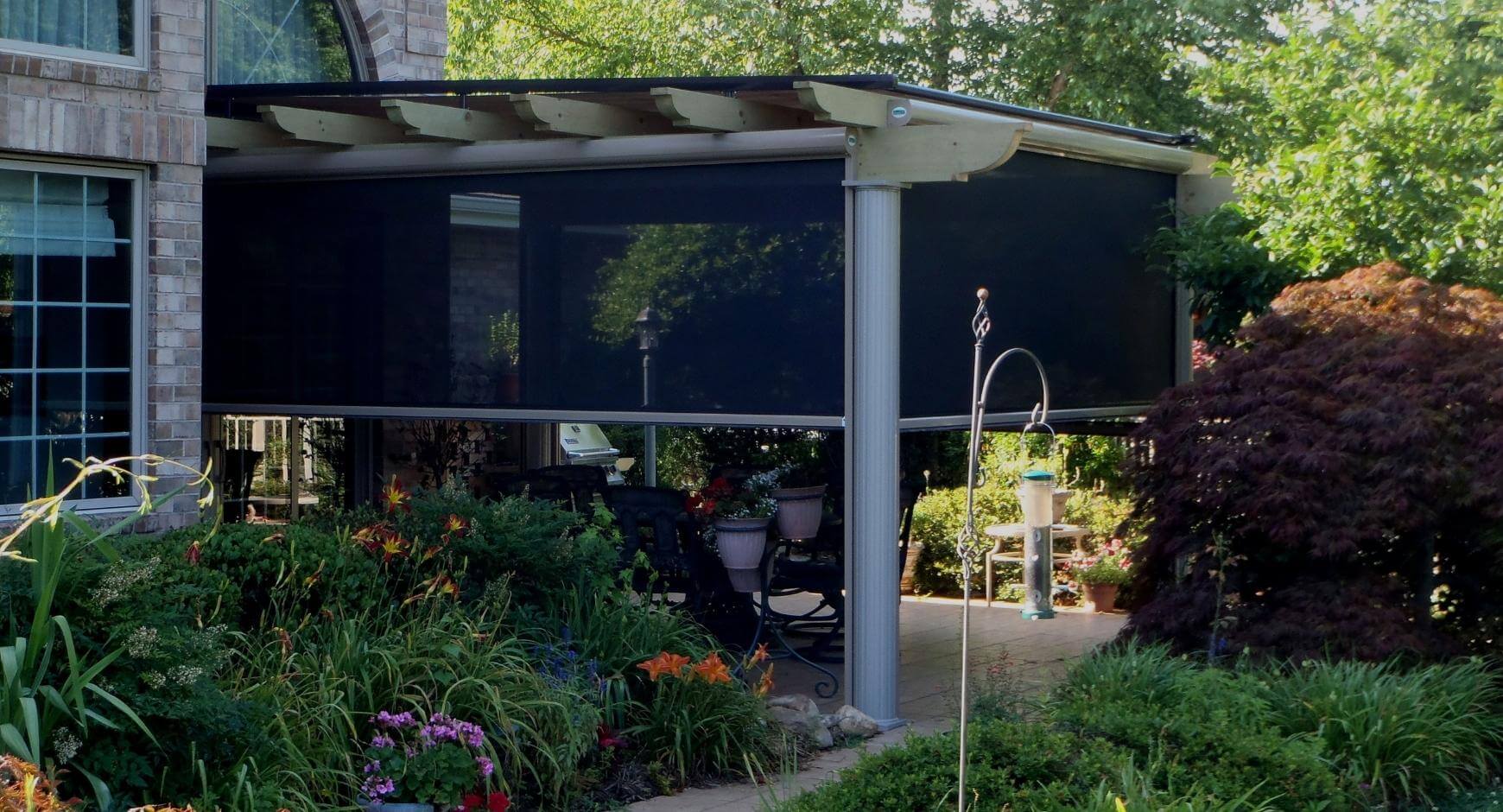 Prioritize Your Privacy
Backyard ideas for privacy are growing in popularity as home security becomes a more invasive presence. Escape your neighbors prying eyes with beautiful hedges and hanging trees. They are much nicer to look at than traditional fencing.
Outdoor ideas for patios make privacy a key component so that you can enjoy your dinner parties in peace. The retractable solar screens from Asher are the ideal complement to your patio, as they will not only shade you but keep the bugs out at the same time. Keep these in mind as you search for patio inspiration:
Cover fencing in greenery
Add shade and privacy with hanging trees
Equip your patio with solar screens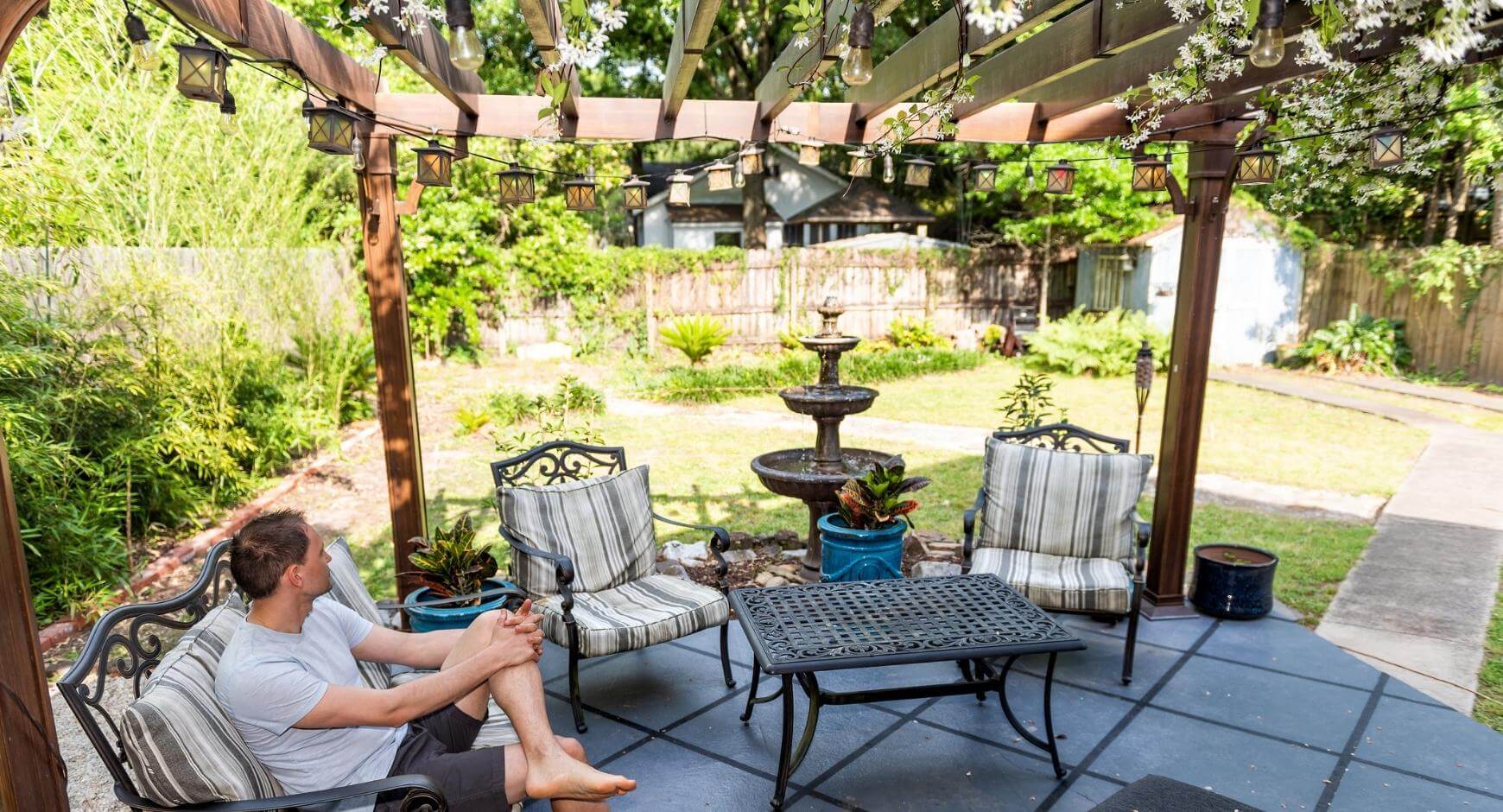 Consider a Water Feature
A water feature can be anything from a waterfall to a simple fountain like the one above. The critical component is that the water moves and creates a relaxing ambiance. An often unforeseen benefit is that you'll have birds stopping in for a midday bath on occasion.
Water features are also one of the top outdoor ideas for patio spaces. You can hook up a simple fountain to sit among the greenery and make a small jungle oasis in limited space. Depending on your aesthetic, a water feature could be any one of the following:
Handmade rock waterfall
Small koi fish pond
Simple fountain or bird bath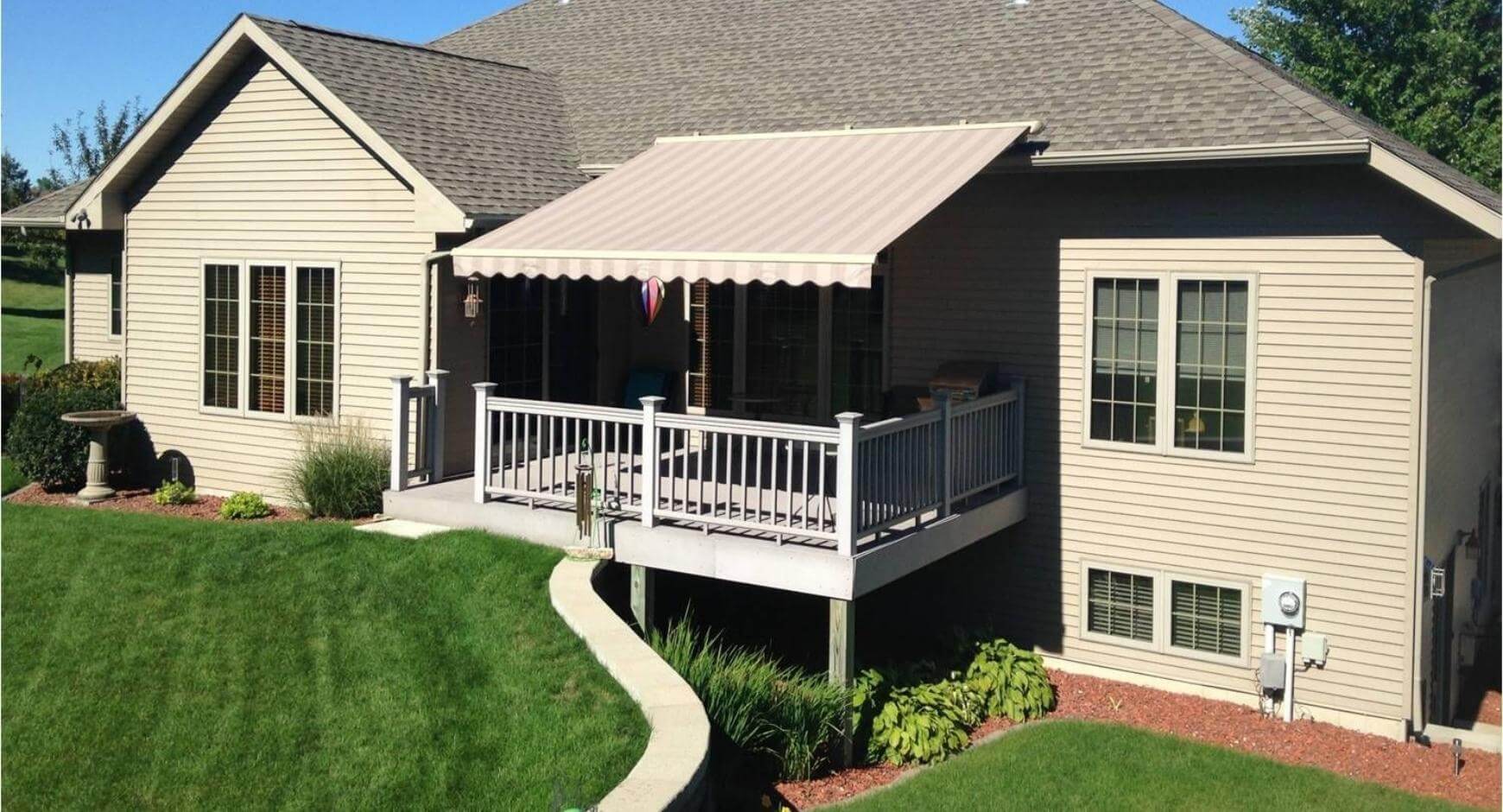 Create Options for Shade
Basking in the sun is the perfect place for an afternoon nap. Just ask any cat. However, there are times we'd like to be outside to enjoy a good book without being baked by the sun. Asher's patio covers are unique patio ideas as they provide the versatility of sun and shade.
There are other options like table umbrellas or sail shades, but neither have the same shade coverage or ease of use as retractable awnings. When collecting ideas for patio designs, make sure to prioritize shade so you can get the most use of the space all year long. Patio shades generally come in a few distinct styles:
Patio umbrellas
Sail shades
Retractable awnings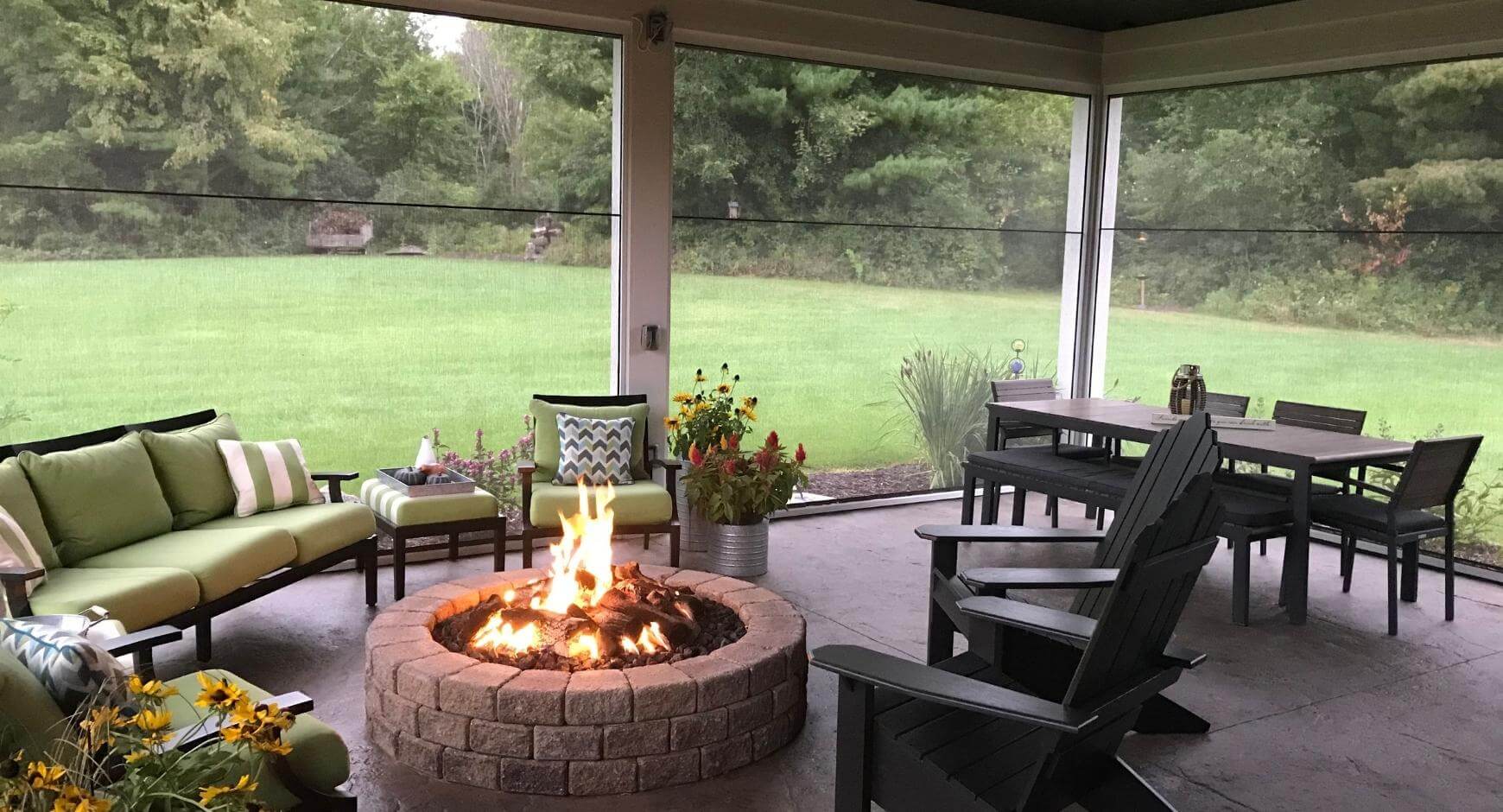 Heat Things Up With a Fireplace
Outdoor sitting area ideas are almost always centered around a fireplace. They are a staple of cool summer nights where friends and family gather to share stories and recount the day. Nothing is quite as relaxing as listening to a crackling fire and watching the sparks float up to the stars.
They also make for beautiful patio ideas as a simple screen can keep the bugs away so you can stay out all night. The photo above showcases how simple and comforting this combination can be. Just make sure the fire doesn't get too big, or your relaxing night could be cut short.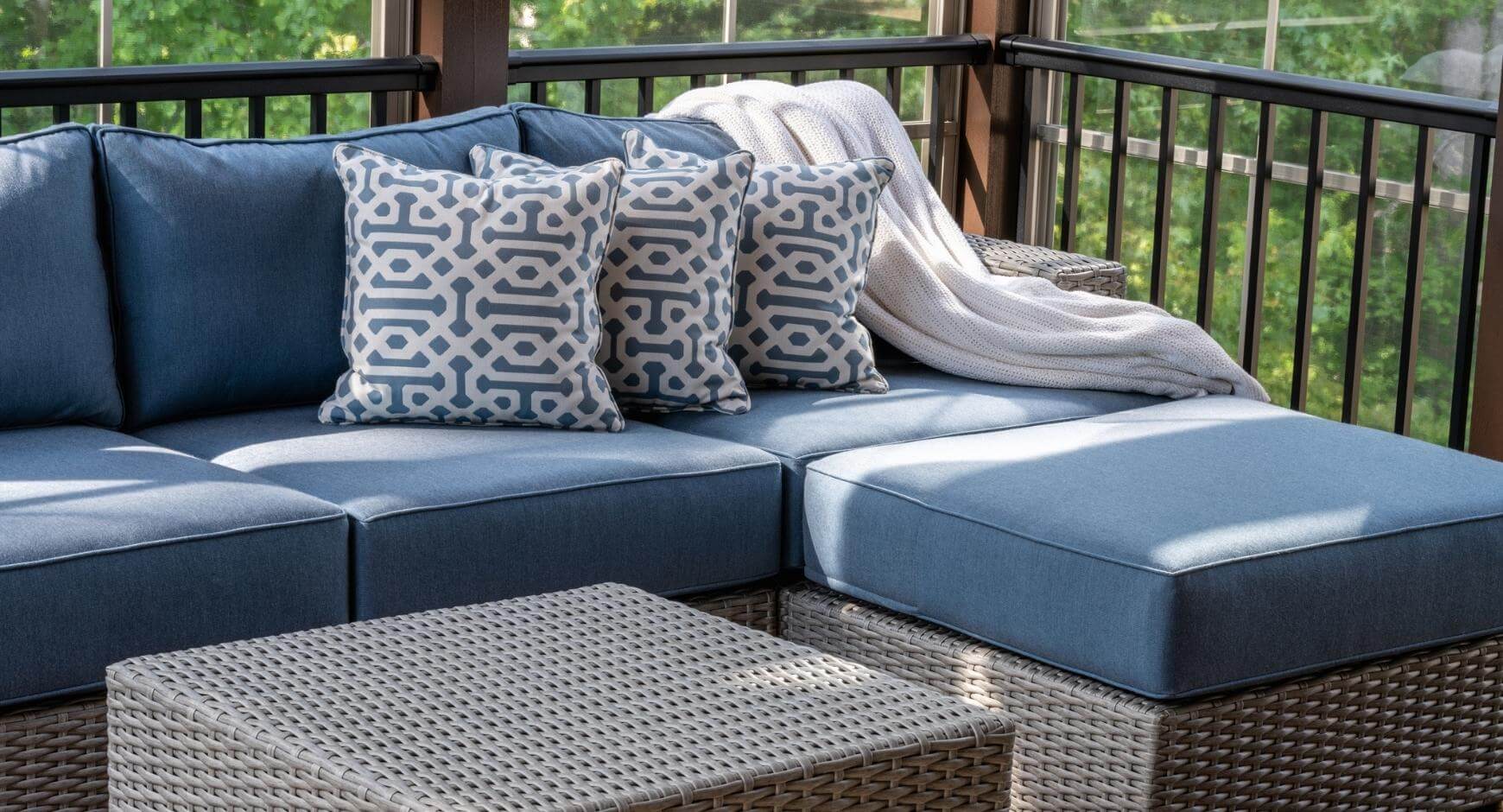 Create Comfortable Seating 
The outdoors can be incredibly relaxing if you can create the right spot to enjoy them in. Make comfort a priority in all your outdoor sitting area ideas to unwind by the fire, pool, or picnic table. You can never have too much seating when it comes time to host parties and barbeques.
Like the wicker sofa shown above, today's outdoor furniture is made to withstand the elements with weatherproof and antimicrobial fabrics. For a fun alternative to your regular lounging spots, try adding a hanging chair from a tree or pergola.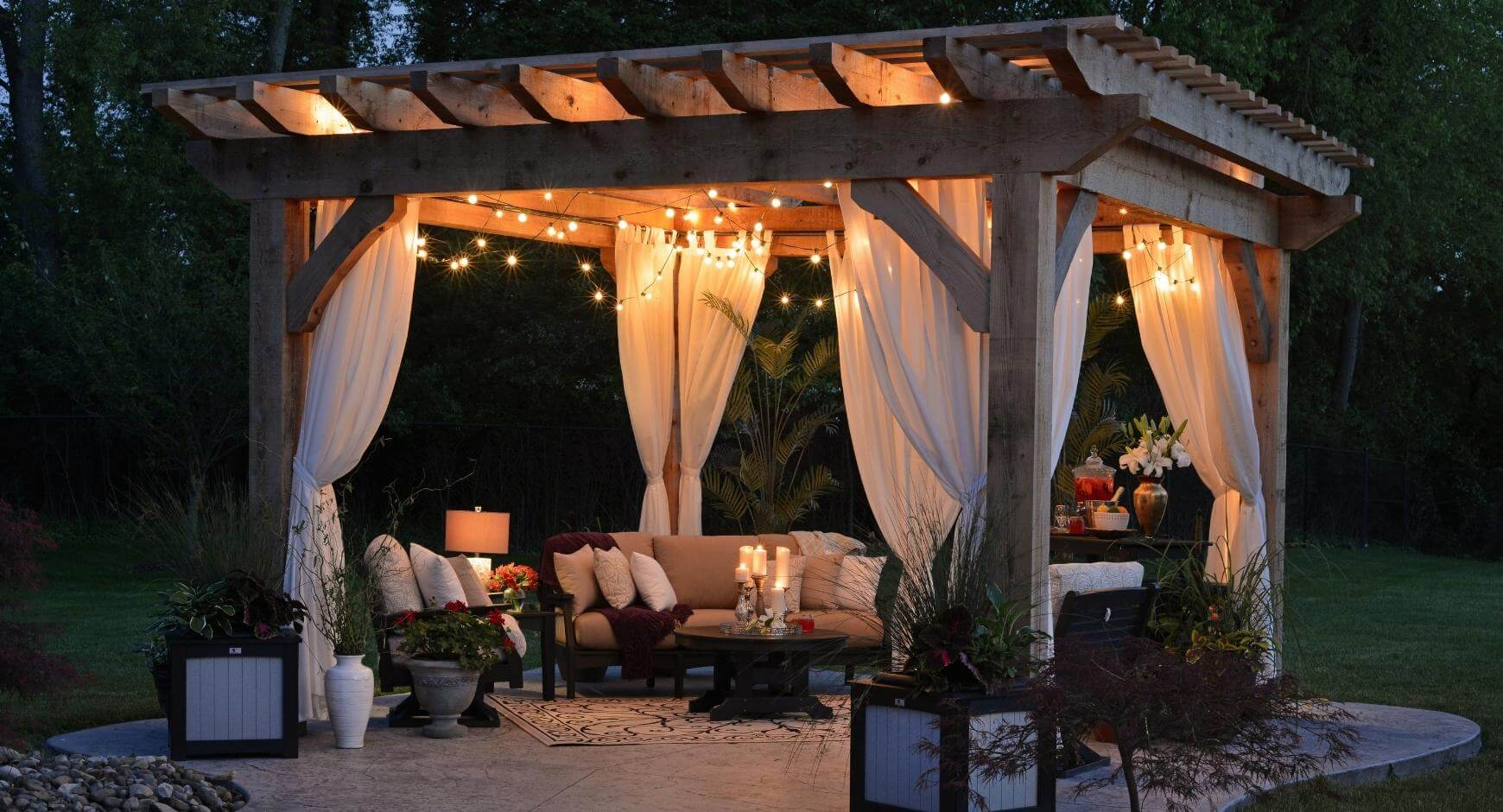 Hang Fun Lighting 
Hanging string lights has become a popular new aesthetic for backyard designs. String them across the yard from tree to tree for a unique ceiling of lights. They can also help light up small spaces like a pergola, shown in the photo above, for a soft glow guaranteed to relax your mind.
In addition to the many variations of string lights, you may want to consider paper lanterns for a more old-world look and feel. If you're struggling to decide how to light up your backyard without the washed-out floodlights, this could be the ideal choice. Hanging lighting has a ton of great features:
Endless style variations
Easy to install and remove
Can be used in combination with other lights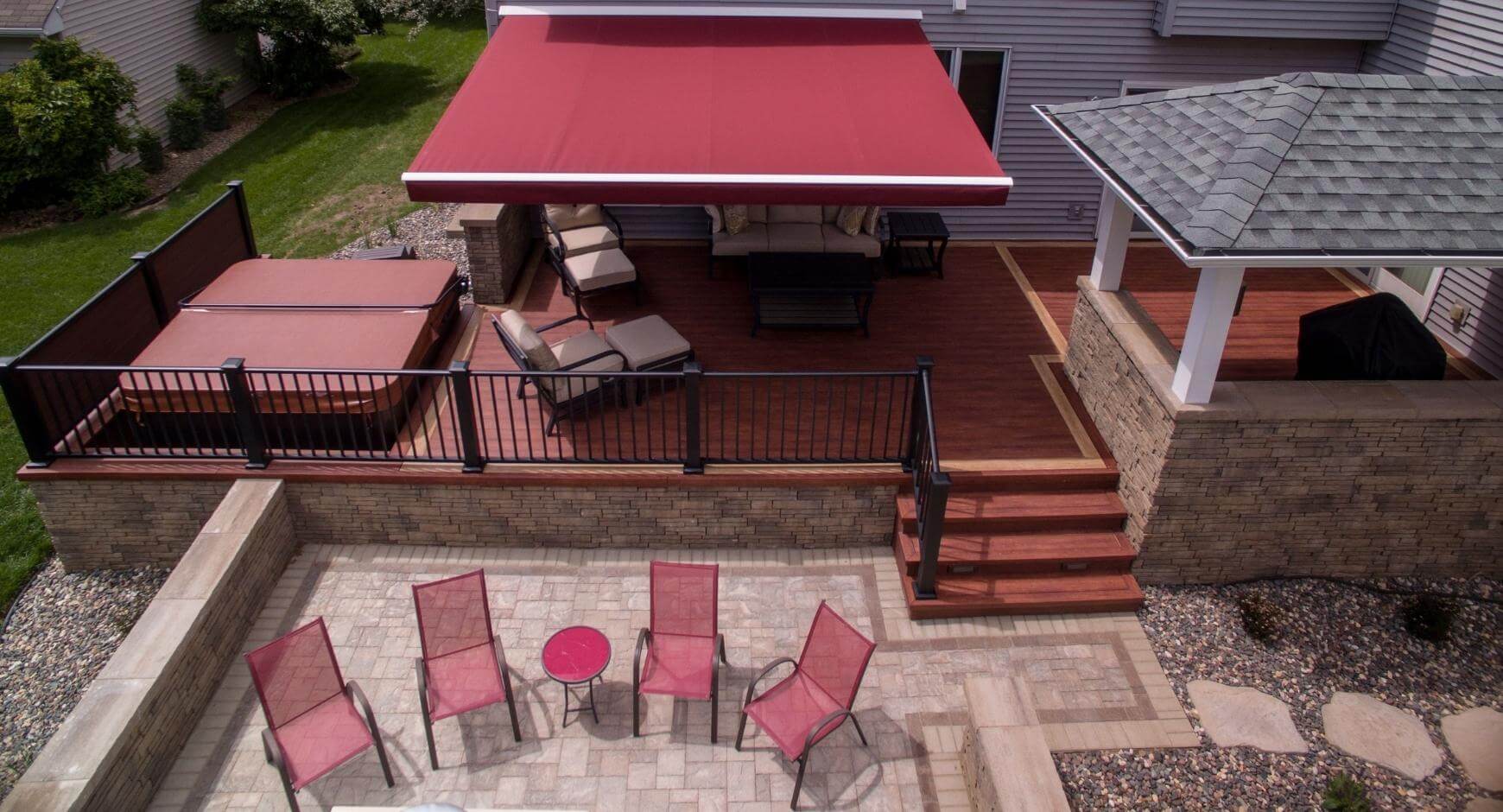 Use the Entire Space
Designing your dream backyard is not a simple task. You may have a dozen great ideas but only enough room to fit half of them. It takes some work to rearrange your ideas until everything fits like a puzzle.
Make the most of your space with versatile elements like the retractable awning to make your lounge area a space to tan or escape from the sun. Before you break ground on any new feature, make sure you know how it best fits into the space so you can continue to add to it in the future.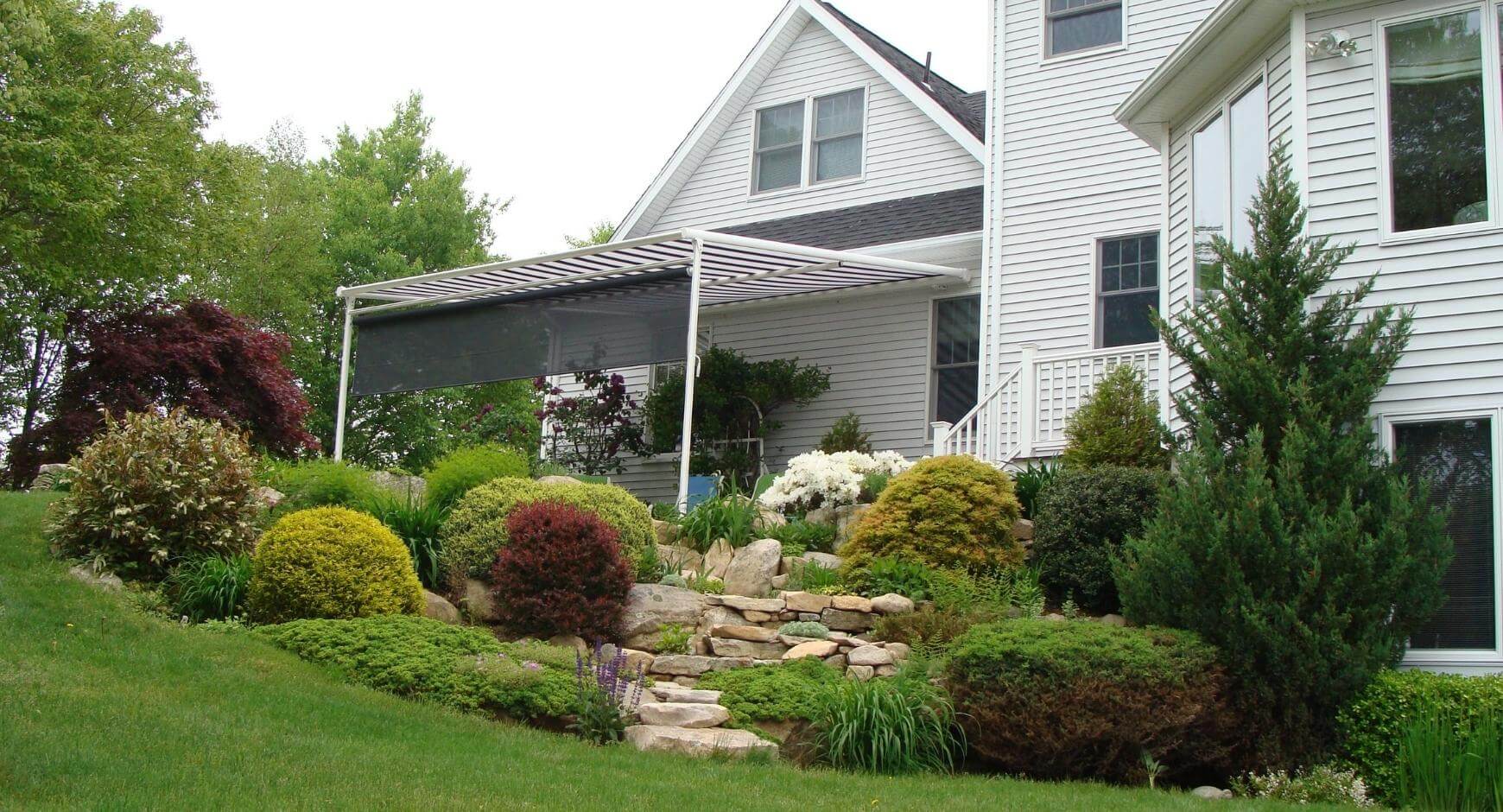 Landscape Your Yard
Taking the time to landscape your yard can transform how your whole house looks and feels. From English country clubs to Japanese zen gardens, you can get your landscaping inspiration anywhere.
Since your yard is often the first impression people get of your home, make it a great one with a stone walkway like the photo above. Landscaping can be hard work, especially on hot days, but there is always the option to have professionals step in to help out.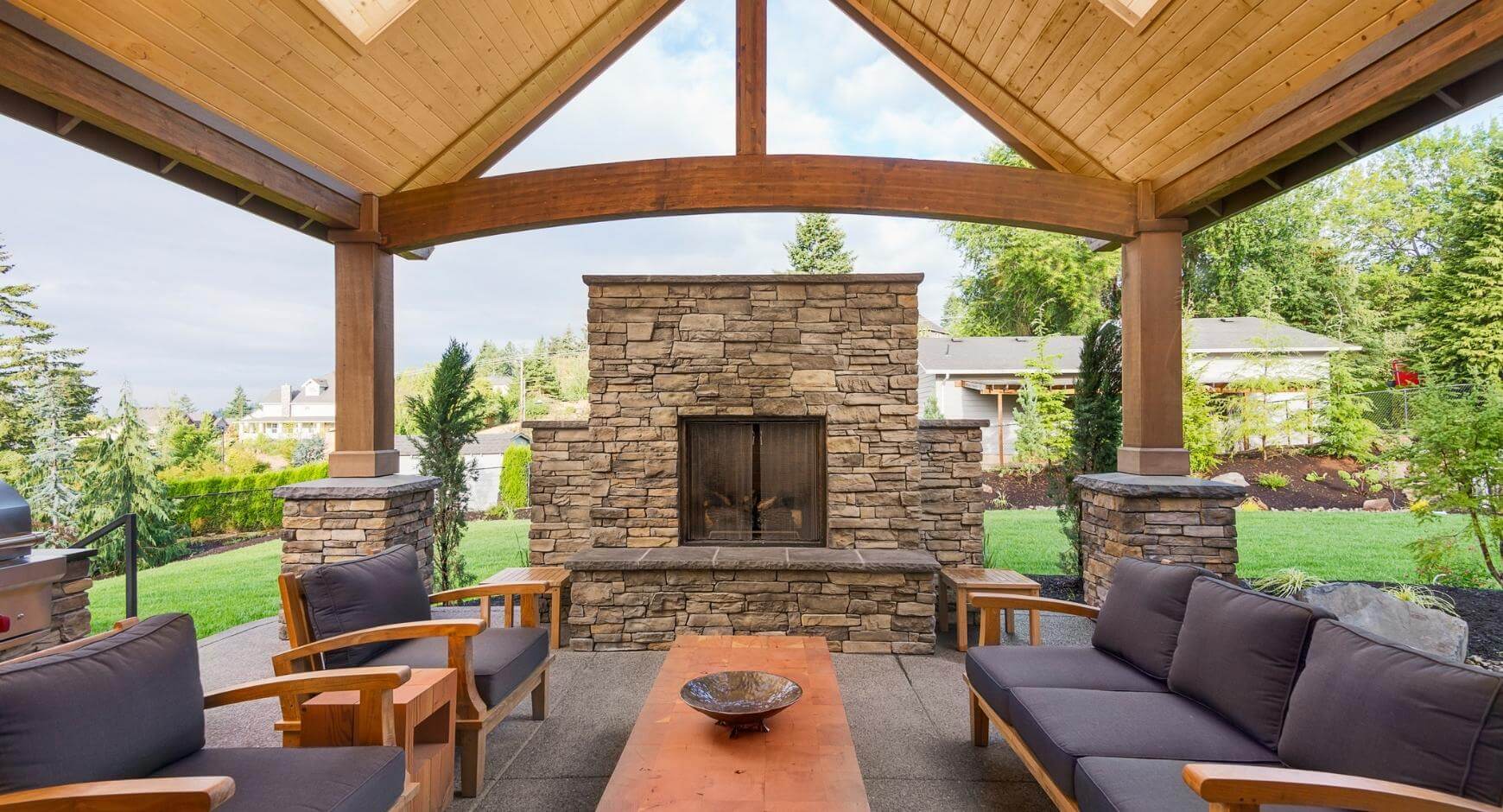 Stay In Line With Your Home Design 
The aesthetic of your backyard should roughly align with your home's aesthetic to create a cohesive experience. You can accomplish this by incorporating your interior trim and cabinet colors into your outdoor furniture or decking.
You could also continue a stone flooring or accent wall you may have into your outdoor space ideas. It doesn't have to match up perfectly, but if your interior is mostly stone and wood, it may not suit you to use vinyl and plastic outside.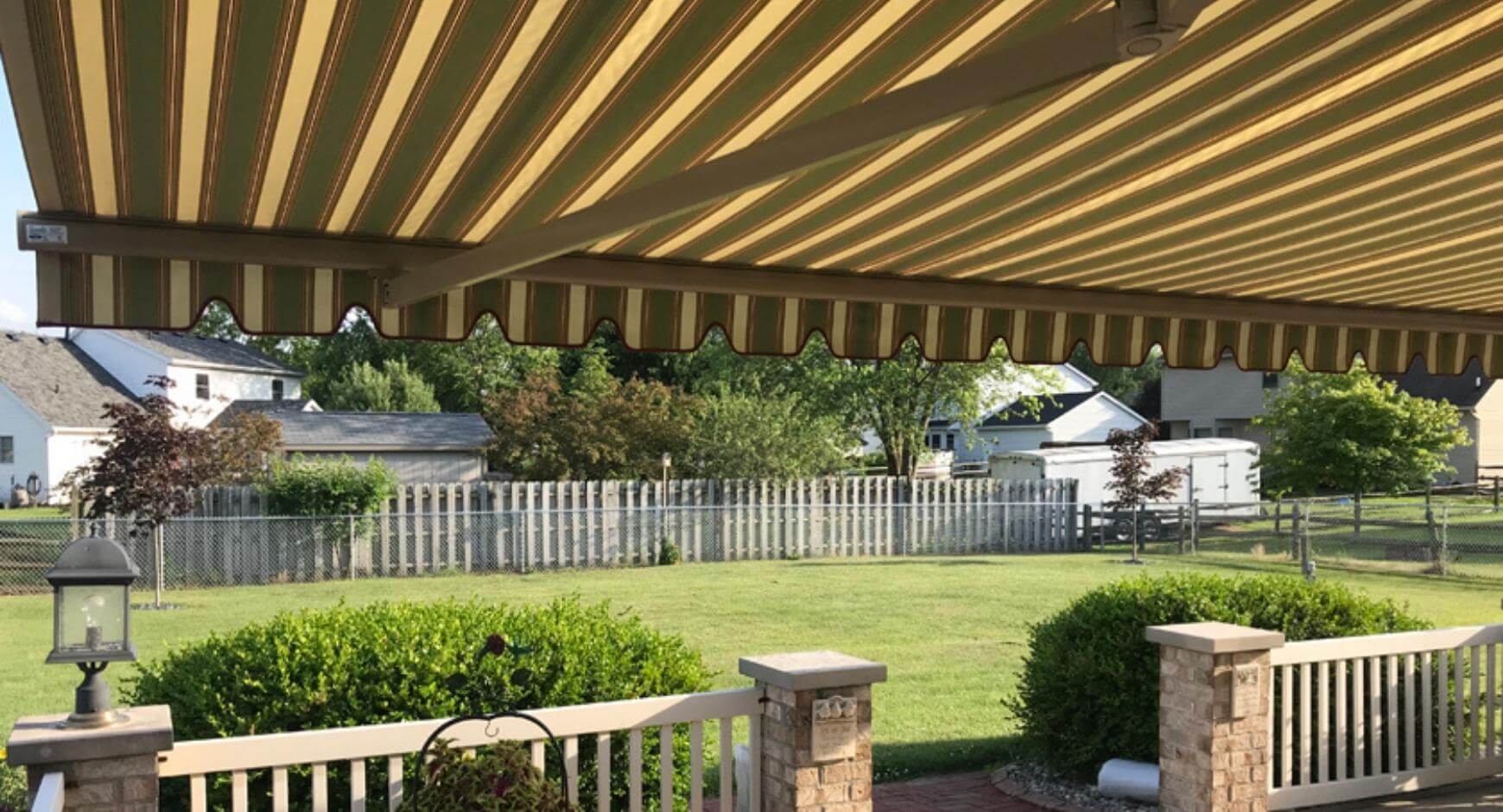 Leave Space for Lawn Games
Lawn games are popular at summer get-togethers and weekends with the family. Make sure you leave a nice flat area of grass for the kids to play without running into the landscaping. The amount of space you need is up to you, depending on the types of games you'd like to play.
A small courtyard like the one shown above is more than enough for popular barbeque games like cornhole, bocce ball, or polish horseshoes. As a bonus, your pets will thank you for the extra space to run.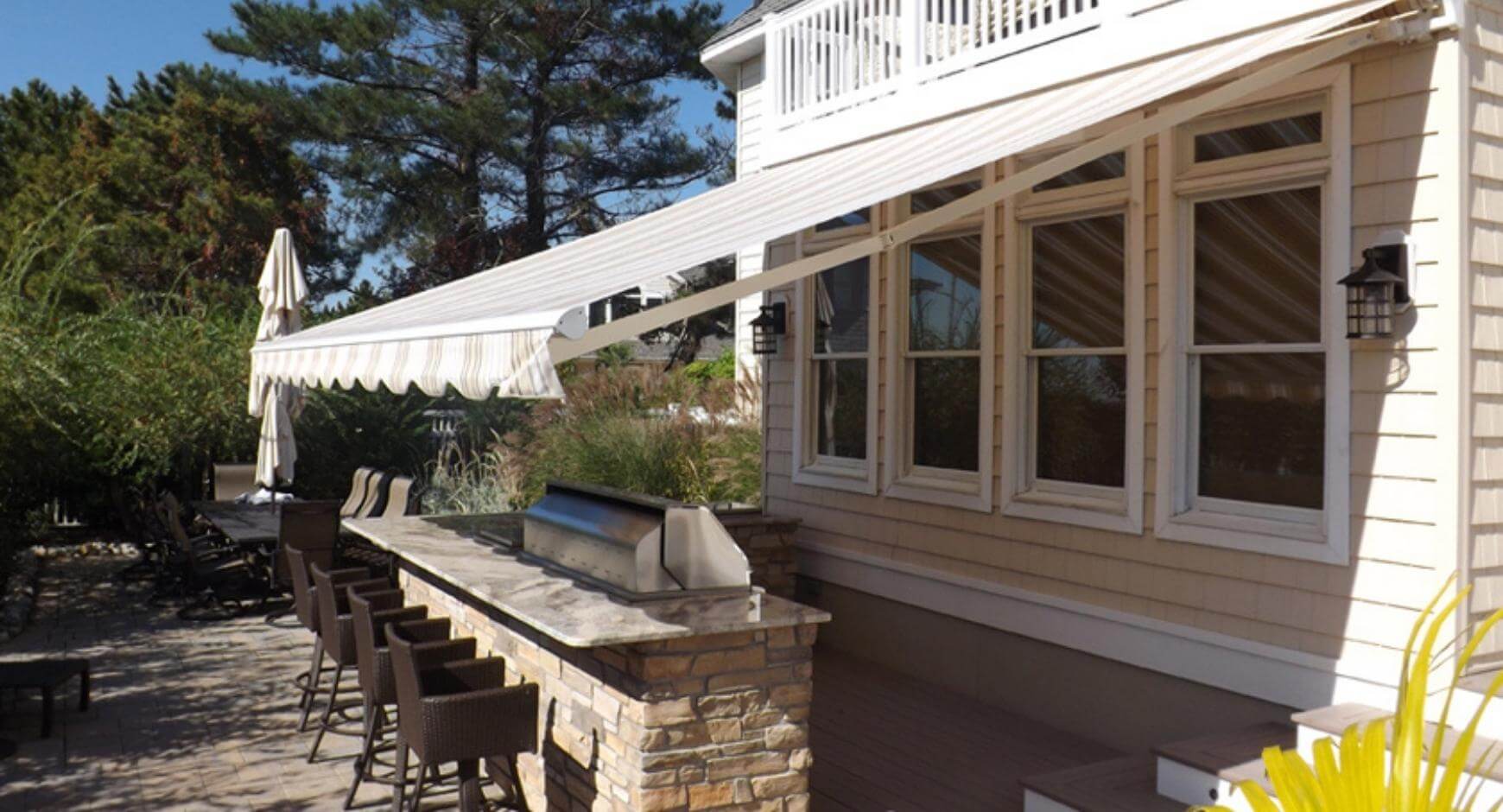 Entertainers Need a Grill and a Bar
Hosting parties in your dream backyard isn't going to be much fun if you're constantly running in and out of the house to grab drinks. Alongside your outdoor grill is the perfect place to set up a minibar.
Running electricity out from your house can be easily hidden with a small countertop bar like the one shown above. It's a small addition that makes cooking dinner a more sociable time. It's another backyard living idea that can grow with you through various useful upgrades.
Cover it with a pergola
Add fun lighting 
Wrap it in bamboo for a tiki night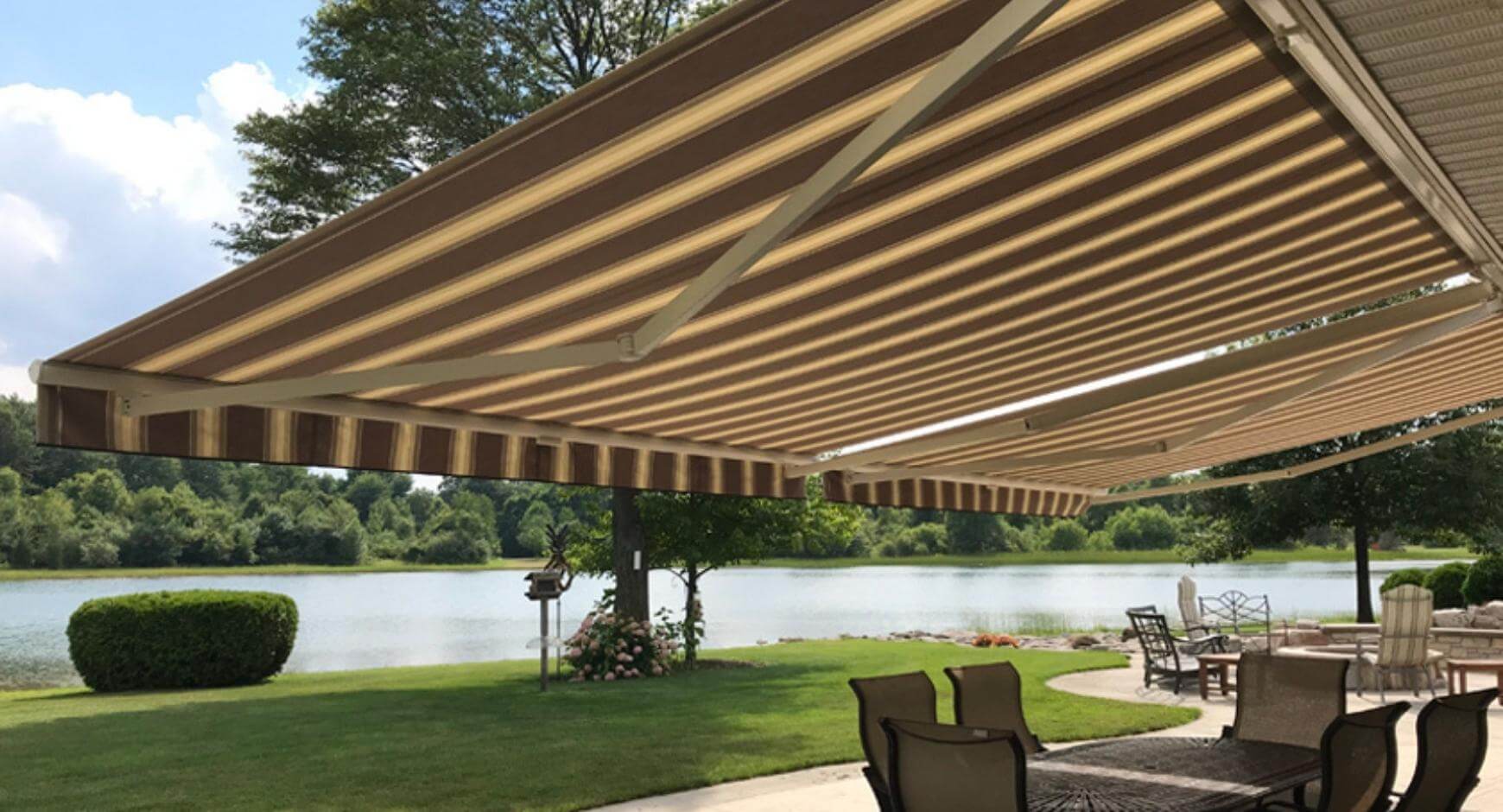 Keep It Simple 
Lakehouse backyard ideas are usually more simplistic to let the views take center stage. Whether you live on a lake, a hilltop, or a wooded forest, there is plenty to appreciate in the beauty that surrounds us. Instead of creating a zen garden, you can keep the backyard inspiration as zen as possible by doing little to nothing.
Contain your outdoor ideas to the patio and leave the rest untouched to enjoy the simplistic side of nature. Not only is it peaceful, but it requires much less year-round maintenance, which is relaxing in its own way.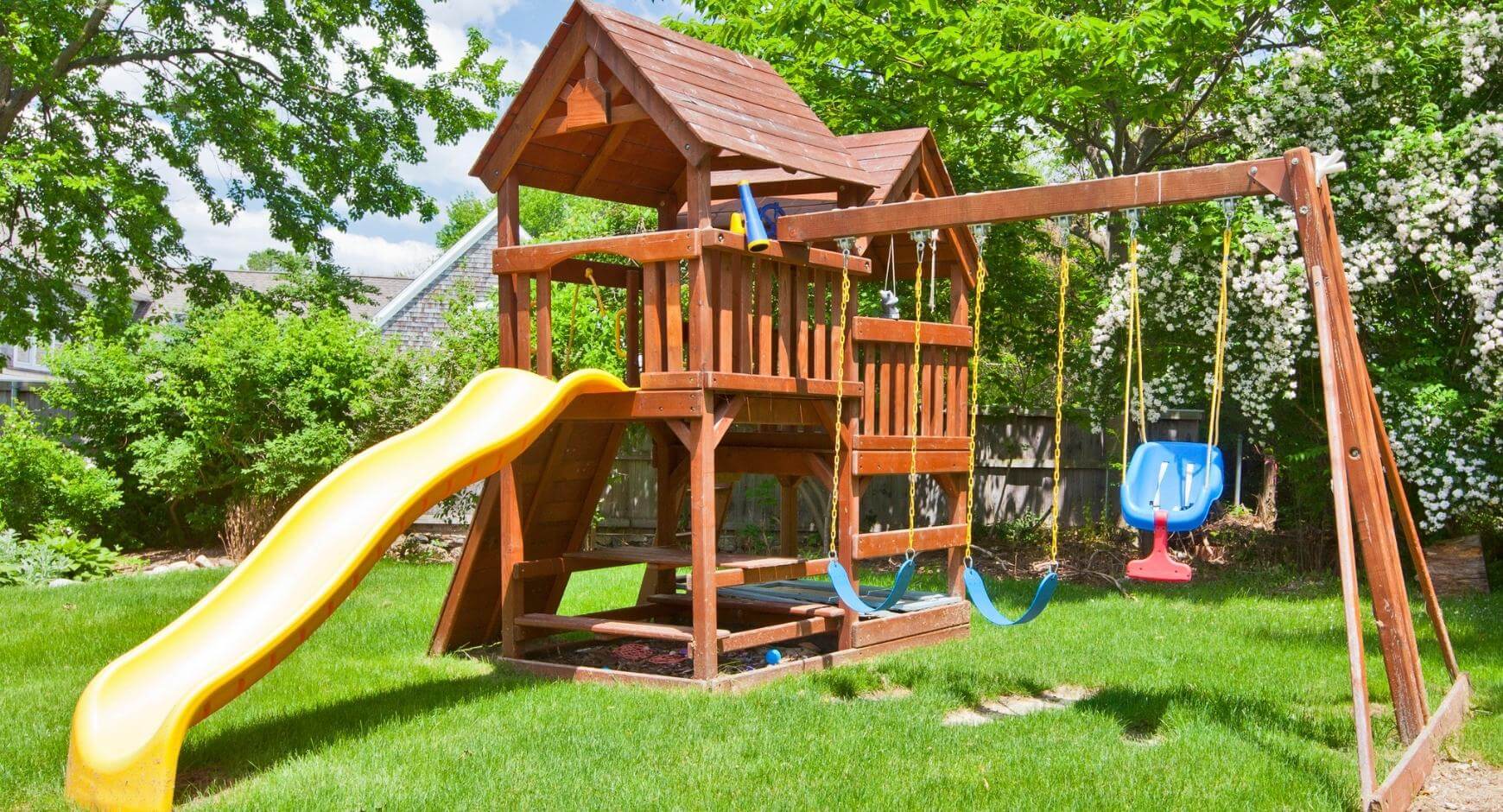 Add a Place For the Kids to Play 
Whether or not you have kids, you'll surely have a friend or family member bring theirs over from time to time. It's best to create a space for them to play before they decide to play in the koi pond.
This doesn't necessarily mean you need to get a swingset, but an area for some lawn games is not a bad idea. Additionally, if the kids spend the night, you can set up a stargazing tent with a few sheets and rope tied to the trees.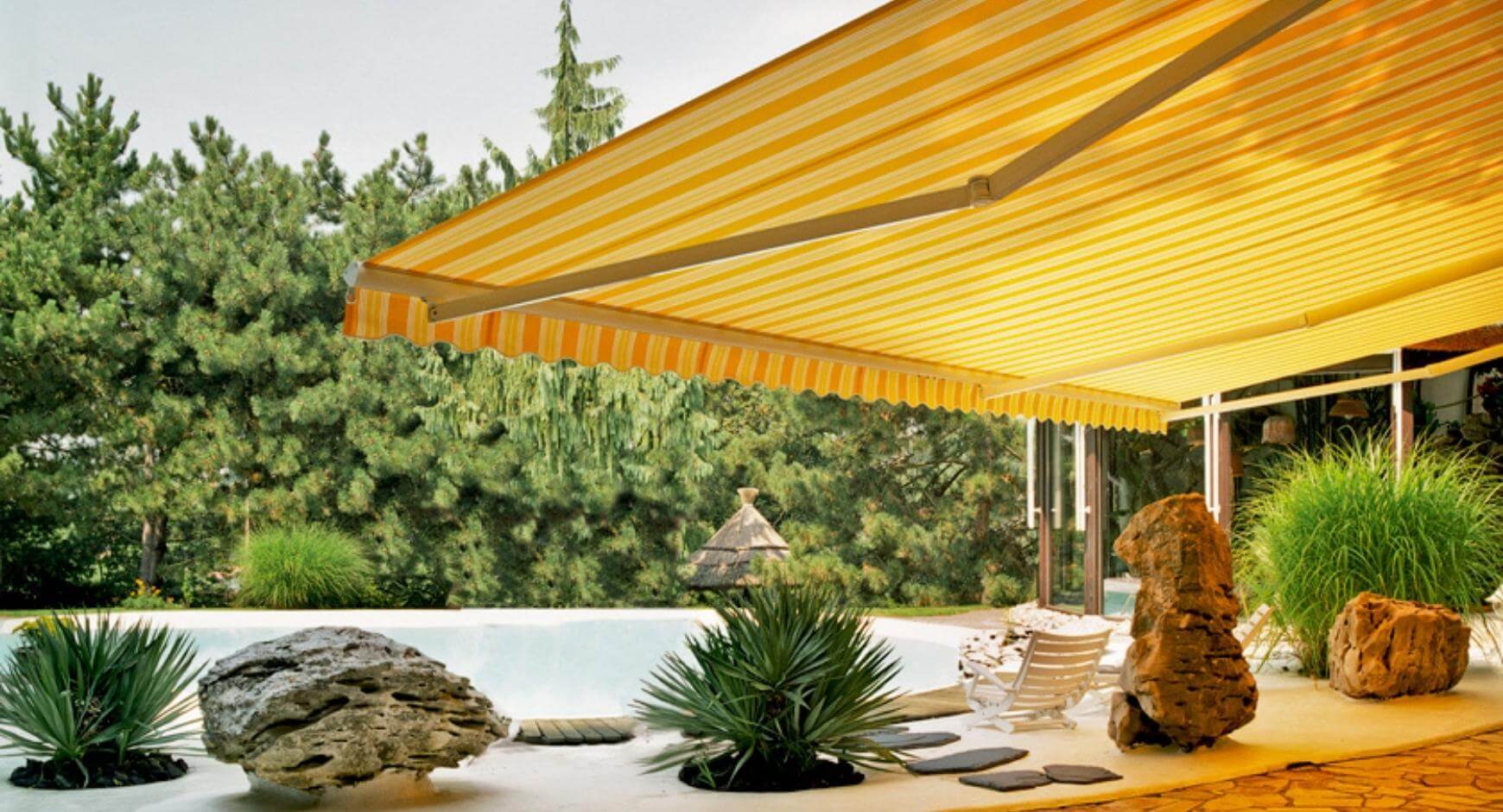 Brighten Your Space With Pops of Color
Depending on where you live, your backyard could be lush with green grass or dry and decorated with rocks and sand. In either case, the natural elements are one or a few colors. Add some diversity to the color palette with accent colors on your backyard decoration.
Choose a few colors that contrast nicely with your surroundings, like bright yellow on green or bright blue on orange and red rocks. Here are a few accent items to spark your ideas:
Bright colored pots 
Flowering trees
Accented outdoor furniture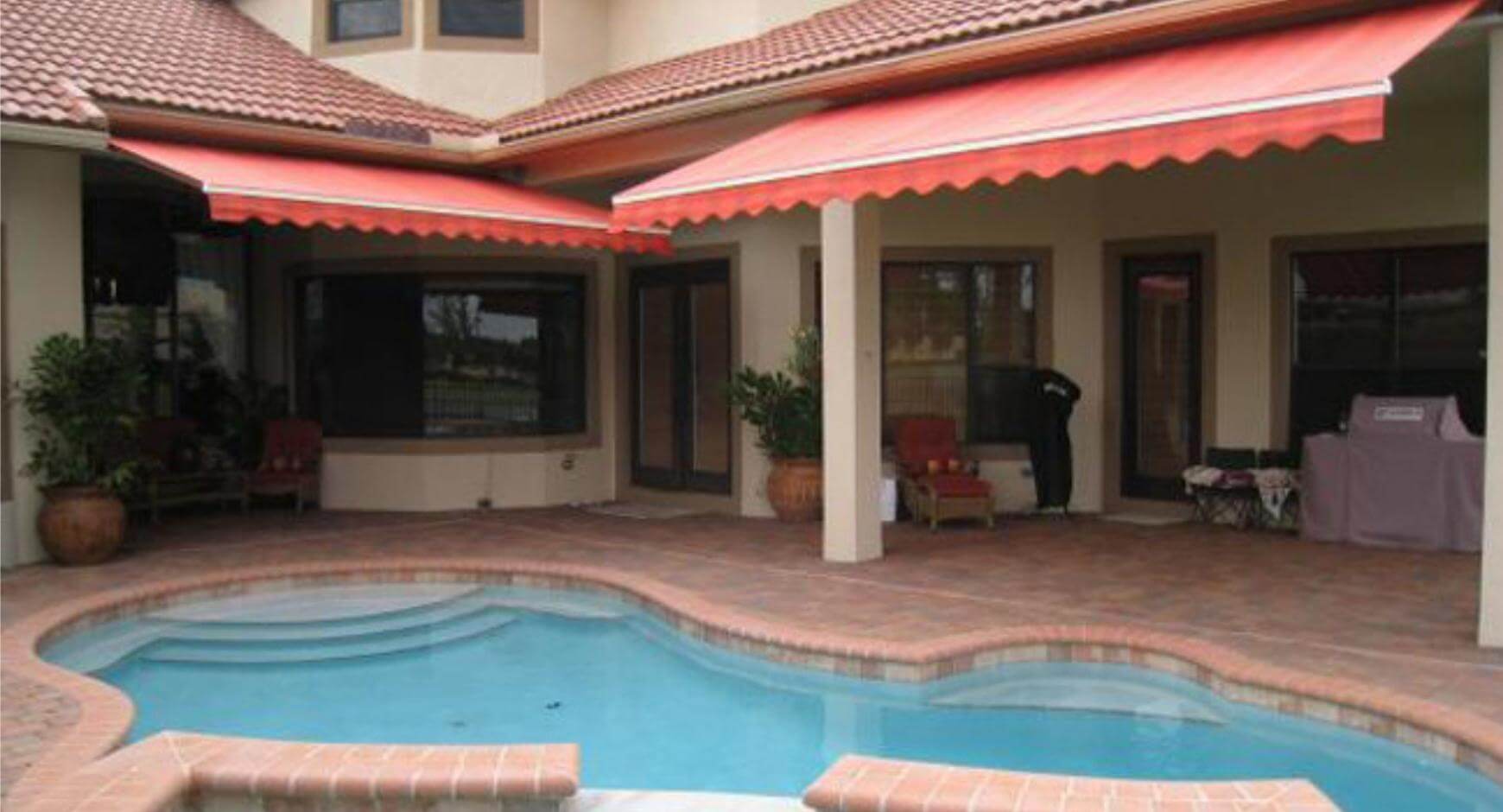 Consider an Inground Pool
Inground pools are not always attainable either because of climate constraints or budget constraints. However, they do make for beautiful backyard living, a space you won't want to take a vacation from.
The level of customization available when ordering an inground pool is enough to meet your wildest expectations. Compared to an above-ground pool, you'll quickly notice the benefits stack up. While it may not be first on your renovation list, it is definitely worth considering.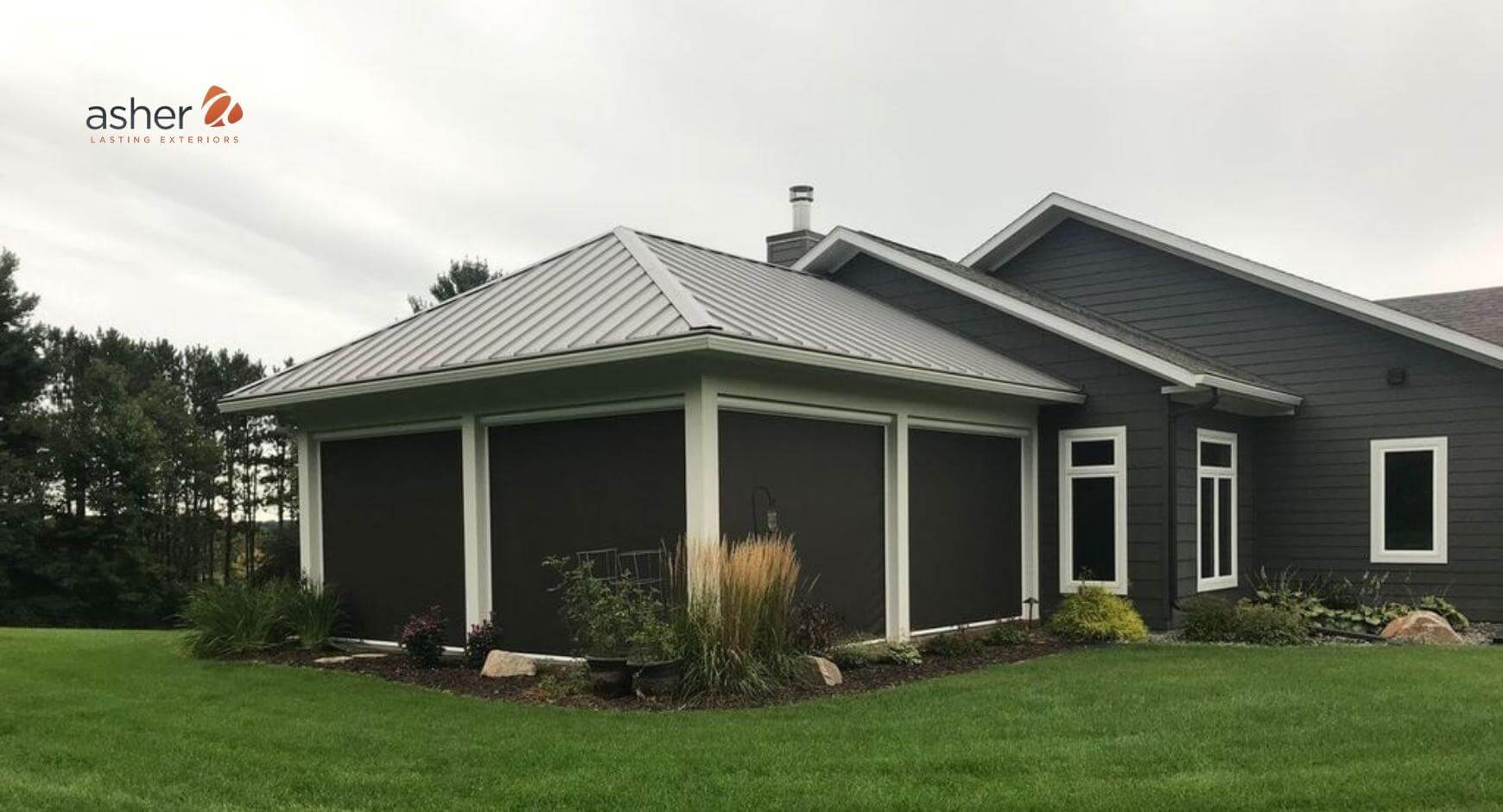 Explore Asher's Blog For More Tips and Inspiration
We hope you've found a few design aspects that spark your inspiration and set you on the path to your dream backyard. Now is the perfect time to start lining up your home renovation projects for the spring. We hope that you'll reach out to our experts with any questions you may have about your next project. Our services are Eau Claire's top choice for exterior remodeling but don't just take our word for it. Come and visit our showroom to get an up-close look at the materials and components you've been eyeing. You can also explore our blog for more great home exterior tips and advice.