Retractable awnings can shelter your outdoor patio spaces from rain, snow, and harmful UV rays so you can stay cool and comfortable all year long. Learn everything you need to know about the best retractable awnings to find the ideal shade solution for your home.
Retractable awnings offer homeowners a stylish solution to help improve shade, reduce outdoor temperatures, and keep your energy bill low all season long. Unlike traditional awnings that remain exposed to outdoor elements that can damage your fixture, retractable models can quickly roll up when the weather turns sour or the season changes. Having this feature can also expand the longevity of your awning so that you can enjoy more time outdoors in the fresh air and less time dealing with awning replacement or costly repairs.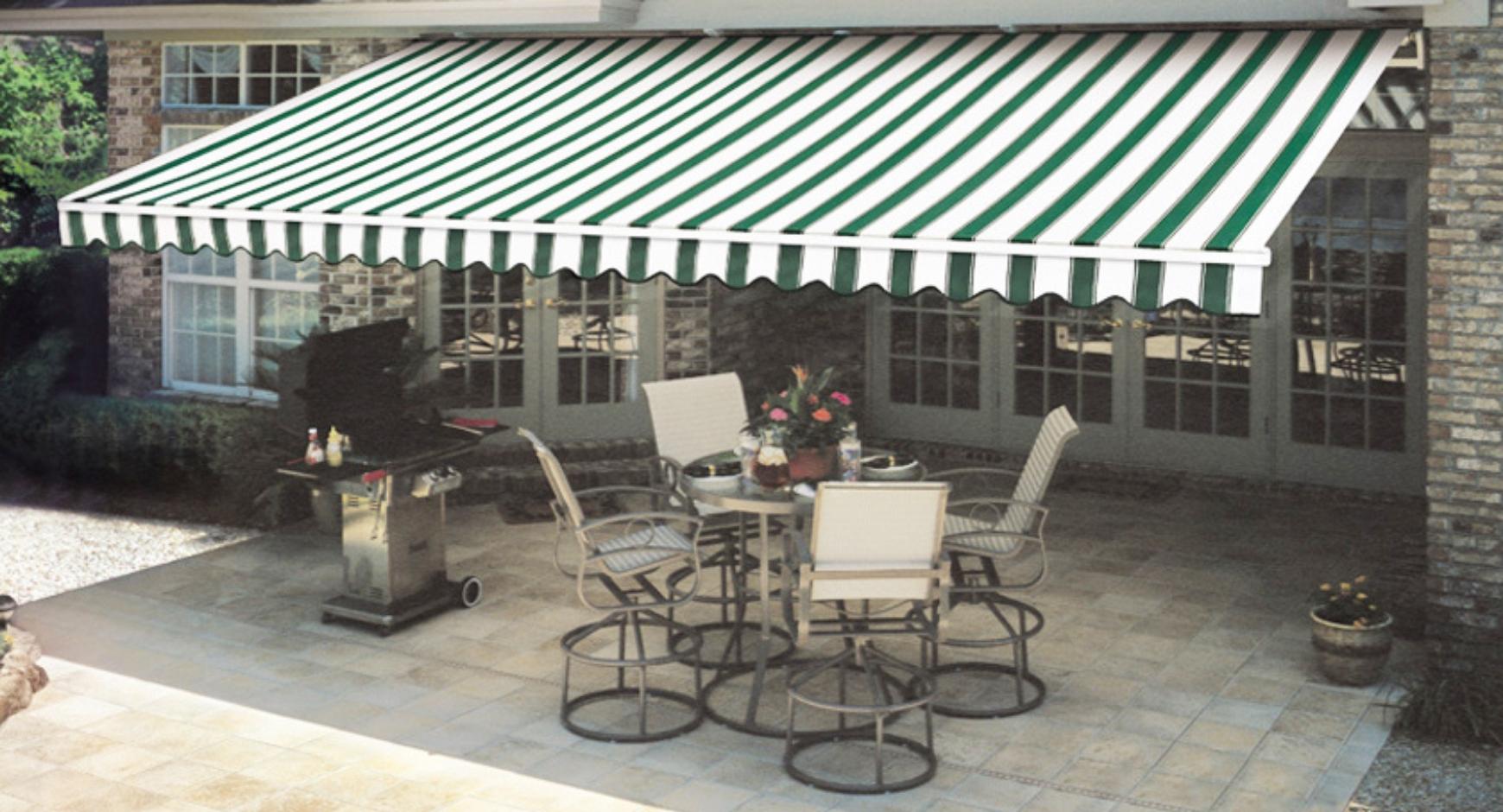 Factors to Consider When Choosing An Awning
Awnings are one the most popular patio covers that can make a stylish addition to any outdoor space and offer various benefits, including:
UV Protection
Minimized Solar Heat Gain
Increased Comfort
With a wide variety of colors and materials to choose from, you can easily customize your awning to complement any home aesthetic. When deciding on an awning for your home, the main factors you'll want to consider are the material, angle, and cost. Taking the time to research what you need now will make buying your awning a breeze.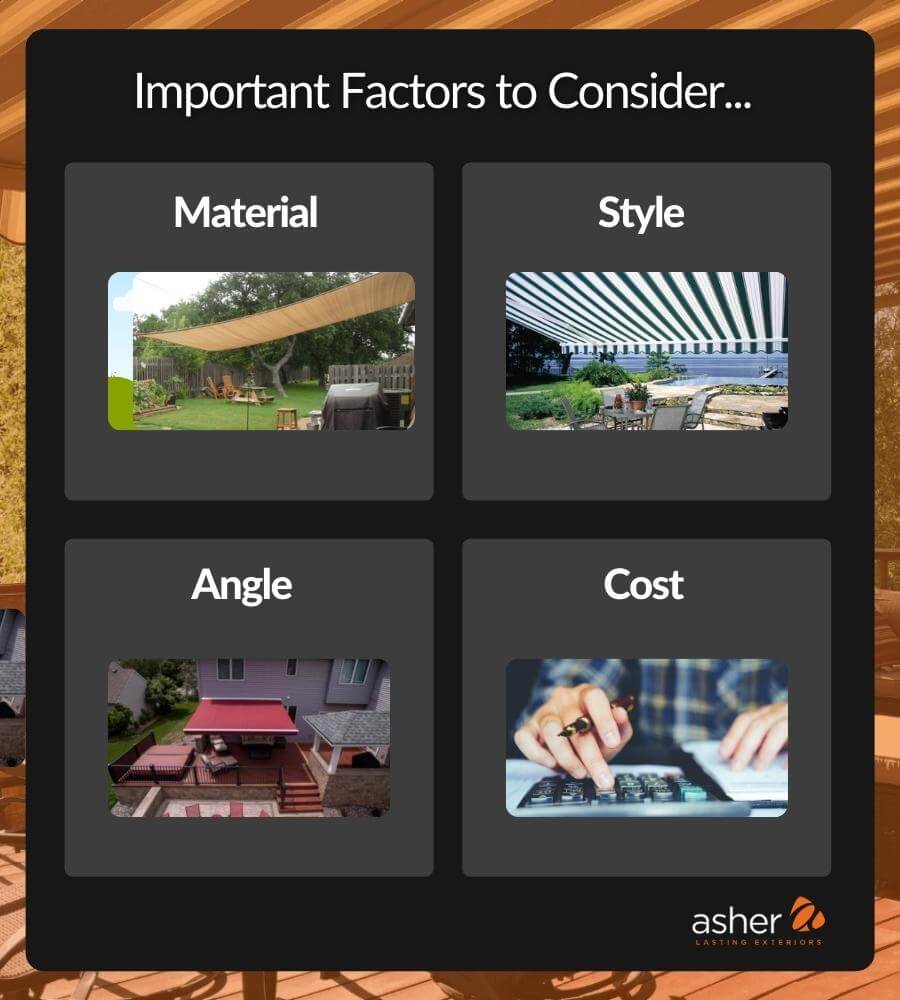 Material and Style
Awnings come in a variety of outdoor fabrics like vinyl, polyester, acrylic, and cotton. They can also be made of aluminum, but the most popular choices are vinyl and acrylic for their durability and weather-resistant features. The fabrics can be dyed to any color and are available in a growing number of patterns to fit your style.
Aluminum awnings are strong, but they can't be customized in the way that outdoor fabrics can be. However, they will require less maintenance over time, which can be a good selling point for some. Whichever material you prefer, make sure the awning is retractable to save it from storm damage and extend its lifespan. The top three materials for awnings are as follows:
Vinyl: Waterproof and fire retardant as well as being light and flexible
Acrylic: Water-resistant and able to withstand more ultraviolet damage
Aluminum: Durable but prone to rust and collecting heat
Angle
The angle of your awning determines how much sunlight is blocked from your windows. During the peak summer heat, this can significantly reduce your energy bills. Windows facing east or west are recommended to have an awning drop size of 65-75%, while south-facing windows should have 45-60% coverage due to the sun's angle.
The best retractable awning will allow you to adjust the amount of sunlight entering your home so you can control the temperature without the thermostat. The angle of your awning dramatically affects how it performs, so proper installation is essential. You can rely on Asher Lasting Exteriors, your trusted local contractor, to install outdoor awnings that maximize your energy savings.
To recap, when it comes to angles, it's important to consider:
Direction your awning will face
Caliber of professional installation will determine longevity
Cost
The cost of retractable awnings is tied to several factors, including whether you'd like a motorized or manual operation. If you choose an electric sensor over a crank, you can expect to pay more, but you may discover that having a remote to easily control its settings is worth the investment.
Depending on the company you choose to install your awning solution, you may have the option of customizing its size to fit your unique outdoor living area. Of course, more fabric (and custom options) will equal a higher price point. Still, having your awning perfecting fit around the exterior space you're looking to shade will help cool your backyard, keep your deck and furniture protected, and improve your home's curb appeal. In the long run, retractable awnings always pay for themselves.
When it comes to cost, important factors include:
Motorized vs manual operation
Custom sizing options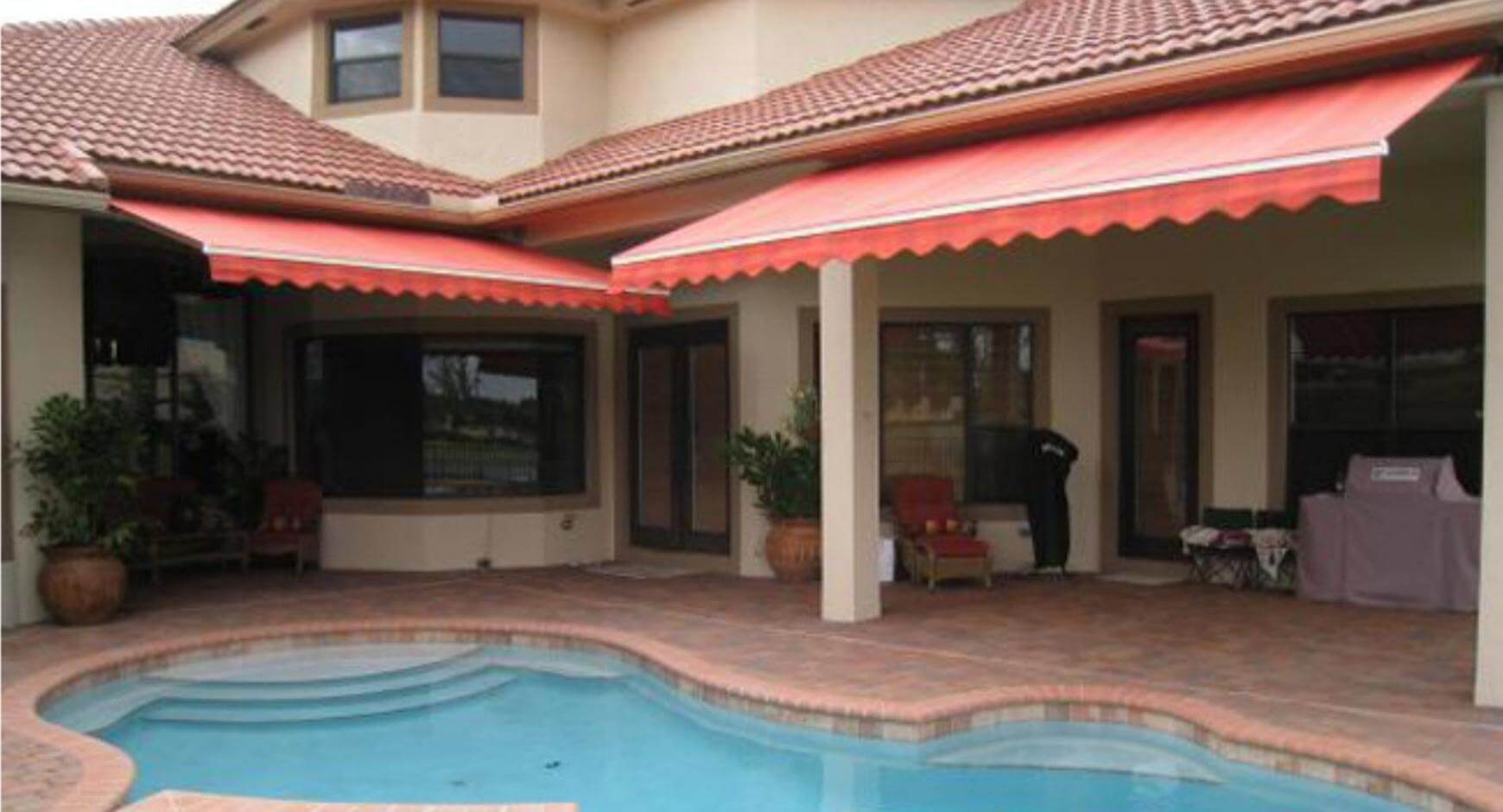 Best Retractable Awnings
The best awnings are made with top-rated materials, come with professional installation, and are available at a reasonable cost so you can see a return on your investment in the years to come. At Asher Lasting Exteriors, we only install the best Sunesta awnings because of their durability and range of customizable features. However, we understand the need to shop around before you purchase, so we compiled a list of the top awning brands for you to compare.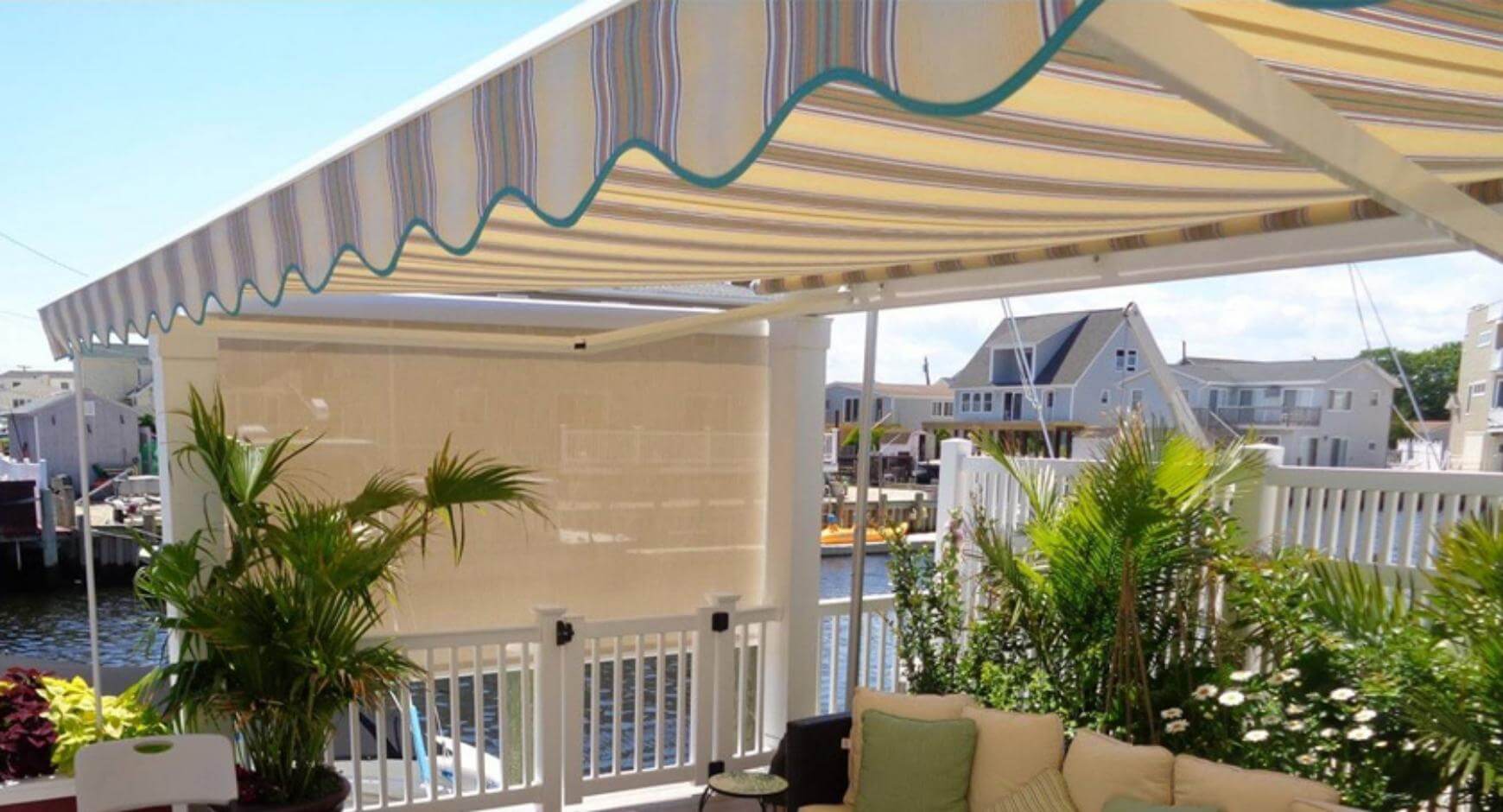 Sunesta
Sunesta allows you to choose from over 130 different fabric styles and four frame colors. Their custom designs can span up to 40 feet long and nearly 15 feet high. With many features like home automation, drop-down valance, and power motors, it's hard to find a more versatile awning company. What's more, Sunesta awnings also have wind sensor technology. This means the awning automatically retracts in inclement weather
Sunesta backs its work with the nation's best 10-year awning warranty. When you decide to buy a Sunesta awning, your trusted local exteriors company will install it in roughly 6-8 weeks. Here at Asher Lasting Exteriors, we've helped many homeowners enhance their outdoor living space with beautiful custom awnings from Sunesta.
Benefits: 
Custom fabrics and frames
Wind sensor
Choose coverage and size
10 year warranty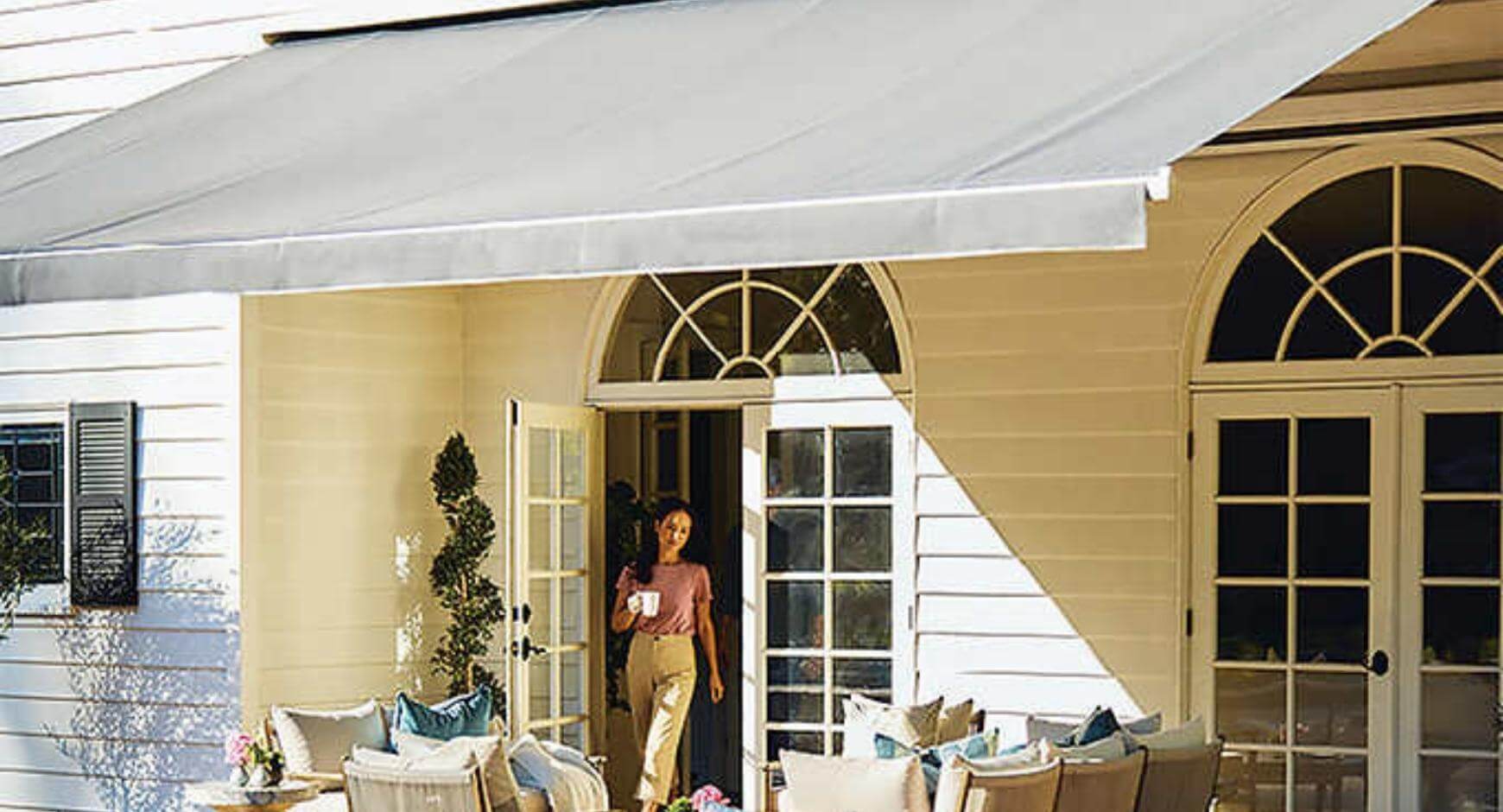 Sunsetter
Sunsetter has a few different lines of awnings, from standard manual operations to custom motorized awnings that can extend up to 13 feet from your home. The best retractable awnings for decks allow you to control the amount of coverage you get for optimal sun protection.
Sunsetter offers competitive prices as well as free swatches and an info kit for you to take home and compare to other retailers. They are one of the best awning companies for a quick DIY installation, but a professional installation is always recommended to get the best performance out of your retractable awning.
Benefits:
Dimming LED Lights
Extends up to 13 ft from your home
Rated at over 50 SPF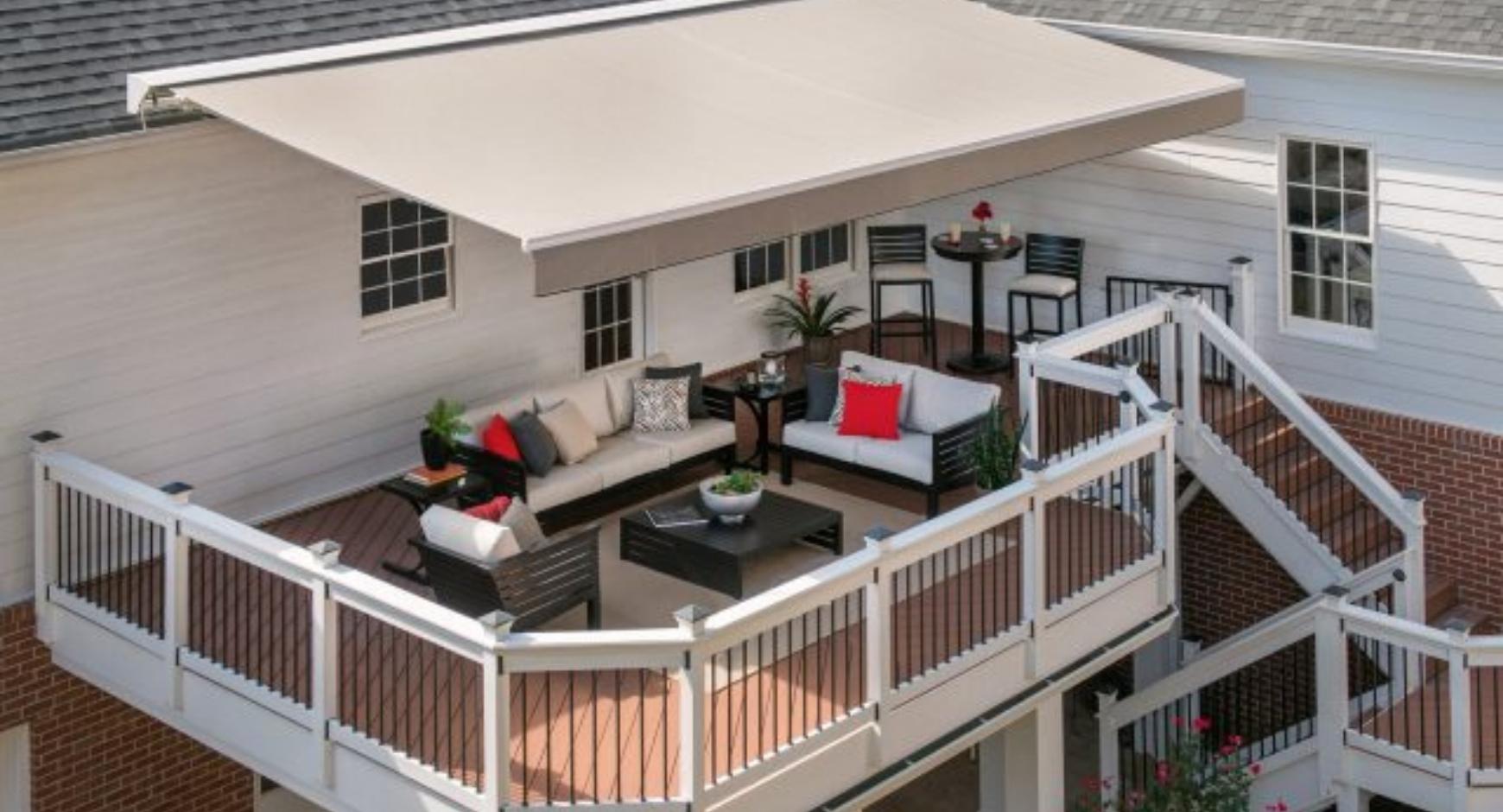 Solair
Solair offers a few different shade solutions, from retractable awnings to shade screens and drop-down curtains that can add privacy to your outdoor spaces. Their retractable awning reviews boast about the flexibility and design of the fabric materials. Utilizing high-caliber fabrics is the determining factor in making the best quality awnings.
Each of these top three brands use quality fabrics according to their retractable awning reviews. Like Sunesta, Solair has wind sensor technology that automatically retracts the awning in inclement weather. This means you can leave your awning down while you go to work to keep your home cool, and if the weather turns, it will stow away before any damage is done.
Benefits:
Wind Sensor
Awning Visualizer
Sunbrella Fabrics
Tips and Considerations For Buying The Best Awning
The best patio awning for one home may not be the perfect fit for your home. Searching for top-rated awnings is an excellent place to start, but you need to consider the needs of your home before settling on a design or brand.
For instance, if you have a south-facing patio, you'll want a more extended awning to cover your deck as the sun treks across the sky. If your patio faces west, you should look into wider awnings instead, as they can provide more shade as the sun begins to set. Here are a few tips for finding the best patio awnings for your home.
Tips to Help You Choose: 
Find out the direction your patio faces
Measure you deck to see if you need a standard or custom size
Decide between manual and motorized retractable awning
Research the best rated patio awnings for your area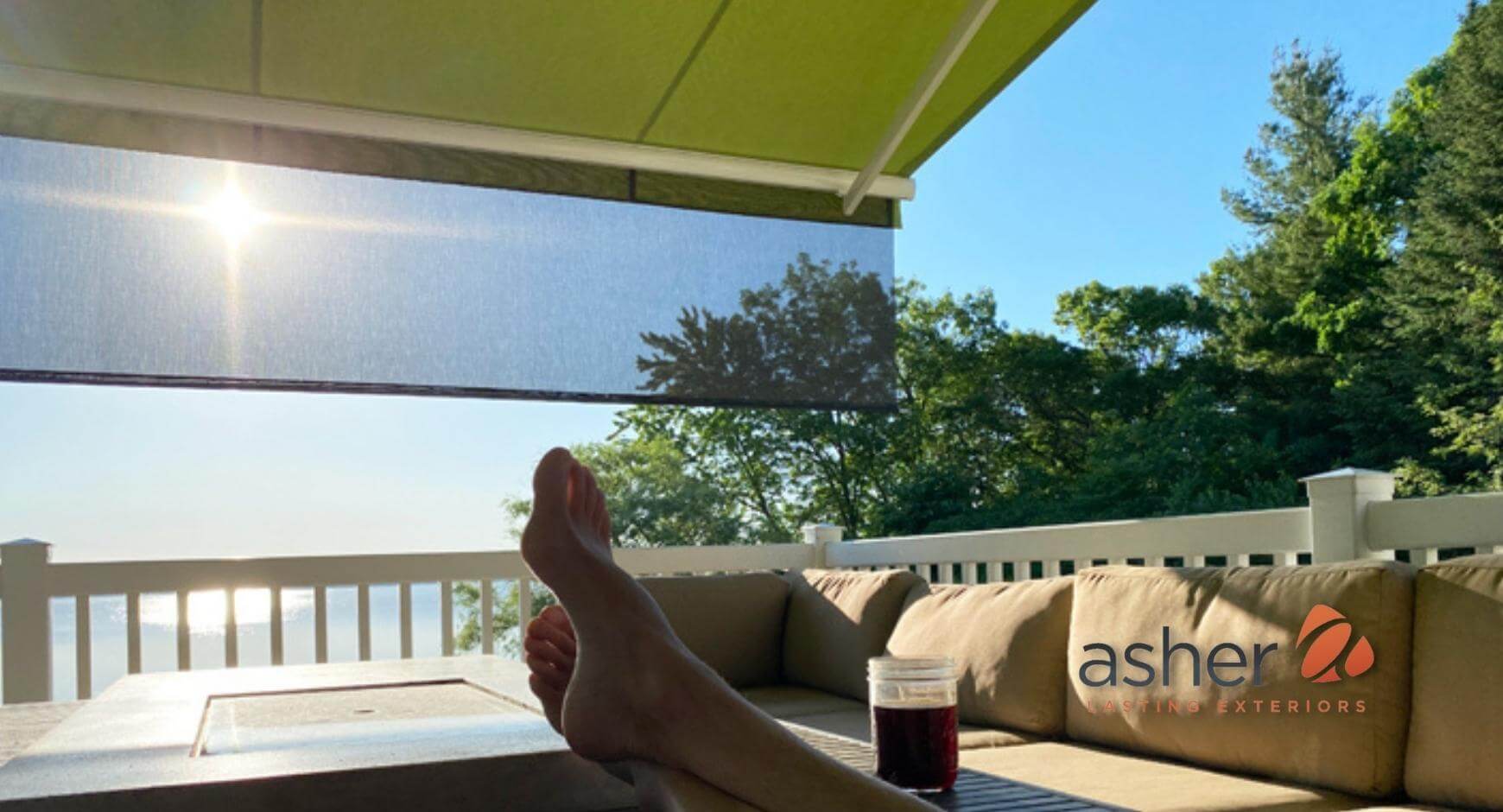 Shop Sunesta Awnings in the Asher Showroom
At Asher, our technicians are equipped to handle any size awning installation or replacement for your deck or patio area. From full-featured awnings to affordable entry-level models, our selection is custom-built to create more shade and less maintenance on your behalf.
Contact our team of professionals at Asher for anything from outdoor shade solutions like retractable awnings, solar screens, and more. Check out our blog as well for additional exterior renovation tips that are sure to transform your patio into the perfect summer getaway.