Enjoying your outdoor patio regardless of the weather is an enviable perk. With the many patio covering options, it can be hard to make a choice. This article will discuss the four most popular types of patio covers and what makes each stand out.
The most feasible way to enjoy the outdoors is to install an overhead patio cover. The shaded region will be protected against harmful UV rays and provide shelter from light rain. What's more, it will lengthen the longevity of your patio furniture.
If you're struggling to decide between the different types of patio covers, this article will help. Here we will detail patio cover options, their benefits, and design popularity. If you've ever wondered how to cover a patio, you'll find the perfect solution here.
Explore our beautiful selection of patio covers and reach out to our home exterior professionals to learn more.
Deck and Patio Covers: 4 Options to Shade Your Outdoor Space
There are two broad categories of outdoor structures regarded as deck and patio covers. These are 'freestanding' and 'attached' covers. If any part of the structure is connected to the house, it is considered 'attached.'
The construction material is an important factor to keep in mind. For instance, wood patio covers are more durable than Aluminum patio covers. Keep in mind that most styles of patio roof options can be constructed from different types of materials. This article will discuss the following four choices:
Awnings
Pergolas
Solar Screens
Sails/Canopies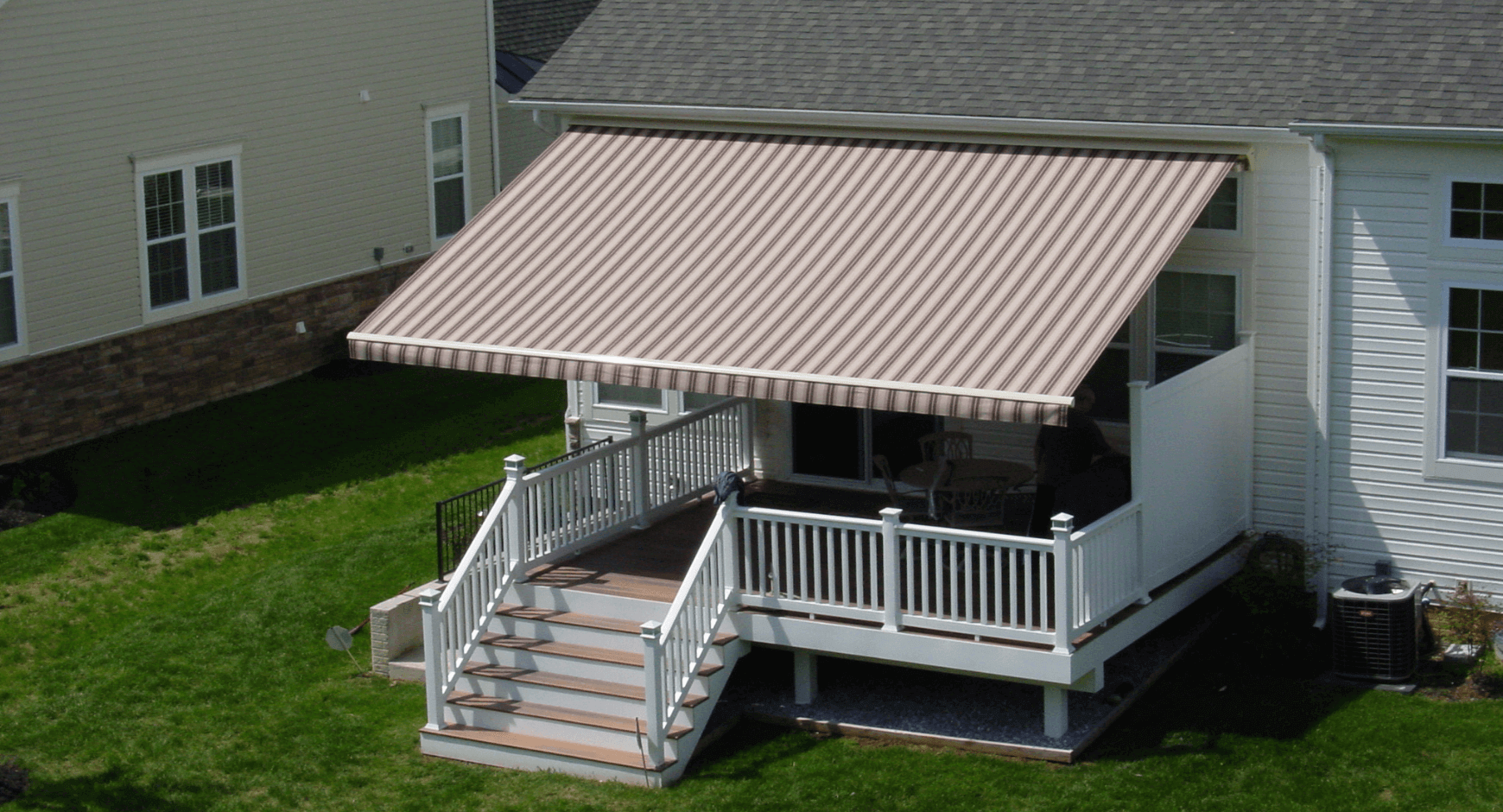 Awnings
Awnings' primary standout feature is that they are angled downwards, guiding water and debris off their surface. They can be permanent fixtures or retractable. The coverage is solid and well suited to windy areas. These are versatile fixtures that will serve almost any attached patio cover ideas you may have envisioned.
This style is a classic and popular choice due to the vast number of designs available. The size of the awnings is often customizable. Some designs also make use of frames for reinforcement and automation. Of all the different types of patio awnings, the most convenient and long-lasting are retractable ones.
The element of retractability limits their exposure to the elements. You can choose between a motorized or manual variant. Sunesta is a leading brand offering an array of customizable retractable awnings. At Asher, we stock full-featured awnings and affordable entry-level Sunesta models. Along with superior quality and a reasonable price, you'll get:
Maximum convenience as the awnings are controlled wirelessly via a remote or smartphone application
Generous product warranties on the frame, fabric, and motor
Over 130 fabric colors to choose from and more custom frame color options than any other awning company
Optional smart lights or a drop-down valance for added protection
Also noteworthy is that Sunsesta is the first (and only) retractable awning brand to receive Miami Dade Product Approval and the International Building Code Product Approval.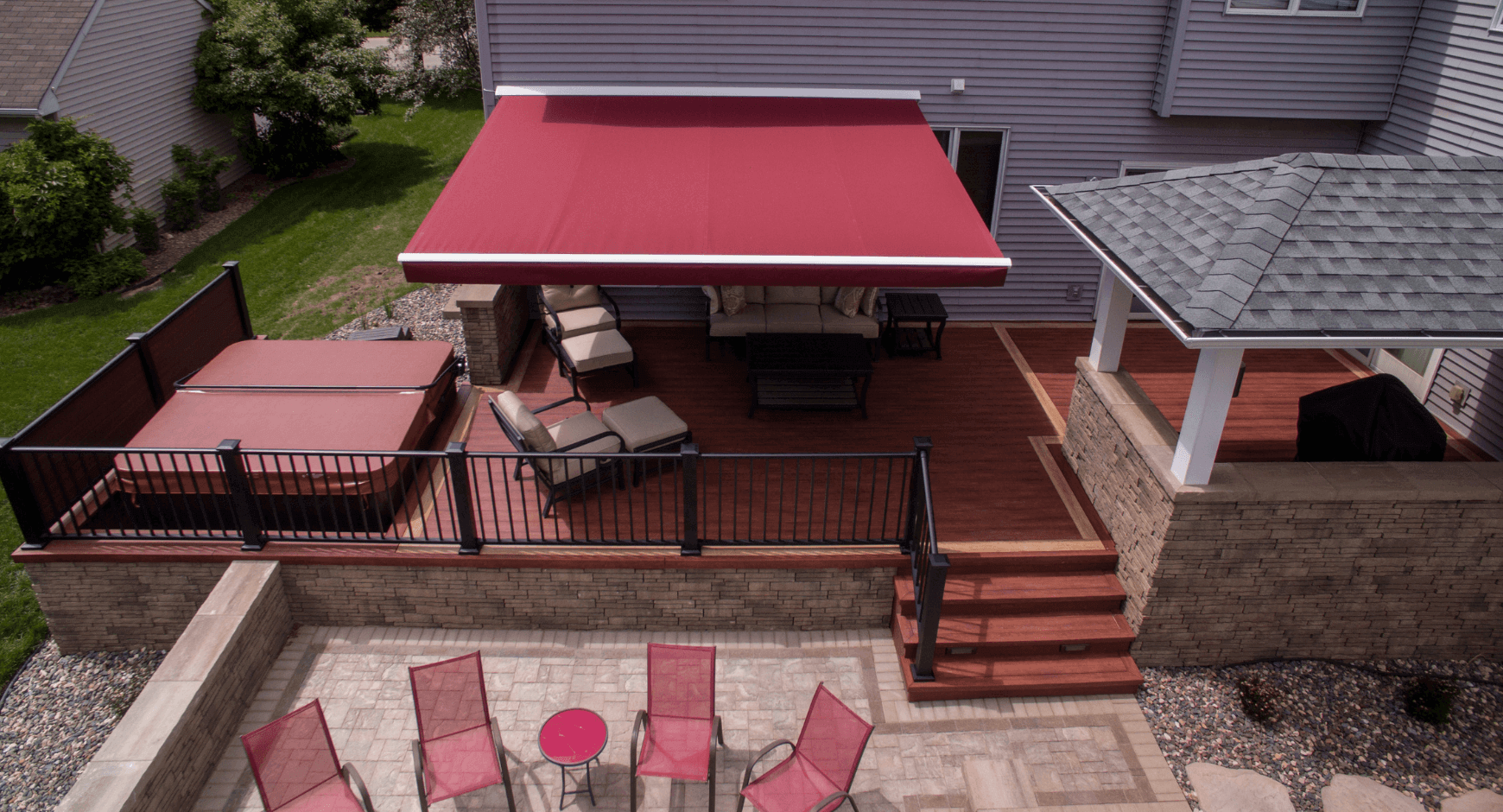 Types of Awnings for Decks:
Free Standing Awnings: These deck and patio covers are not mounted to a wall. They contain their own support structures and framework. They are best suited for covering large surfaces.
Vertical Awnings: You can see these as revolutionary window blinds. They can be fitted between two beams or over windows. They are beneficial when shade is required, no matter where the sun is positioned.
Portable Awnings: This design is less sturdy than its counterparts but will still provide shade and protection. Usually, a single household will make use of several portable awnings. These are often seen in hotels and restaurants.
Patio Awnings: These are fixed on at least one side of a wall. They project outwards and have a heavy-duty frame to support their weight and last for years. There are no support beams involved. This design is regarded as a straightforward patio cover option.
If you're in the Eau Claire area and interested in awning installation, browse our beautiful collection. Additionally, visit our showroom today to view our sample displays.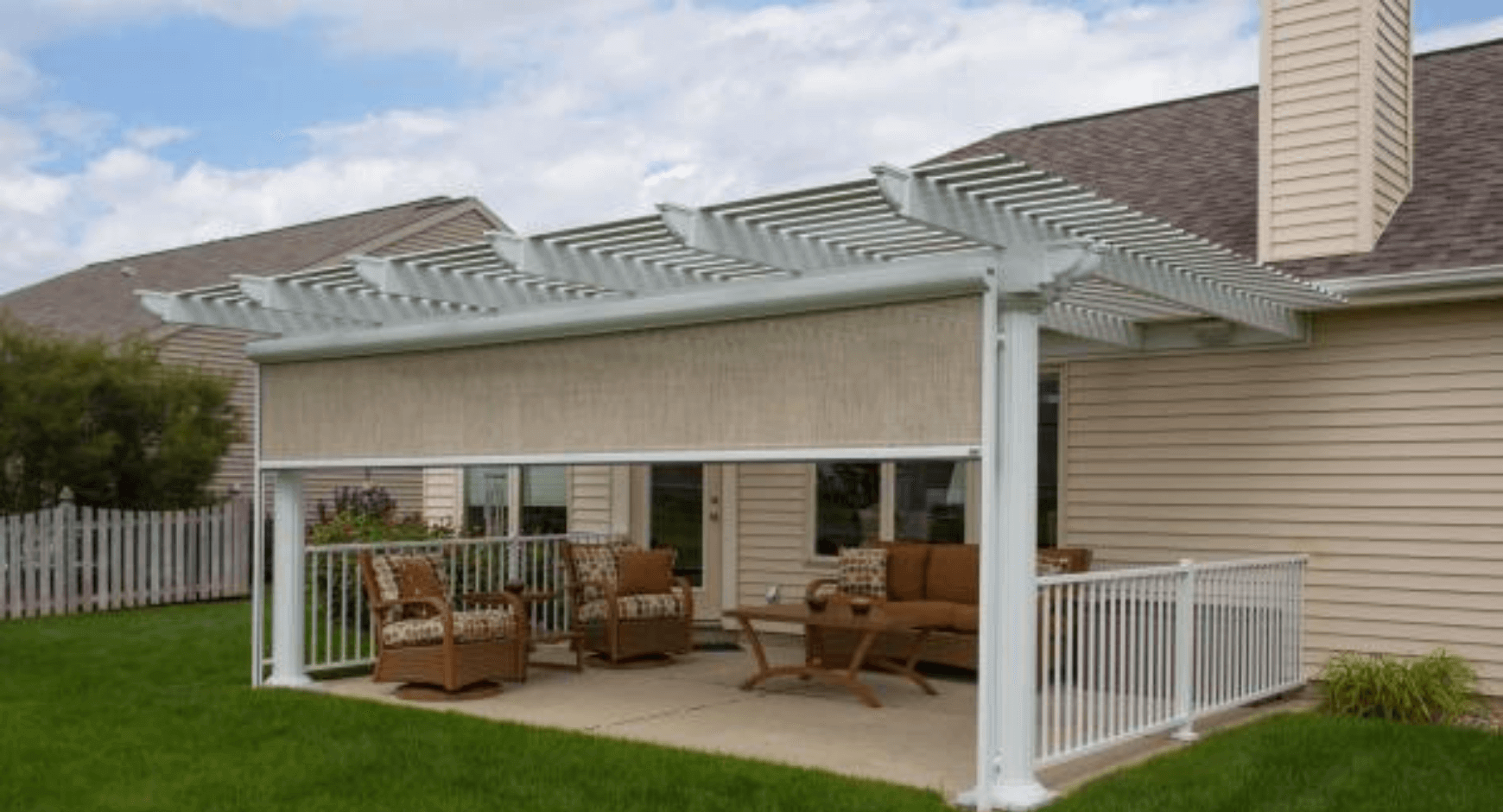 Pergolas
A pergola is a pillared garden structure. Its roofing can be composed of equally spaced rafters or be completely solid. Some people prefer the grid of rafters as it allows light exposure and better heat circulation. Pergolas can either be free-standing, attached, or hanging.
Free-standing pergolas are supported on all four sides using pillars, beams, or columns. The attached designs make use of a combination of wall mounting and beams. However, hanging versions have no additional support other than their wall mount.
Interestingly, the roof can be arched for extra aesthetic appeal. The design itself is usually very decorative. Typically, pergola owners grow vines that eventually encase the entire structure, creating an enchanting ambiance. Some pergola owners will weave fairy lights throughout the rafters for added elegance.
Pergolas can be made from metal, wood, plastic, stone, and glass. Let's have a look at why these structures are so popular:
The design options are extensive; you're sure to find something to fit your style
The stronger structures can support light fixtures or even fans; the arched structures are particularly strong
Pergolas are versatile and can cover varying surface areas
These structures are low maintenance; they don't need frequent cleaning, painting, or resurfacing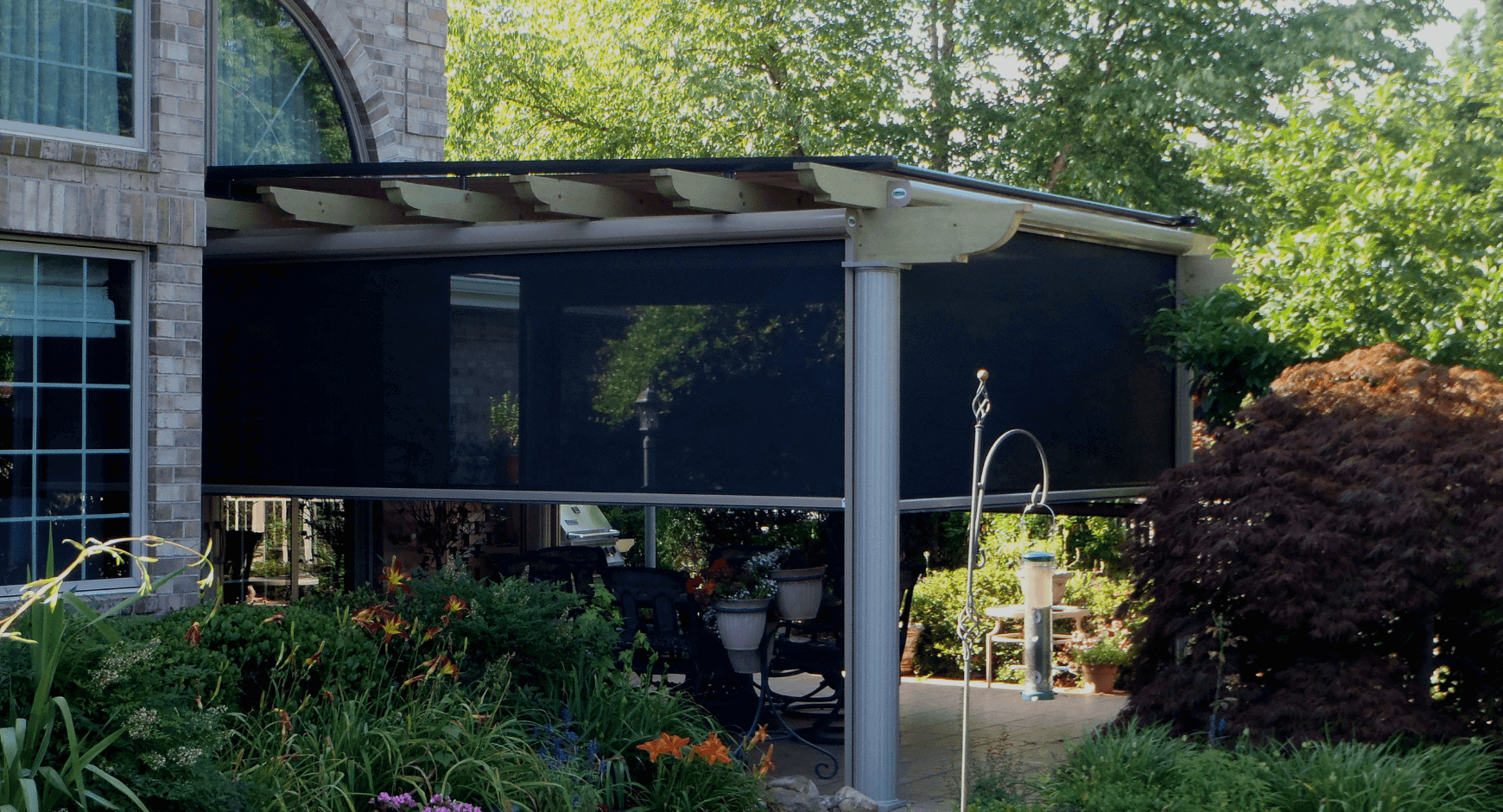 Types of Pergolas:
Wood Pergolas: This type of pergola is ideal if you prefer a natural or rustic look. This is the most classic design if you're considering wood patio cover ideas.
Vinyl Pergolas: This material suits a minimalist decor scheme. Most of these designs will be white, which requires regular cleaning. Vinyl is often a more affordable option.
Fiberglass Pergolas: This material is exceptionally sturdy and low maintenance. Fiberglass can also be painted, so color options are endless. This is usually a pricier material.
Metal Pergolas: These designs are usually built using aluminum and/or steel. They are less sturdy and, if not securely fastened to the ground, will bend and buckle. If you select powder-coated versions, you'll have a wider variety of colors to choose from.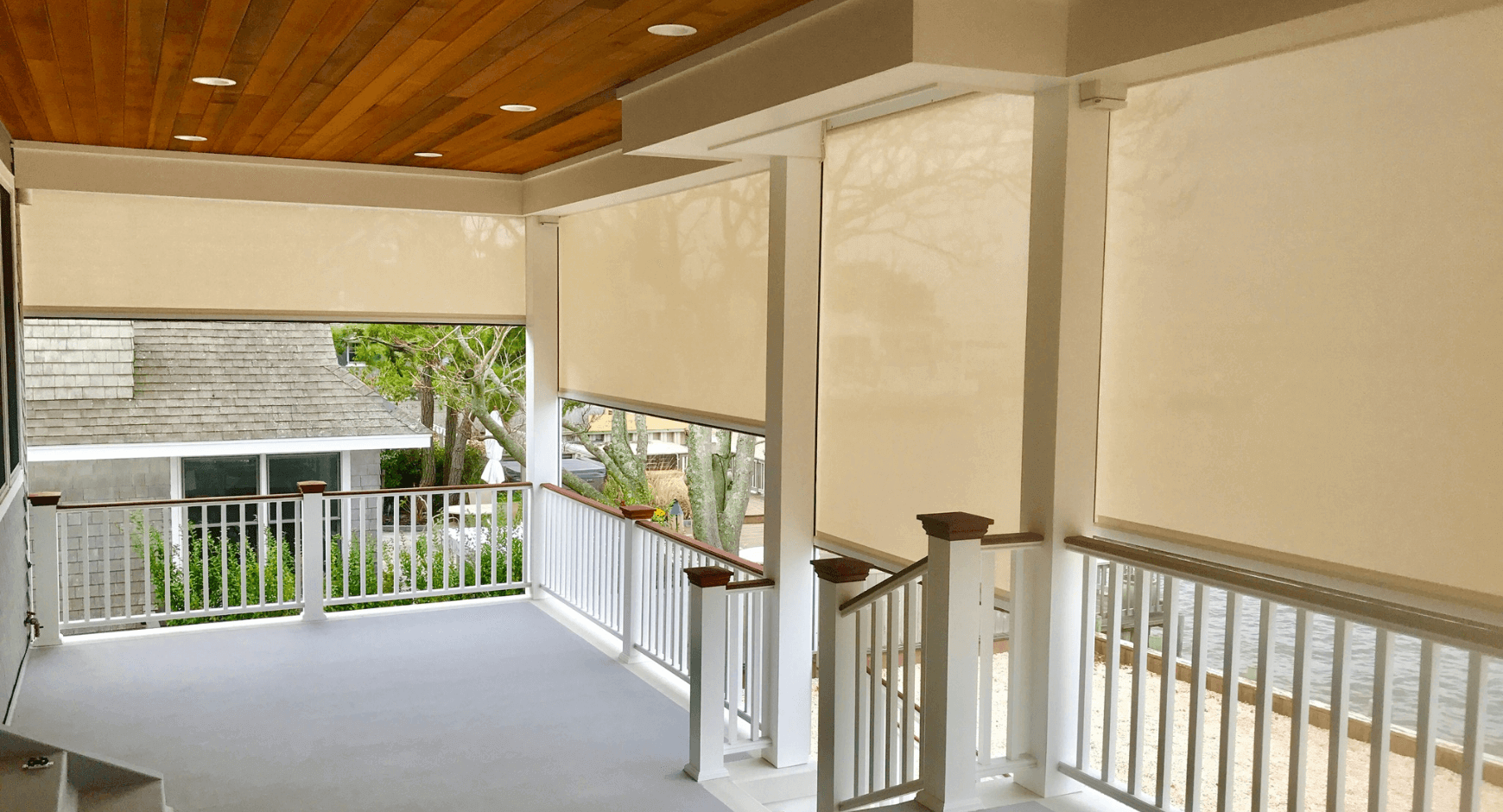 Solar Screens
Deck covering materials such as solar screens are fabric panels used to limit incoming sunlight. They can hang like curtains over an opening. They are also retractable. Although they hang vertically, they are still considered to be a type of patio cover because they provide such excellent shade.
Solar screens are great for rooms that have poor temperature regulation. Installing these fixtures may reduce electricity usage as they block the sun and absorb its heat. The screens can also be installed alongside other patio roof options such as awnings and pergolas.
The Sunesta solar screens come with the latest in sun protection technology. They exist in two variants detailed below. You can control the amount of light, heat gain, and desired privacy. There are also several beautiful neutral shades to choose from. See some additional benefits below:
There are several accessories, colors, and mounting options to choose from.
All of the retractable designs come with remote controls for your convenience.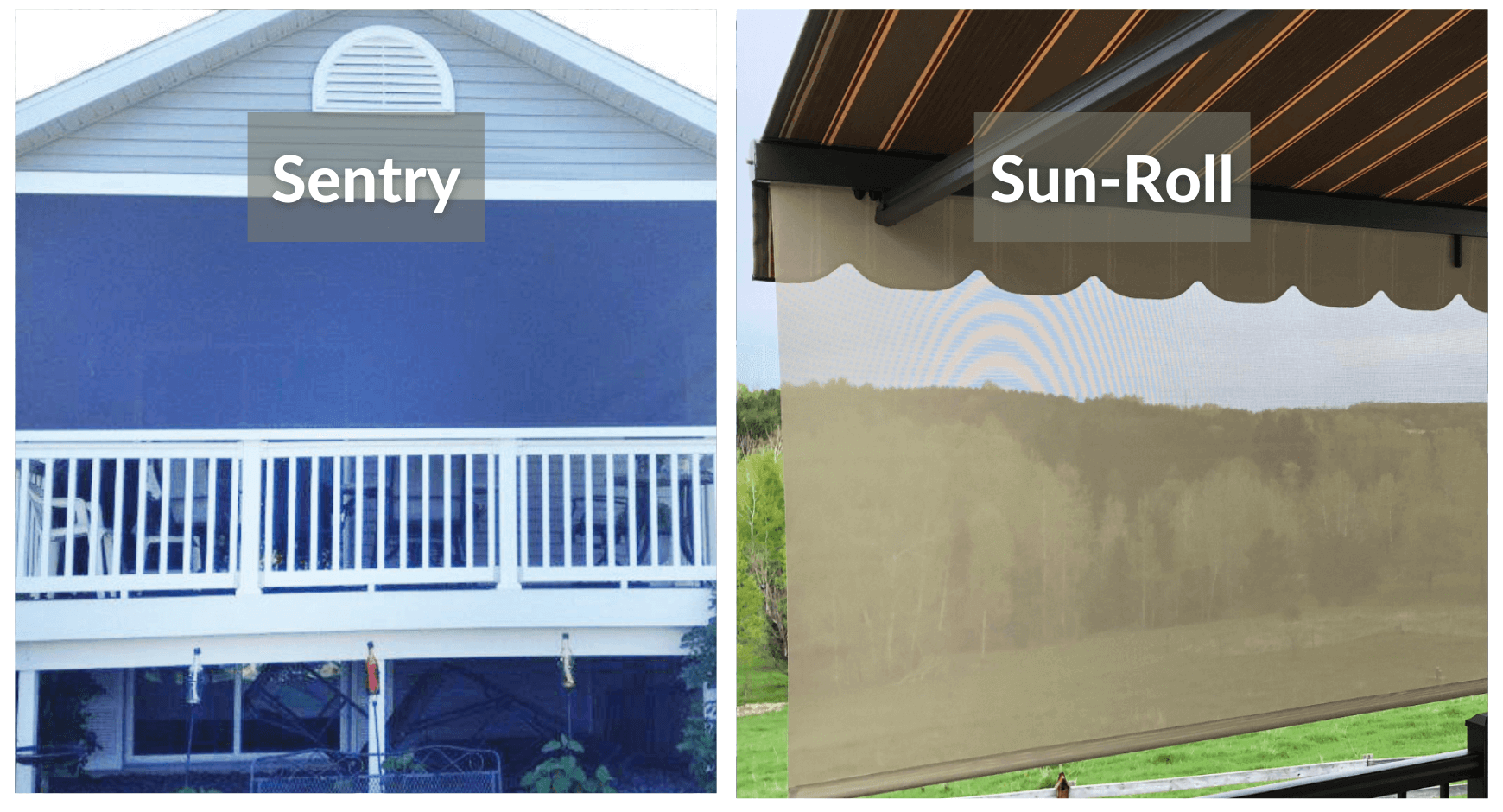 Types of Solar Screens:
Sentry: Options for the type of solar screen include captured edge technology. The vertical edges are fixed to prevent the material from flapping. Tears are also less likely to occur.
Sun-roll: This is best for allowing light around the edges and increased air circulation. This design is perfect for patios with an open, spacious layout.
If you're in the Eau Claire area and interested in installing solar screens, visit our showroom today to view our sample displays.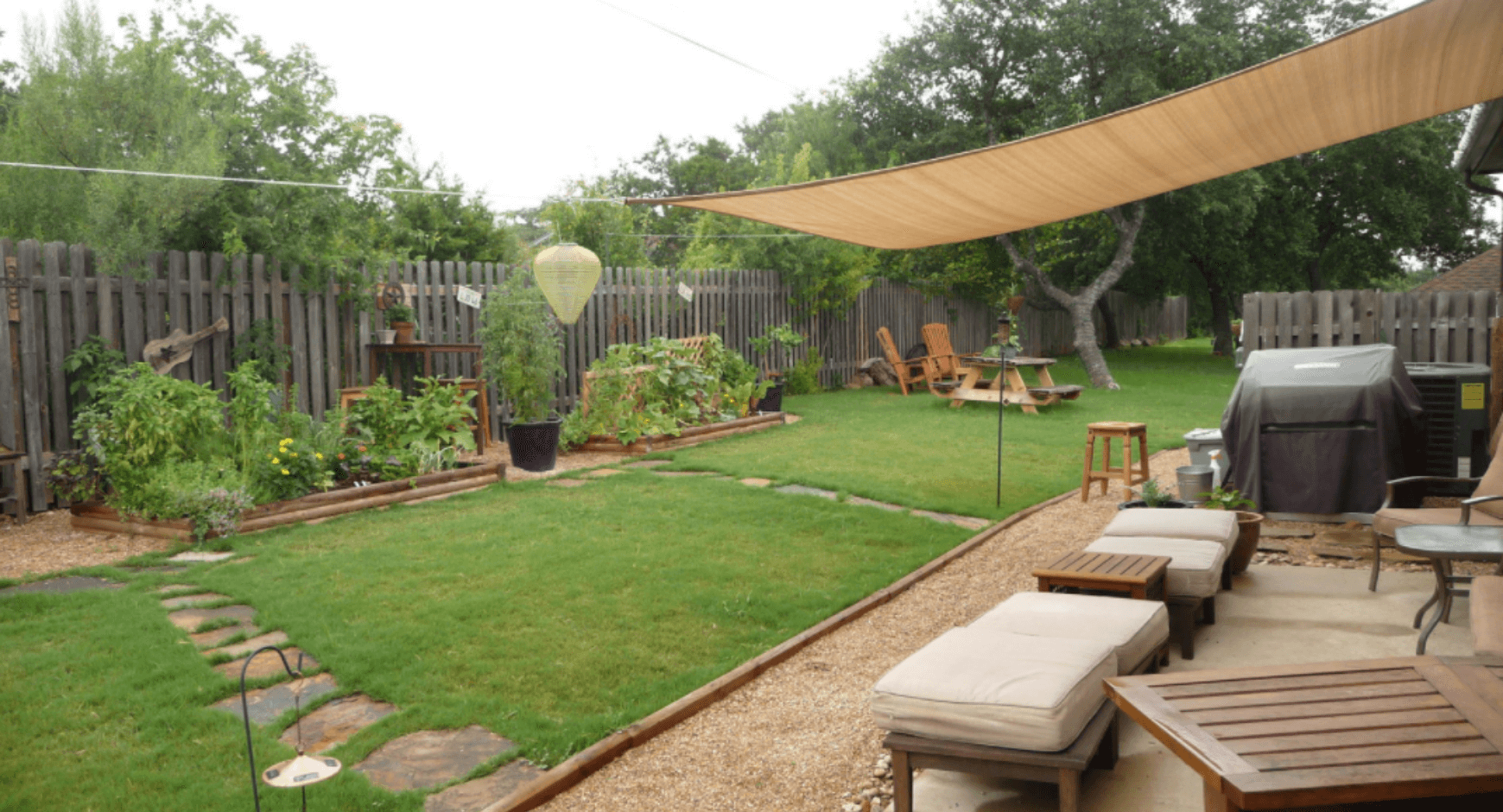 Shade Sails
Regarding deck covering options, shade sails or shade canopies are among the most portable. A shade sail is a piece of material tensioned between several anchor points. The material can be anchored directly to the ground, between beams, or on any sturdy surface.
If you're wondering how to cover a patio, these are the simplest option. They're also relatively inexpensive. People love shade sails because they are UV-resistant, waterproof, and can cover a large surface area. One downside to this patio covering is that it tends to be more fragile and prone to ripping.
The patio cover designs can be elegant or playful, and the style variations depend on the color and fabric choice. They have a number of stand-out benefits, including:
Due to increased affordability, a network of shade sails can be used in a single household.
These patio cover materials usually come with D-ring attachments, making them portable.
The majority of designs are constructed from HDPE (high-density polyethylene fabric). This means it can withstand and block over 90% of harmful UV rays.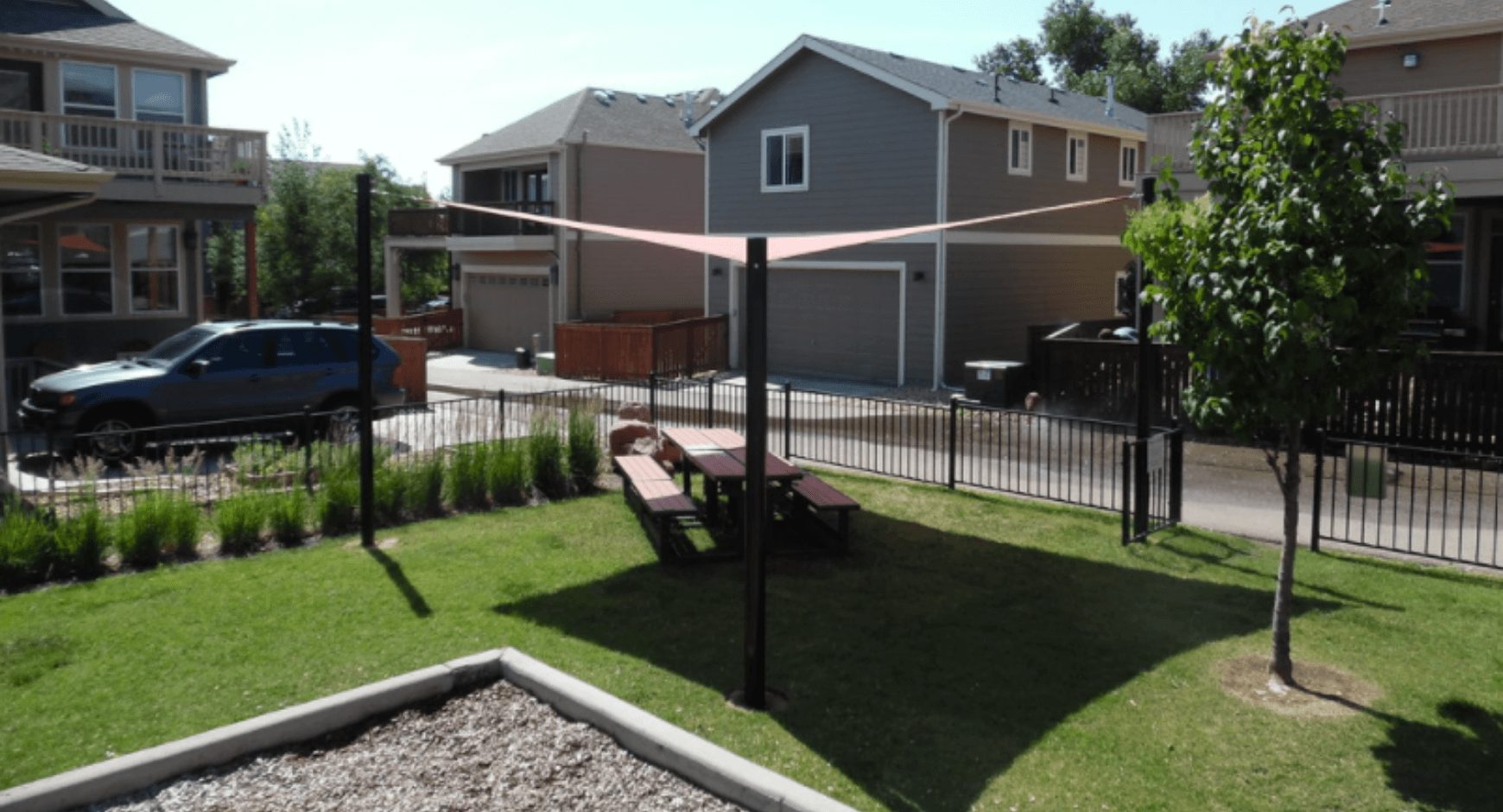 Types of Shade Sails:
Fixed shade sail: This design incorporates strong material with several panels woven together. The edges are hemmed and reinforced with steel wire to maintain the shape. It is stretched taut between three or four points and fixed permanently or with D-ring clips.
Retractable shade sail: These designs are most advantageous when you'd like to adjust the amount of coverage you want. The sail's longevity can be extended by limiting its weather exposure.
Attached shade sails: This is when one half of the sail is attached to a part of the house. It includes a permanent fixture enclosing one side of the sail. These options take more time to install.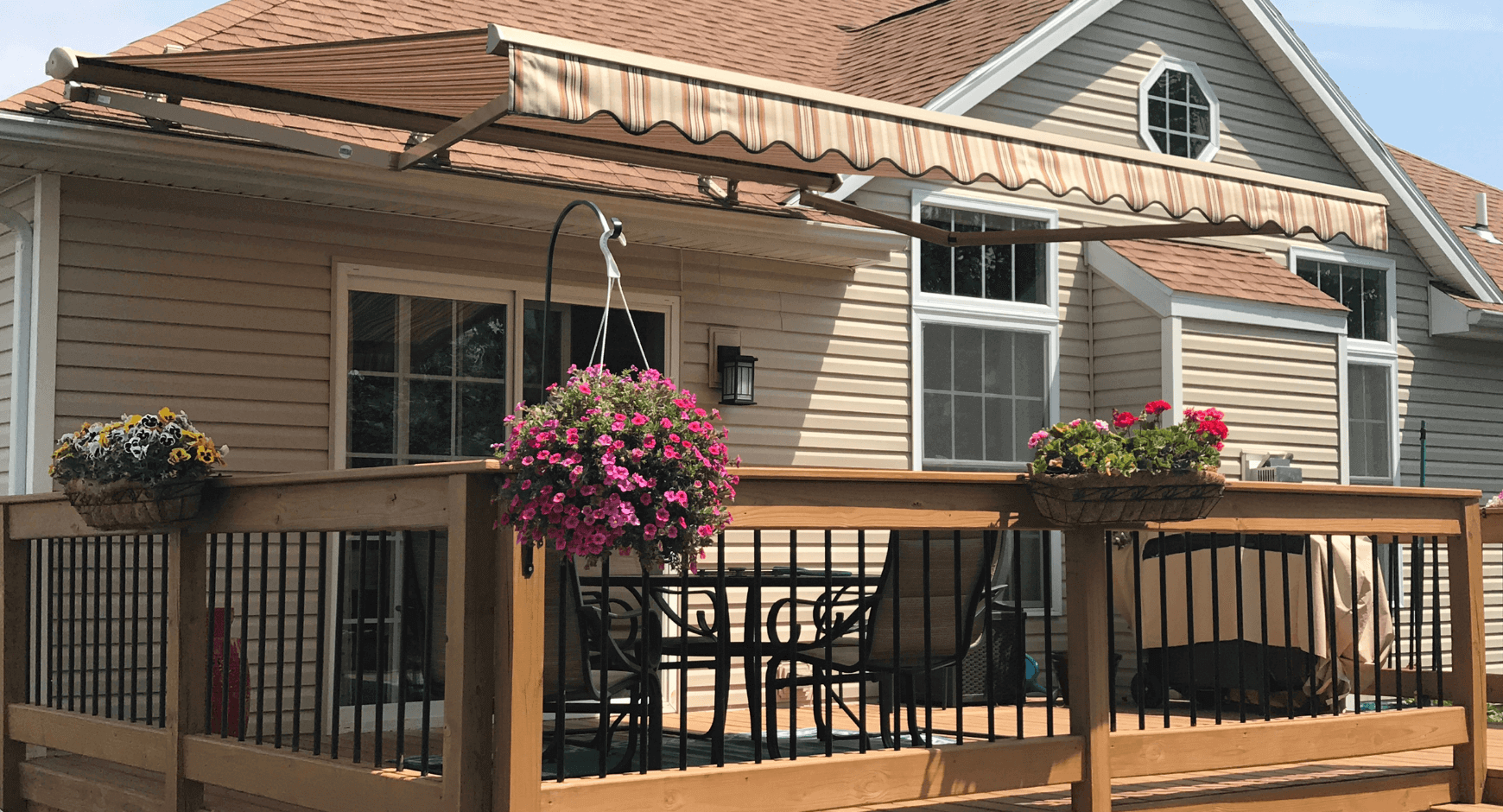 Different Types of Patio Covers: Which Is Right for You?
With patio covers, there are several factors to consider. If you need help choosing the best type of patio cover for you, use the list of considerations below as a guide.
How much money are you willing to spend? It's always essential to work with a budget. Think of the patio cover as an investment that increases the value of your property.
What is the weather like in your region? If the climate is harsh, you'll need a patio covering that is known for its durability, like a retractable awning. Additionally, high humidity can cause rust in metals or rotting in certain types of wood, so you'll want to keep that in mind as well.
Which material appeals to you the most? What sort of sun protection and longevity are you looking for? How much maintenance are you willing to do? Some need to be cleaned with water weekly, while others may need new coats of paint every few years.
Time is a crucial factor. How many days of construction are you willing to put up with for a beautiful, long-lasting structure?
What is the square footage of the area you want covered? Do you want something adjustable like a solar screen or a retractable awning? If you desire control over light, heat, and circulation, either a solar screen or an awning will be for you.
Hopefully, you feel more equipped to decide what the best patio cover option is for you. If you still need the advice of a professional, please contact us or visit our showroom to view our sample displays.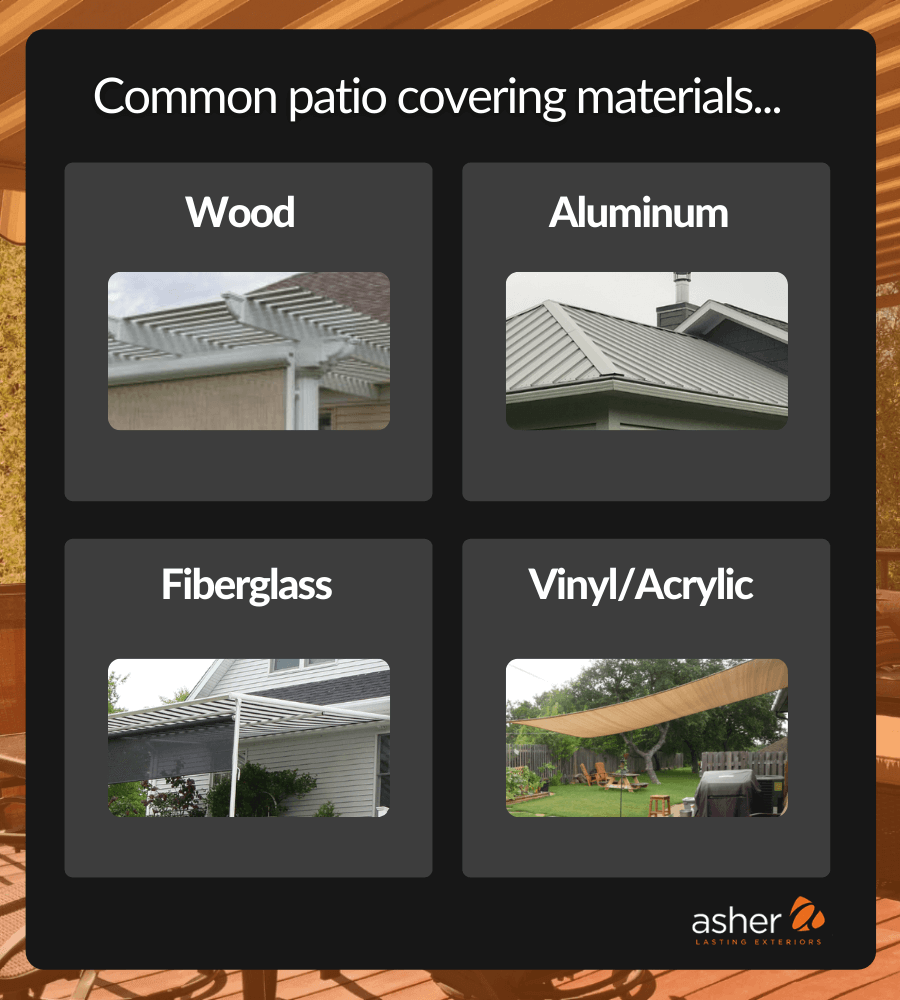 Common Patio Covering Materials
It's hard to say for sure what the best patio cover materials are. Each has its own strengths. Let's weigh the options.
Wood: There are a variety of wood types to choose from. Each wood has a distinct color, but wood needs resealing to prevent water-induced rotting or warping. Wood is ideal for constructing both patios and patio covers.
Aluminum: This material is low maintenance and very sturdy. Being lightweight, it can bend and even twist in turbulent weather conditions. Be aware that the metal is a heat conductor, so it can be hot to the touch.
Vinyl/Acrylic: The main perk of vinyl is that it's both durable and low maintenance. It can last indefinitely with minimal visual flaws. The drawback is that it has limited variability in color. It's primarily available in white, which needs to be power-washed at least once a year to maintain its color.
Fiberglass: If you want something that won't rust (even in the harshest of environments), fiberglass is it. It is moisture-resistant and strong enough to build larger structures.
Attached patio or deck covers often need less support than those that are free-standing. Heftier material is better for structures that stand on their own.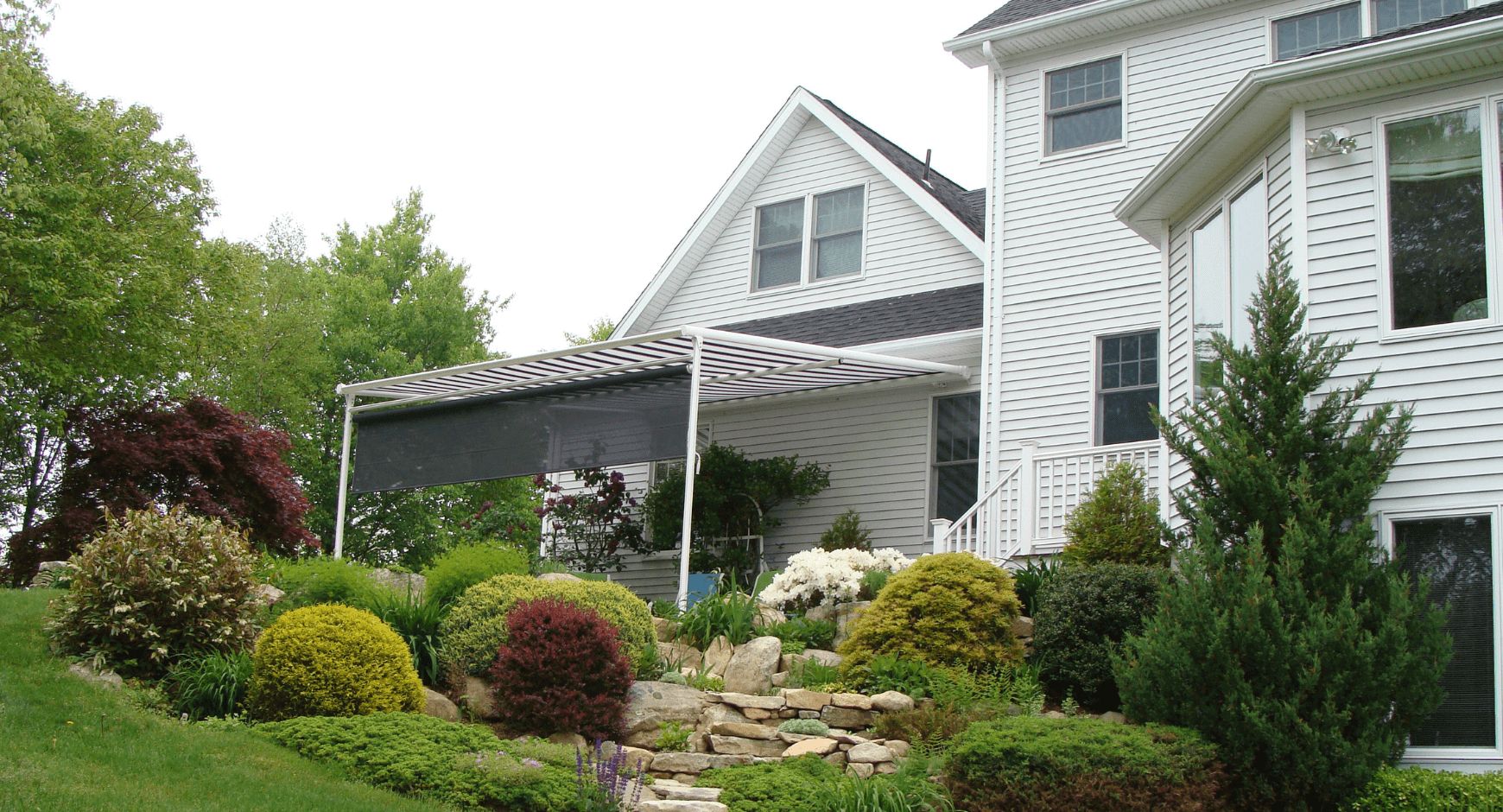 Beat the Heat This Summer With a Patio or Deck Cover From Asher Lasting Exteriors
From a chic pergola to a classic awning, there's an option to fit your taste. If you're feeling inspired and have some patio roof ideas swirling in your head, don't delay the process any further. Call our team of professionals at Asher for anything from outdoor shade solutions to replacement doors and windows, gutter solutions, and more.