Eau Claire, Wisconsin, is a charming town with fun local attractions, restaurants, shops, and activities for all ages. Discover the best things to do in Eau Claire, WI, with insider tips from a local business.
Eau Claire is a vibrant city surrounded by river valleys and rolling hills in the west-central area of Wisconsin. It has everything you want in a city filled with culture, arts, nature, and history. It all comes with that neighborly Wisconsin charm that we're happy to be a part of each and every day.
Asher: A Local Business In Eau Claire
Asher Lasting Exteriors has been proud to call Eau Claire home since our founding in 1974. As a family-owned exterior remodeling business, we have helped the people of Eau Claire achieve their dream homes by providing the highest quality products and workmanship. We love this city and want you to enjoy it as much as we do, so here are our top 12 things to do in Eau Claire.
Enjoy the scenery of Eau Claire through a stunning picture window with help from the experts at Asher. 
Fun Things To Do In Eau Claire, Wisconsin
Located just south of Chippewa Falls, at the convergence of the Eau Claire and Chippewa rivers, this indie college town is set to become the next epicenter for the arts and music scene. It's an affordable place to live with a growing economy that makes it the perfect place to raise a family.
Aside from its famed annual music festival, put on in part by the band Bon Iver, you'll find a myriad of great things going on in Eau Claire all year long. Take a stroll along the scenic Chippewa River, visit one of the many terrific eateries, or learn a thing or two about Eau Claire's history in its great museums. The list of things to do in Wisconsin is endless, but here is a glimpse of what you can expect when you visit this great city.
Parks
Phoenix Park
Carson Park
Mount Simon Park
Restaurants
The Lakely
The Brewing Projekt
Cabin Coffee Co.
Local Attractions
The Local Store
Downtown Farmers Market
Wisconsin Logging Museum
Children's Museum of Eau Claire
Chippewa Valley Railroad
Chippewa River Trail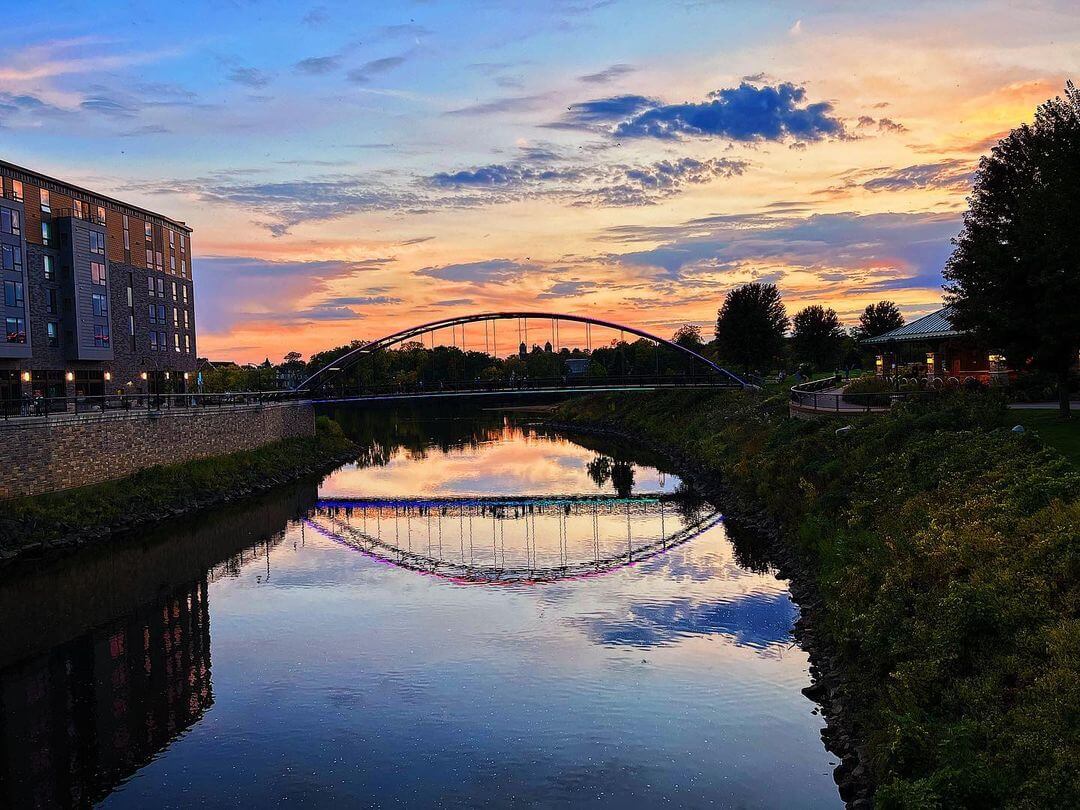 Instagram: @gabriel_hannah_photography
Phoenix Park
Located in the heart of downtown Eau Claire, Phoenix Park is the central hub for the city's many festivals and attractions. It provides a natural amphitheater to host concerts, including one every Saturday of the summer during the downtown farmers market.
Phoenix Park is also a part of the Chippewa River State Trail and makes for a brilliant stroll with friends and family. If you're wondering what to do in Eau Claire at night, take a walk through the park and enjoy the twinkling lights of the Pablo Center, Haymarket Plaza, and the rainbow colors of the Phoenix Park bridge.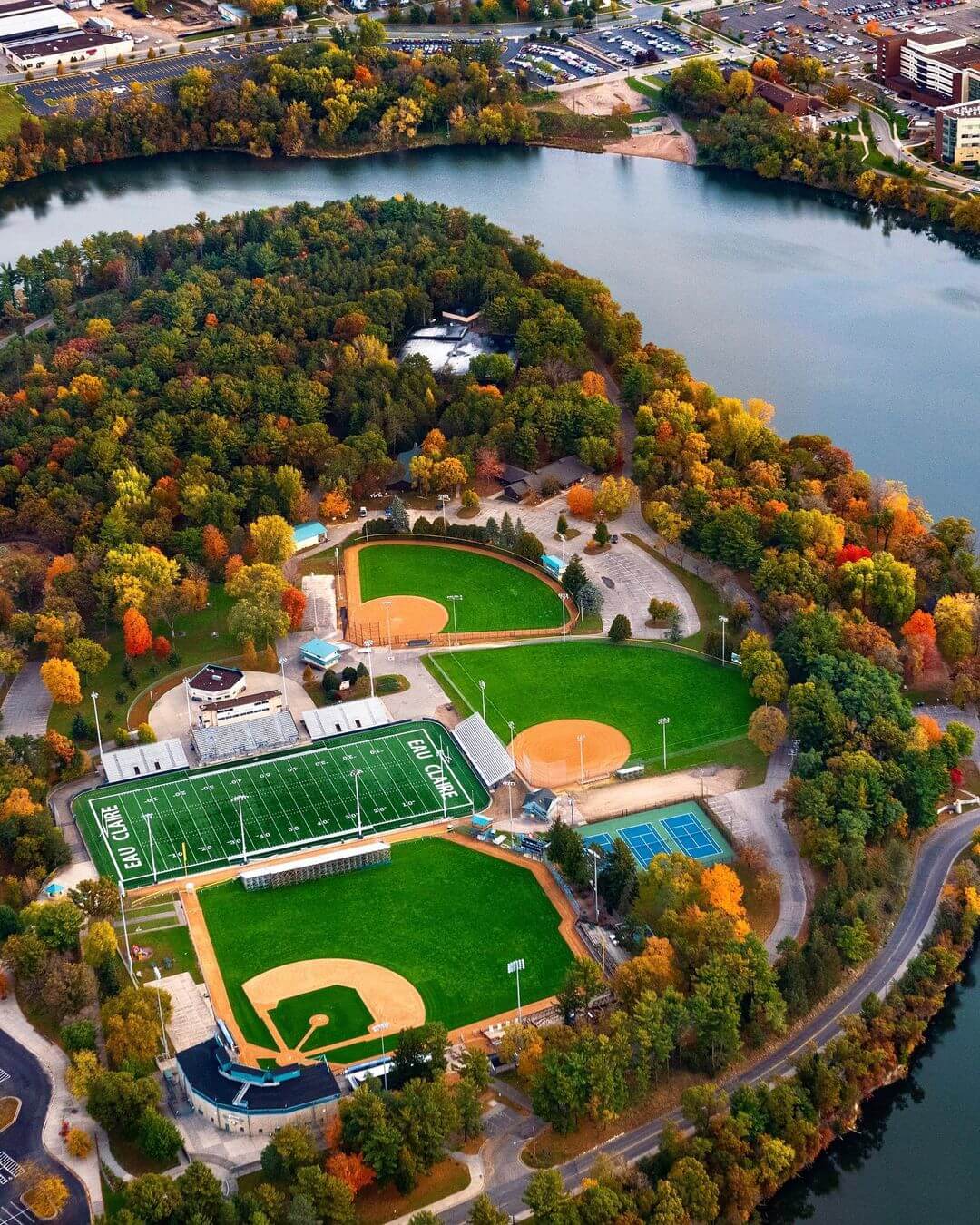 Instagram: @uwec_recreation
Carson Park
Carson Park is a historic park nestled in a 134-acre peninsula surrounded by Half Moon Lake. The park is home to football, baseball, and softball fields, as well as the Chippewa Valley Museum and Paul Bunyan Logging Camp Museum.
The park opened in 1915 when it was donated by heirs to the lumber baron William Carson, from which it gets its namesake. The museums tell of Eau Claire's great regional history, along with seven of the original lumber buildings open to explore. The park is also a great place to go for nature walks and other outdoor recreational activities like skiing on Half Moon Lake.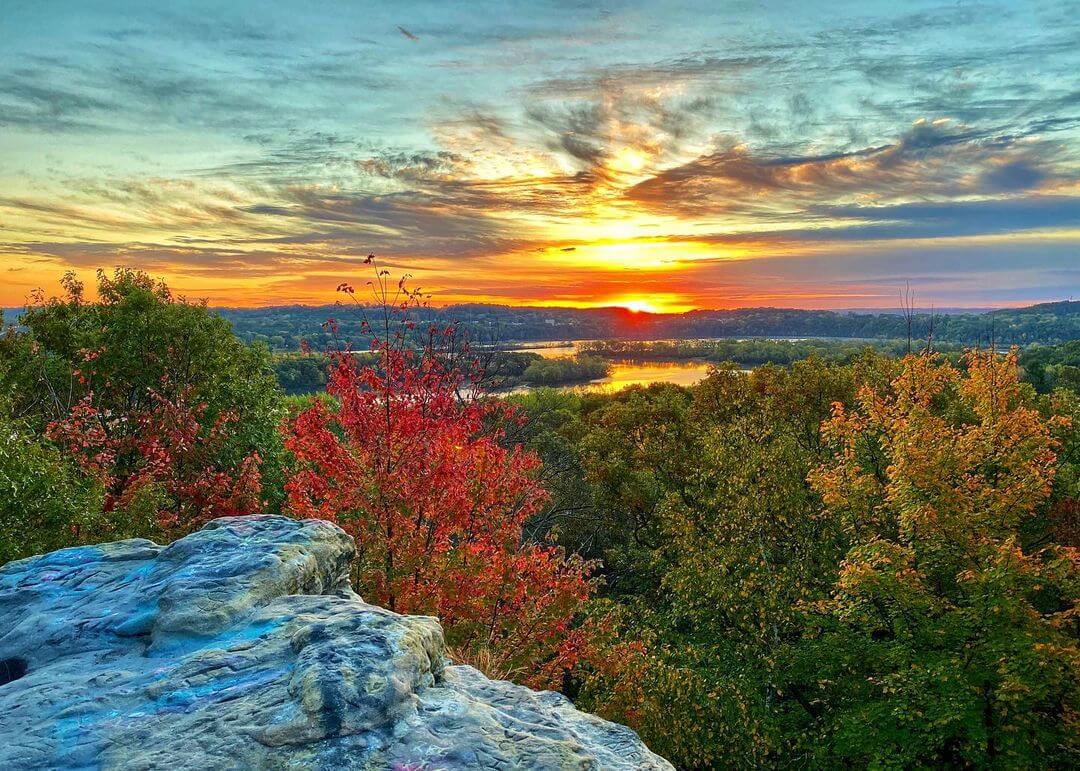 Instagram: @pastorstine
Mount Simon Park
You can take your hiking to the next level at Mount Simon Park, where you'll find plenty of rock scrambling, rock climbing, and cliff jumping into the Chippewa River. Surrounded by the serene beauty of white pines, summering birds, and the flowing river, this park makes for the perfect afternoon stroll.
If you're looking for fun things to do in Eau Claire, Mount Simon Park has it all, including a dock and boat landing for fishing or skiing enthusiasts. There are shaded pavilions perfect for your next family gathering or social event. It's also fit with a ton of amenities, including two top-of-the-line baseball fields and a nine-hole golf course.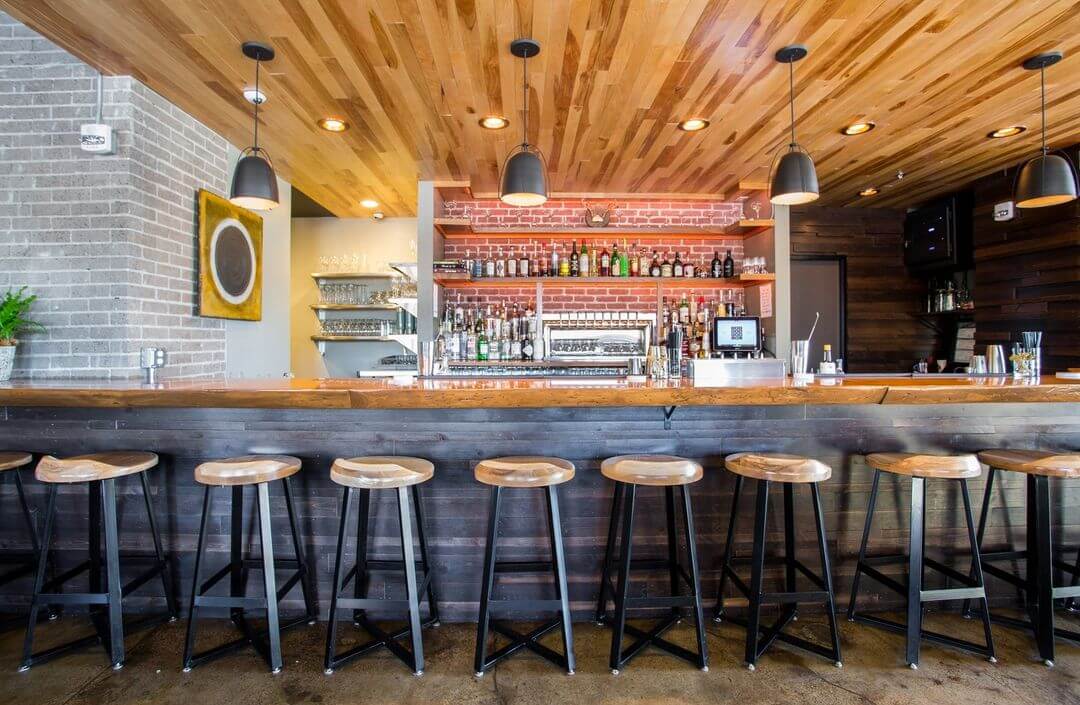 Instagram: @the_lakely
The Lakely
If you're looking for an exquisite dining experience with farm-to-table foods and live music, then The Lakely is the spot for you. It's one of the restaurants the people of Eau Claire recommend most, whether you're looking for a date night, celebratory dinner, or simply a night out with friends.
Located within the Oxbow Hotel, this restaurant may sound a bit too fancy for some, but the food is reasonably priced, and the atmosphere can't be beaten. If you're wondering what to do in Eau Claire, WI, during your stay, make sure you spend at least one night dining at The Lakely.
The Brewing Projekt
Dedicated to brewing the finest beers in Wisconsin, The Brewing Projekt is a great choice for friends looking for stuff to do in Eau Claire at night. Try a pint from the tower of 20 different tap lines with features like the Dare Mighty Things IPA, Smoofee Sour, Puff Tart, and many more.
The taproom is family-friendly and dog-friendly, so bring the whole gang with you. Enjoy the conversation, crack open a board game, or try your hand at a game of Kubb on the Kubb pitch. If you're wondering what to do in Eau Claire, Wisconsin, try settling down with a beer first and let the excellent staff at The Brewing Projekt help you decide.
Cabin Coffee Co.
With so many great Eau Claire activities and so little time, you're going to need to fuel up with some top-quality coffee. Cabin Coffee Co. is our favorite spot to grab a cup and go or sit down and enjoy a hot meal before heading back out to the ski trails in the winter. They offer consistent quality and affordable prices, all with that Wisconsin friendliness we enjoy so much.
If you're falling in love with their cozy cabin aesthetic, there is no better place than Wisconsin to start building your own. Take a look at our top lakes in Wisconsin for a cabin to get the kick of inspiration you need to set down some roots here with us.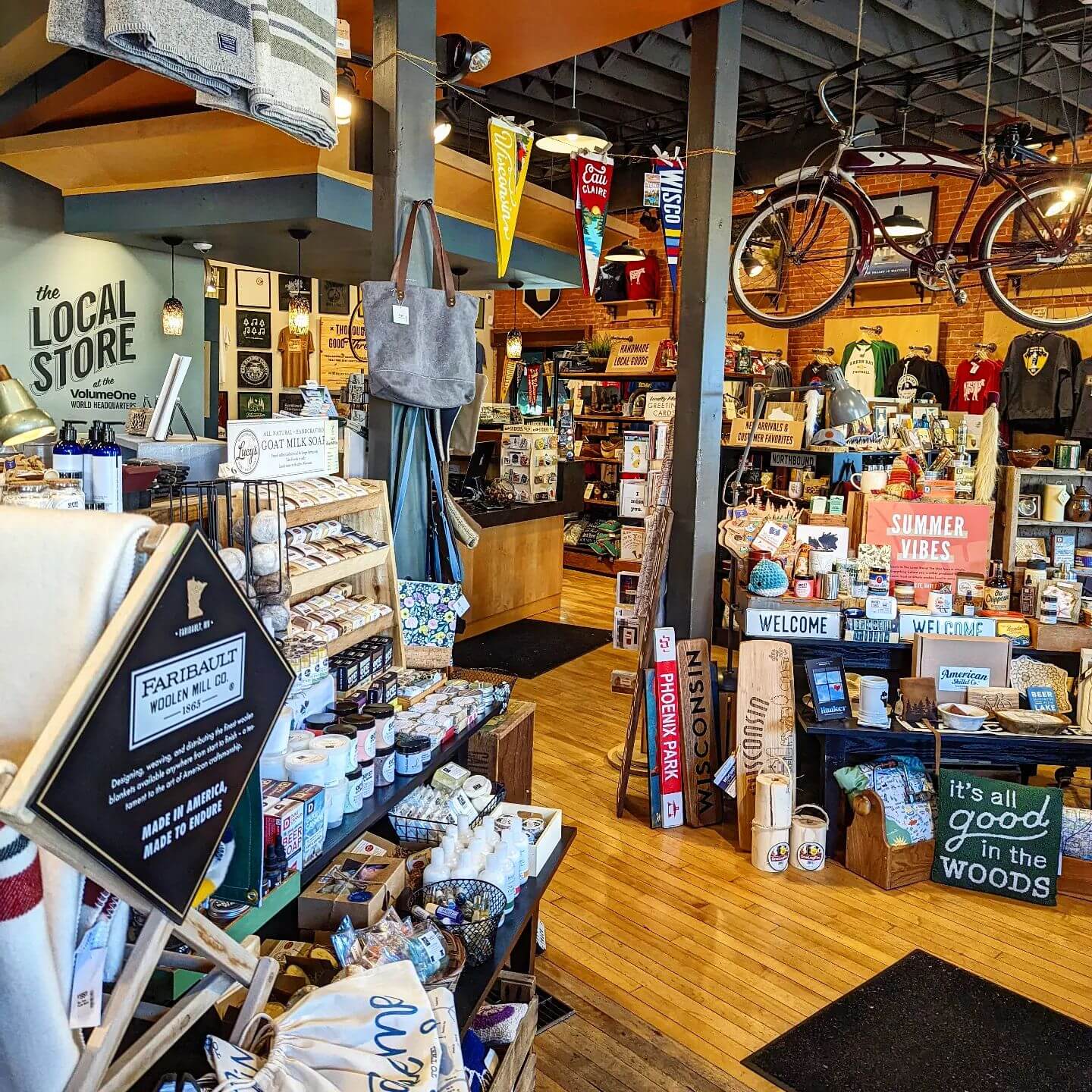 Instagram: @thelocalstoreec
The Local Store
No trip to Wisconsin is complete without a few tchotchkes to take home. The Local Store is the best place to do your shopping, with over 5,000 items from local craftspeople and Wisconsin aficionados. They carry everything from art, apparel, and decor, to local beer, wine, and food.
Within The Local Store, you'll have the chance to visit The Volume One Gallery, a rotating collection of art shows, live music, film screenings, and various talks and gatherings. The Gallery is open every day, showcasing exhibits from local artists of all kinds.
Downtown Farmers Market
The downtown farmers market is one of our favorite Eau Claire attractions to catch on a summer morning or winter day at the L.E. Phillips Senior Center. Located in the charming Phoenix Park, this producers-only market is the perfect place to connect with the community. Pick up fresh local produce and take the time to meet the local farmers that grow, raise, or produce them.
If you're looking for free things to do in Eau Claire on a Saturday morning, you can't go wrong with the market's live music performed by local musicians. Grab a spot on the pavilion along the Chippewa River and enjoy the atmosphere with friends and family.
Wisconsin Logging Museum
There are a few museums in Eau Claire, WI, but none as grand as the Wisconsin Logging Museum: Home of the Paul Bunyan Logging Camp. It's worth the visit to learn about the history of logging in the area with a first-hand look at what the real camp looked like back in the year 1890.
Discover how the Wisconsin pine forests were chopped and floated downriver to build the great cities in our young nation. It's one of our favorite Eau Claire, WI attractions to bring the whole family to, as the artifacts and documents on display are sure to wow the children and even teach the history buffs something they may not have known.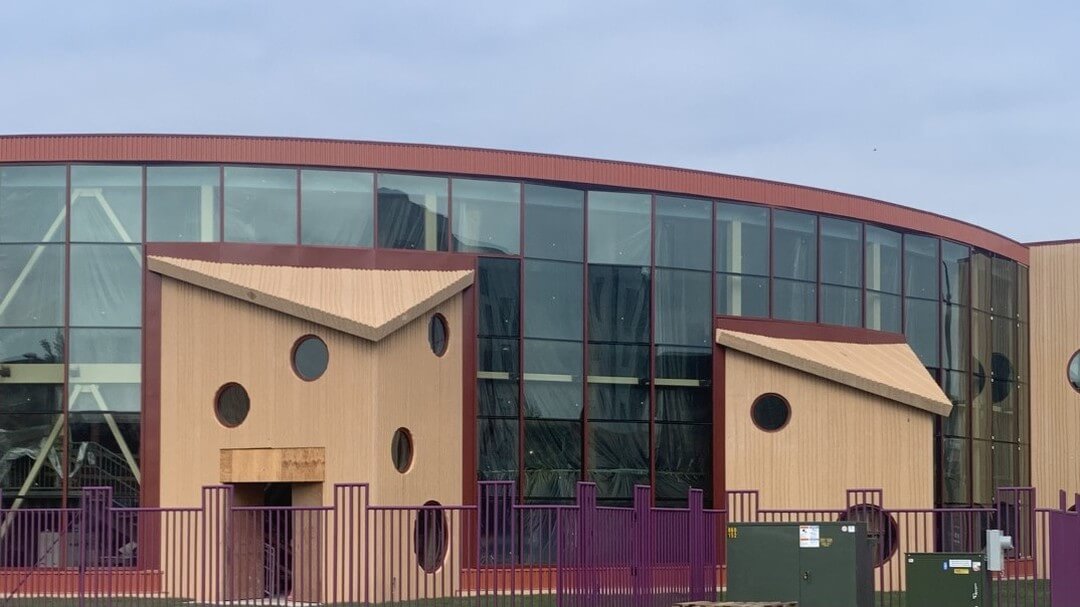 Instagram: @childrensmuseumec
Children's Museum of Eau Claire
If you're looking for fun things to do in Eau Claire, WI, with your kids, there is no better place to go than the Children's Museum of Eau Claire. Families from all over come to inspire their children's creativity, imagination, and sense of wonder. Get them to learn outside the classroom with interactive exhibits they can touch and feel.
Summer camps are available to teach your little ones everything from space exploration to dinosaur digs and a hands-on look at how their food goes from the dirt to the table. There is something for every kid to enjoy and get inspired by at the children's museum.
Chippewa Valley Railroad
Visiting this miniature railroad is one of the best things to do in Eau Claire, Wisconsin, whether you're a train enthusiast or not. The Chippewa Valley Railroad is made up of a half-mile of 16-inch track that weaves its way through the hills of Carson Park. Powered by a coal-fired steam locomotive, the railway features wooden 1880-style passenger coaches, a gondola car, and a caboose.
The railroad was established in 1974 by a group of locomotive fanatics that wanted to bring the steam engine back to the valley to promote historical education and inspire young learners. It's the perfect place to bring the kids and take a ride on any Sunday afternoon during the summer months.
Chippewa River Trail
Starting in Phoenix Park in downtown Eau Claire, this 26-mile trail leads you through some of the best parts of the Chippewa River as you make your way toward the town of Durand. Near the town of Red Cedar, the trail system meets up with the Red Cedar State Trail, which consistently makes the list of best things to do near Eau Claire, WI.
The trail also connects to a lot of shorter walking trails that wind their way through the parks of Eau Claire. You can enjoy walking and hiking as well as biking or rollerblading, as the trail is paved with asphalt for the first 11 miles. In the winter, it opens up for cross-country skiing, snowmobiling, and other winter activities.
Discover Asher's Exterior Home Services In Eau Claire, Wisconsin
With a million fun things to do in Eau Claire, you don't want to spend your days doing home repair and remodeling. Let our experts tackle your toughest projects like replacing those leaky windows and faulty gutters or boosting your curb appeal by upgrading your exterior door, so you can spend your time enjoying our beautiful city with your friends and family.
At Asher, our primary focus is providing our customers with excellent service and top-of-the-line products around the Eau Claire area. Explore our website or our showroom to learn more about our outdoor living services and request a free estimate today.