Installing an awning for your home can help you block the sun, protect your furniture, and enjoy the great outdoors. But just what is an awning? This guide will help explain what a home awning is, along with the various types of awnings you can install.
A retractable awning can be a great addition to your home, but knowing what type or material you need can be confusing. Asher Lasting Exterior will work with you every step of the way to make sure you get the best quality Sunesta awning for your home.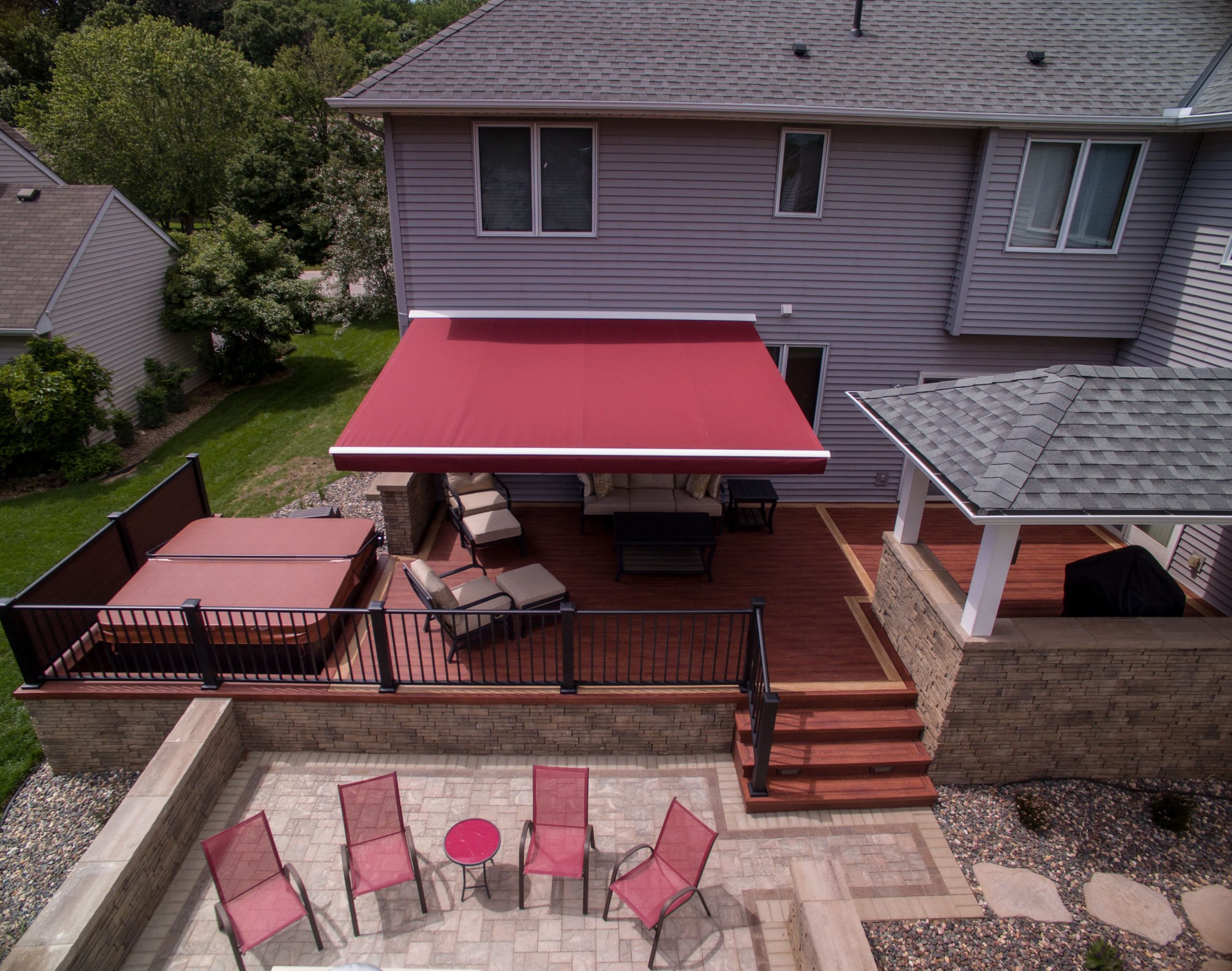 A house awning can help you create a cohesive and functional backyard space to spend time with family and friends. 
What's An Awning?
An awning is a covering commonly made of fabric or aluminum that extends over an outdoor area to provide extra shade and space for homeowners or businesses. These are great for people who want to provide added outdoor space while decreasing any heat or solar damage.
However, there are multiple factors you need to consider before installing one for your own home. Each awning offers specific features that may impact your decision on what kind you may want to invest in. Some key features are that they are:
Attached to the outside of a building, generally near a window or a door
Either retractable or fixed. Retractable ones are more common and beneficial for homeowners
Made of an acrylic or synthetic fabric, aluminum, or mesh
Can be decorative, functional, or both
What Are Awnings Made Of?
The material often depends on its primary function. If an awning is going to serve a mainly aesthetic purpose, it won't have to be as sturdy as ones that are made to protect people or buildings from the elements, such as the awnings many businesses use.
But what are awnings most commonly made of? Some of the most popular materials include:
Vinyl
Polyester
Acrylic fabric
Cotton
Aluminum
Each material offers varying benefits, but it's especially important to make sure that your house awning is retractable. This can help ensure that it will last a long time and will also help protect it from the elements. Sunesta's retractable awnings and solar screens are high quality and fully functional for whatever your needs may be.
Types of House Awnings
What is an awning on a house? There are various types, each of which offers its own pros and cons depending on your needs.
First, however, it's imperative to consider a few factors when choosing an awning for your home. The most important aspects to consider are:
Cost: For retractable awnings, the most notable features of their cost are their size and if you'd prefer a manual or motorized operation.
Angle: The direction your outdoor area is facing, along with how large the area is, will determine the angle of awning necessary.
Material: Different materials offer varying benefits. For example, aluminum is more durable but often retains heat more than vinyl, which is more light and flexible than aluminum.
Style: The style you choose is dependent on how you want the fabric or space to look.
After you have a better sense of what your needs are, you can then look into the type you need. The most common house awnings are:
Retractable awnings
Stationary awnings
Freestanding awnings
Vertical Drop awnings
Window awnings
Door awnings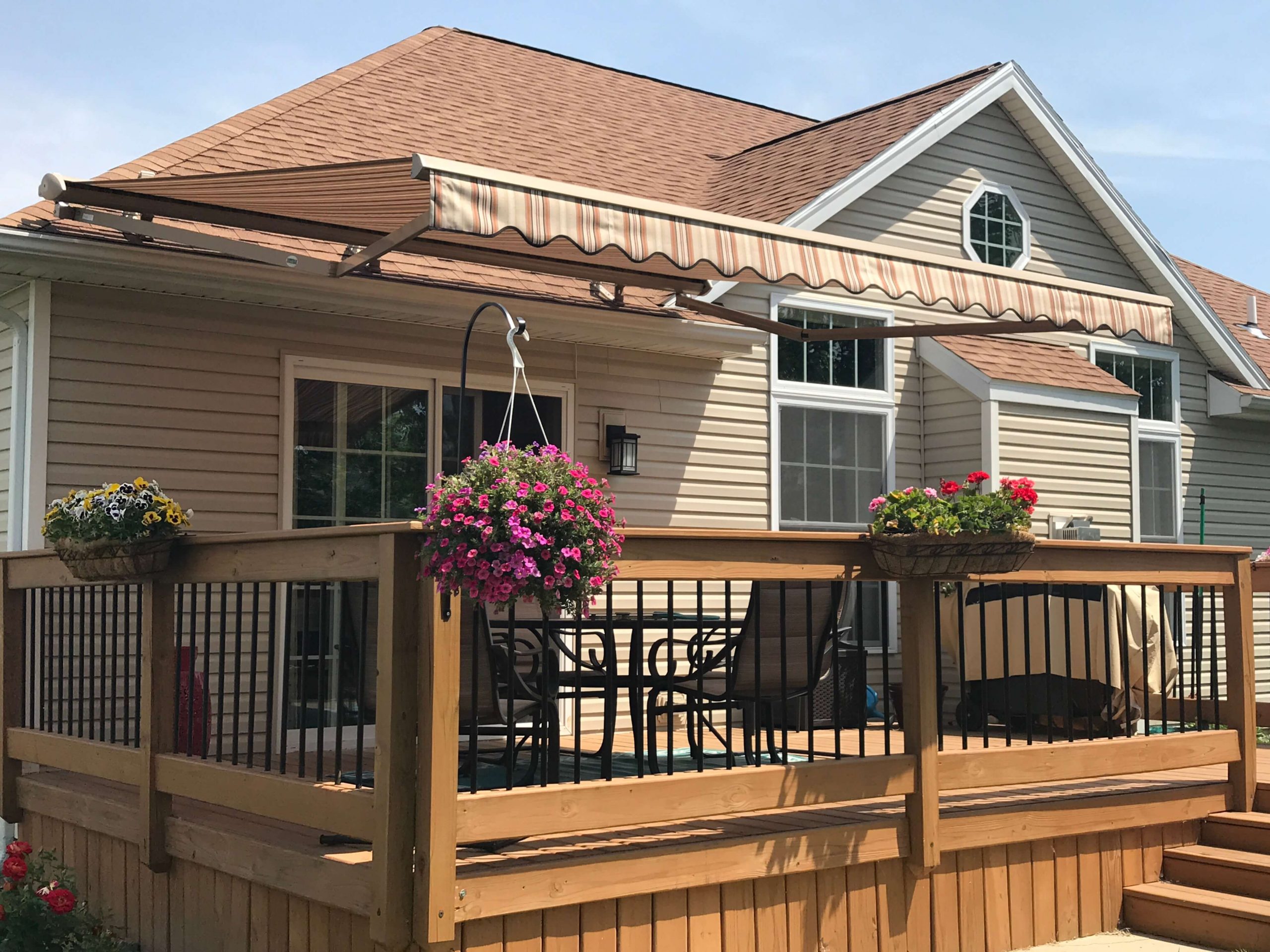 Retractable Awning
These types of awnings are generally the most versatile. They allow for no, partial, or full coverage based on how far they are extended. These are often the most popular for outdoor patios and decks, as homeowners are able to decide how much shade or protection they want. Retractable awnings also tend to last the longest, as they can be hidden away if the weather gets harsh.
Sunesta Retractable Awning
Sunesta's custom-made and high-quality retractable awnings ensure that homeowners can enjoy their outdoor space in the warmer months while also offering the benefit of being stowed away when the Wisconsin snow gets to be too much in the winter.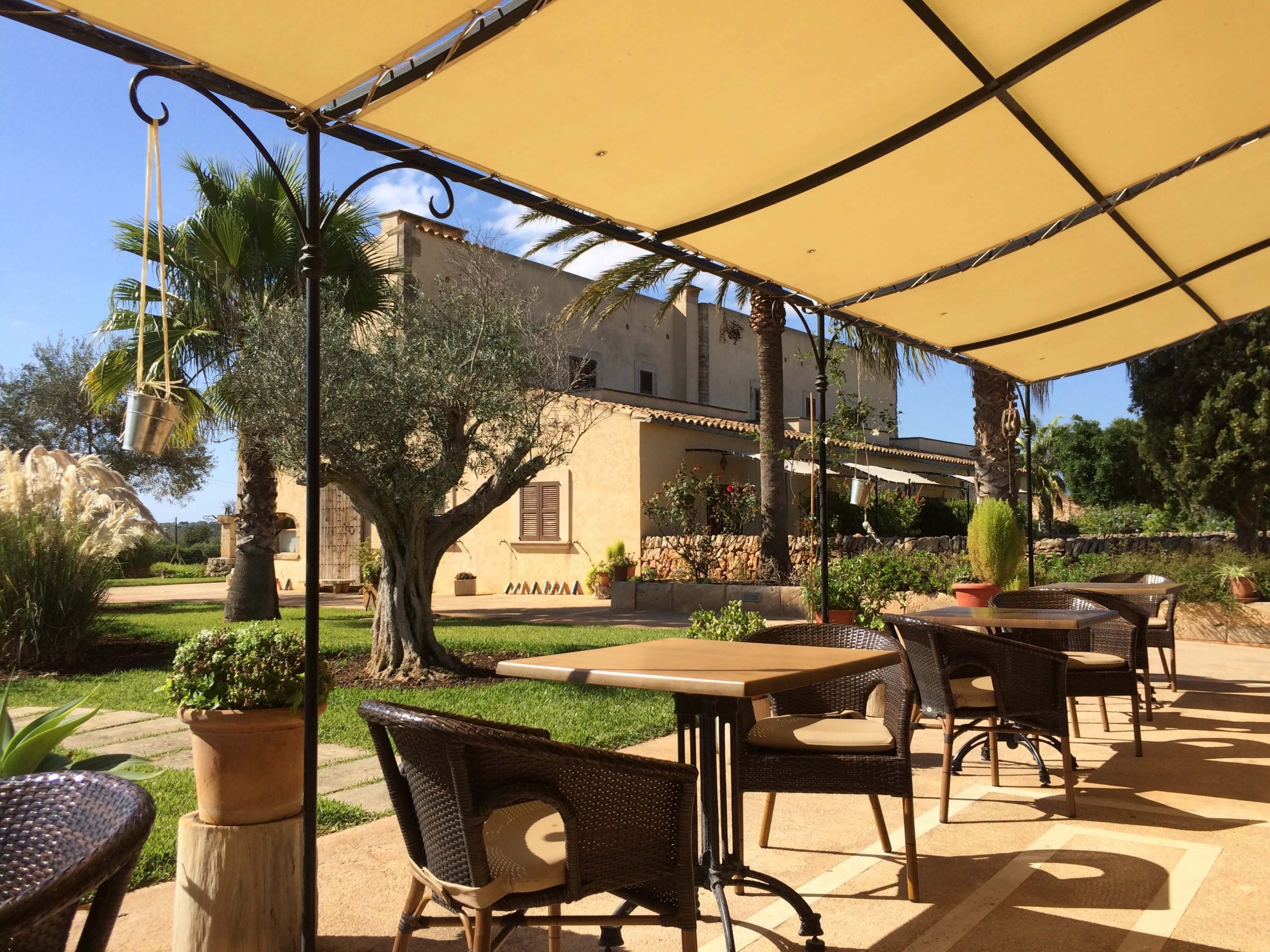 Stationary Awnings
Stationary awnings are often much more physically durable than retractable, as they are commonly made of aluminum or metal. These are most often found outside of businesses and offer added protection from the elements year-round. Stationary awnings, while lacking in versatility and design, can last for many years without much maintenance.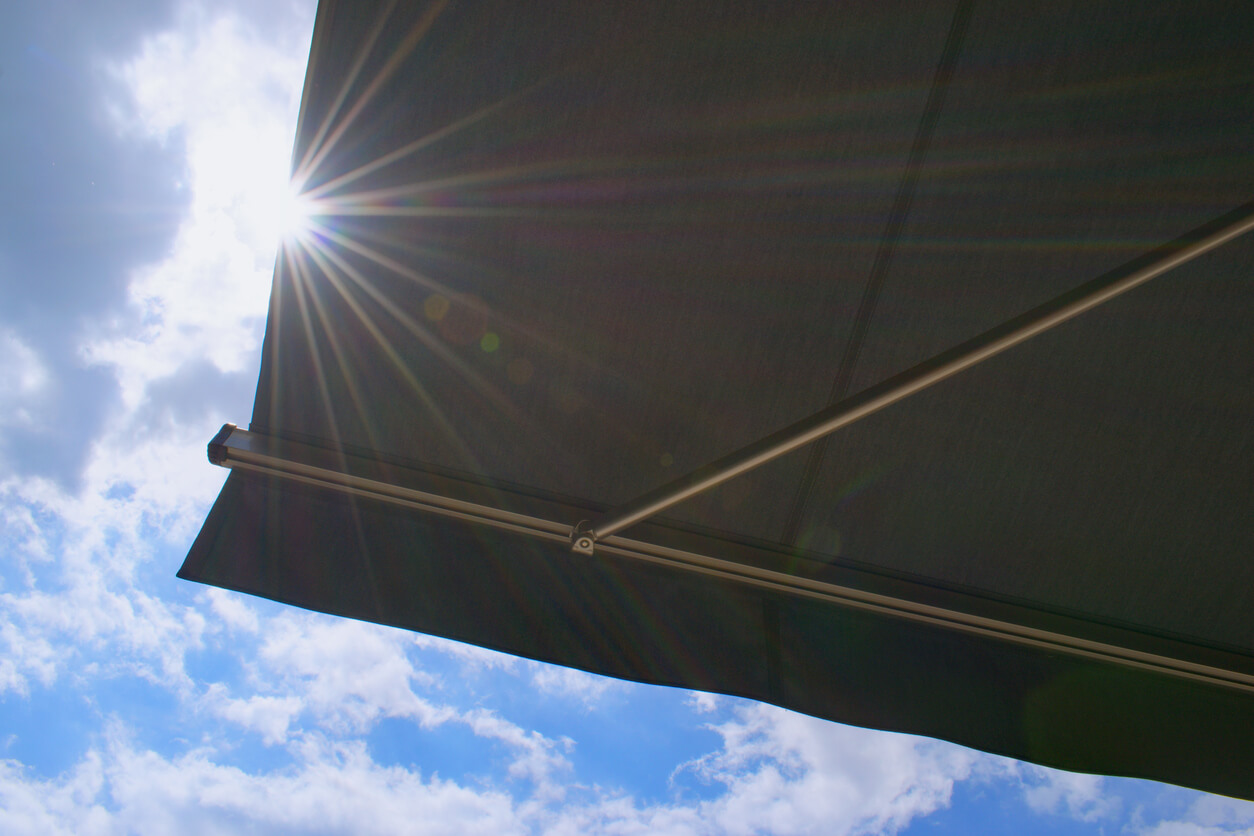 Freestanding Awnings
Freestanding awnings, as the name suggests, are not mounted to a wall like other awnings are. These are great for homeowners or businesses who want to extend their entertaining or backyard space but don't have an area to affix a more permanent awning to. While these are more versatile and generally cheaper, they also often require more upkeep.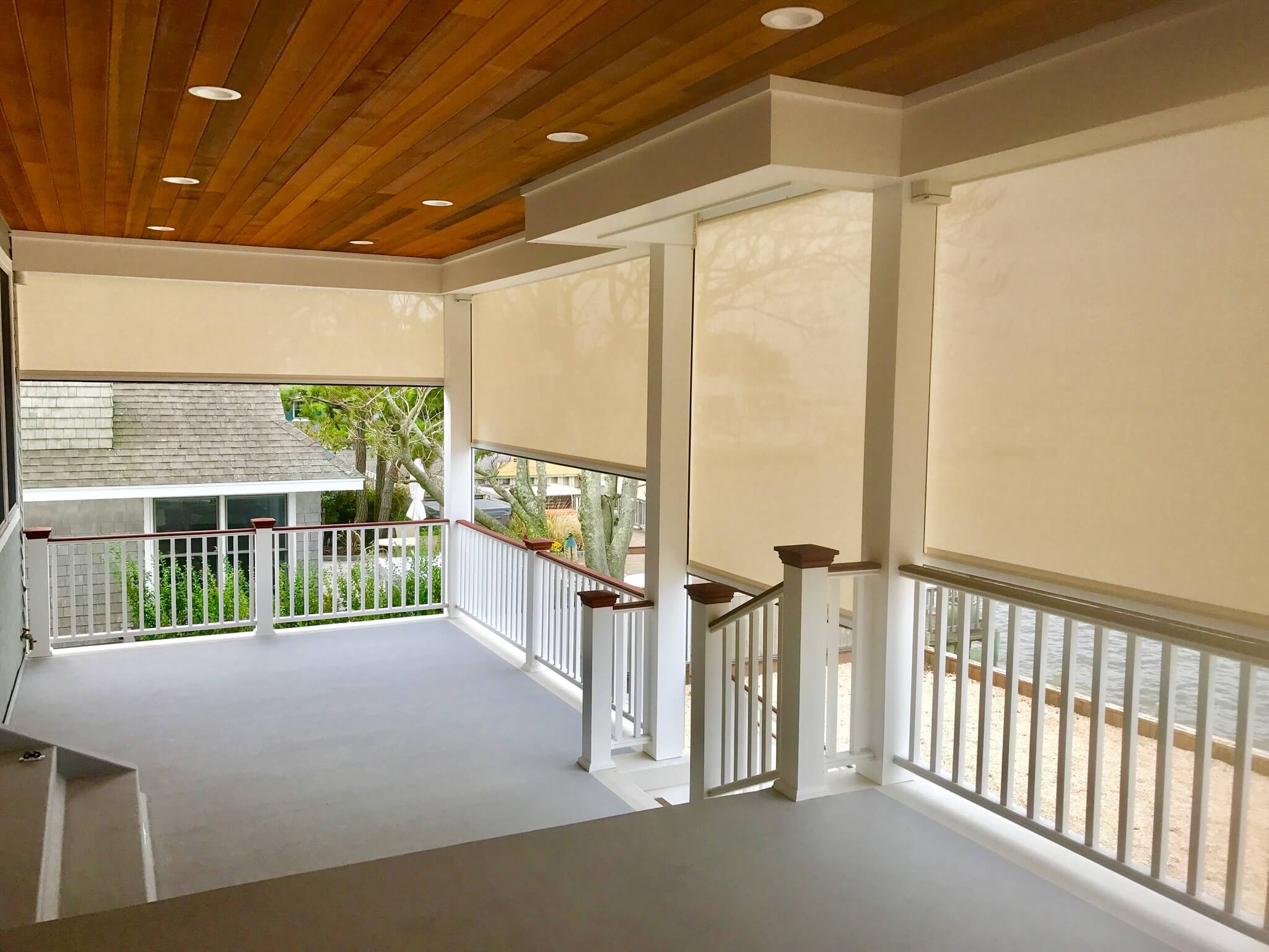 Vertical Drop Awnings
These types of awnings are a smart way to offer added protection from the sun's harsh rays for areas that may be exposed to direct sunlight on a regular basis. With a touch of a button, these shades can drop down to cover the windows during the harsh midday sun without compromising too much of the view.
Sunesta's solar screens are a great example, as they can be extended when the sun may be too direct. Solar screens will help protect your patio furniture from fading, as well as offer imperative protection from UV rays.
Sunesta's solar screens are recommended by the Skin Cancer Foundation, as they offer added UV and sun protection to any deck or patio.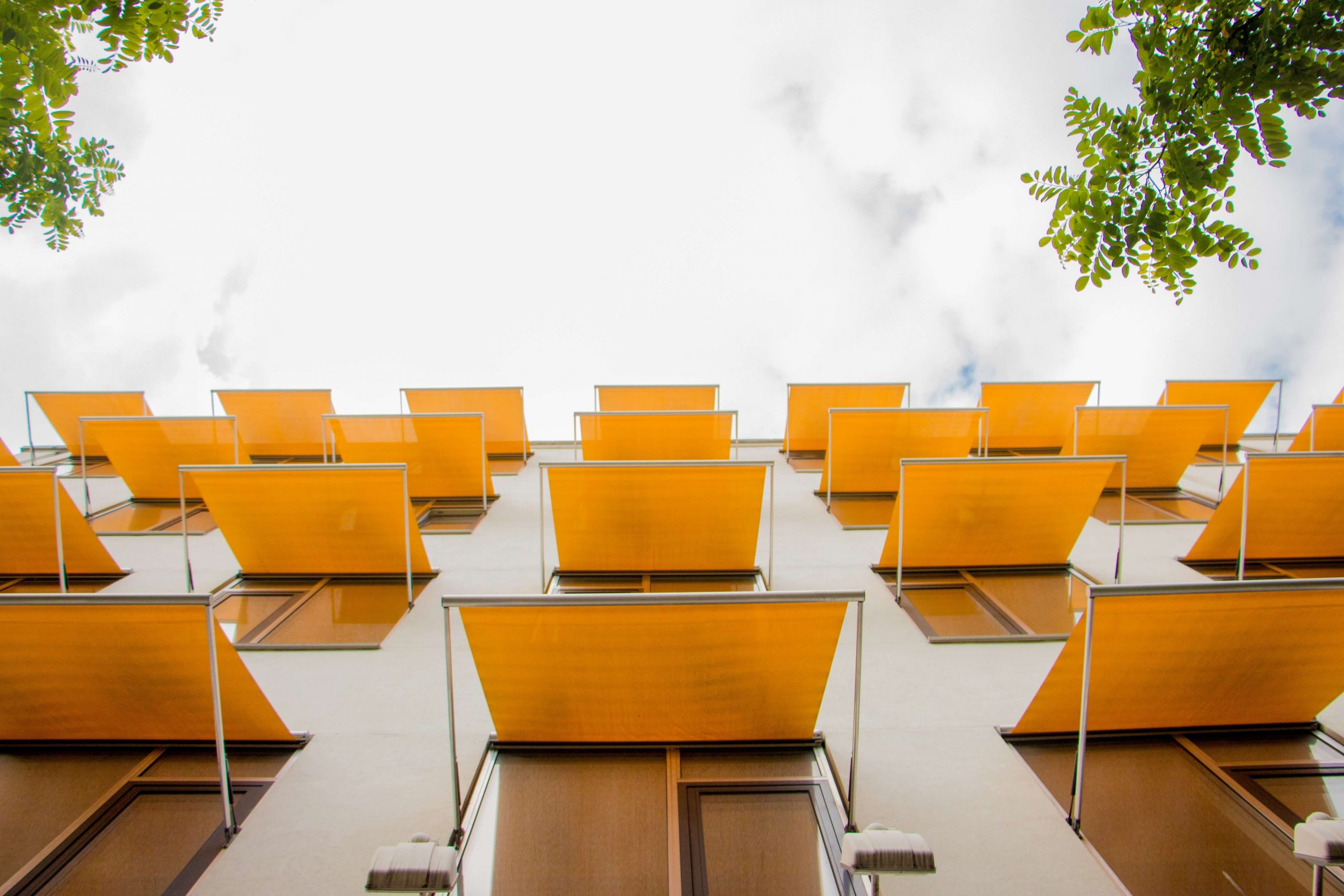 Window Awnings
Window awnings are meant only to cover a small area in front of a window. They provide added protection against the sun for the area just inside the window, as this space can quickly heat up due to the sun's rays. These are often curved in order to protect the outdoor area from rain as well.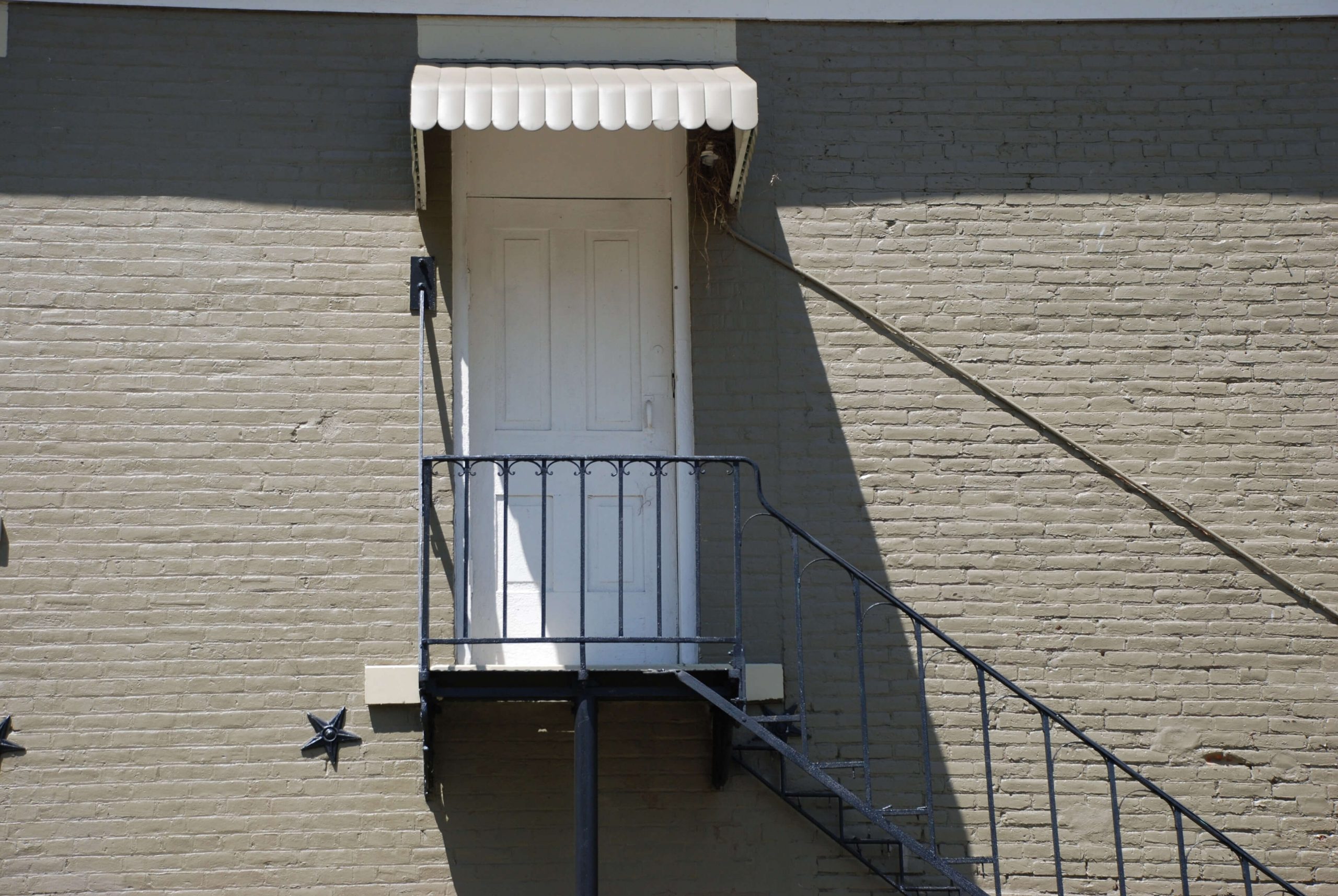 Door Awnings
Similar to window awnings, door awnings are smaller, curved, and generally only extend over the threshold of the door. They also can offer added style or decoration to the front of any business or home. As they are fixed, they will generally be made of either metal or the same material as the building they are attached to.
Other Types of Awnings
While the awnings listed above are some of the most common, there are a few others to be aware of as well, some of which may also be retractable. These include:
Porch
Canopy
Patio cover systems
Deck
Pergola
Conservatory
Explore Asher's Sunesta Retractable Awning Selection
No matter if you're looking to enjoy some extra shade, protect yourself or your furnishings from the sun, or just simply want to help your energy bill, investing in an Asher Sunesta retractable awning is one of the best decisions you can make for your home. Our awnings and solar screens help promote outdoor, healthy living and can help you create the patio or deck space you've been dreaming of.
Our awnings come in any style or color you may need, as they are fully customized to your space's needs. We also provide wind tests to make sure they'll stand the test of time. Asher Lasting Exteriors was founded on the principles of customer satisfaction, quality craftsmanship, and a commitment to environmental sustainability. We are here to answer any questions you may have about what type of awning would be best suited to your needs, so reach out to us today.