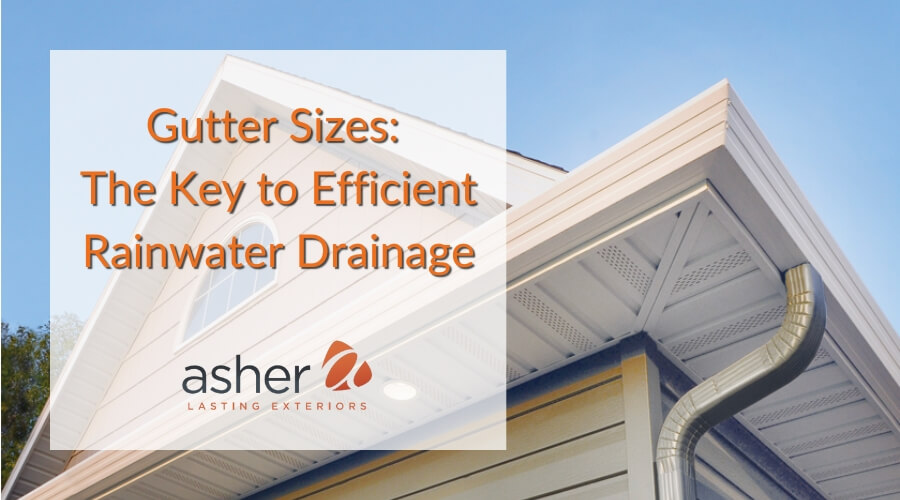 Installing the correct gutter sizes is imperative in making sure your home doesn't retain any water or weather damage. However, how do you know what gutter dimensions your home needs? 
This guide will walk you through everything you need to know about the sizes of gutters and downspouts you'll need for efficient rainwater drainage, along with showing you how to measure gutter size for your home.
Asher Lasting Exteriors' ABC Seamless gutters provide more long-lasting solutions than regular gutters. If you live in Western Wisconsin, get in touch with us today to learn more about how our gutter system can help you.
Understanding Gutter Sizes And Styles
There are various gutter styles and sizes available. The gutter sizing you need will depend on the type and size of roof you have, as well as the climate you live in.
The most standard gutter sizes are 5-inches and 6-inches. The 5-inch gutter width is beneficial for drier climates where there isn't as much rainfall. 6-inch gutters, on the other hand, are great for homes with moderate or heavy rainfall.
However, it's important to note that the gutter measurements you need may change depending on if you have K-Style gutters or Designer Fascia-Style seamless gutters. Asher Lasting Exteriors offers multiple types of standard gutter dimensions to suit your home's exact needs.
What Size Gutters Do I Need?
To figure out the gutter size and downspout sizes you need, it's important to consider the size and pitch of your roof. If your roof has a steeper roof pitch, it will be more likely to collect and retain rainwater, meaning you'll probably need bigger rain gutters.
Also, if your roof has more square footage, you will also benefit from a larger standard gutter size.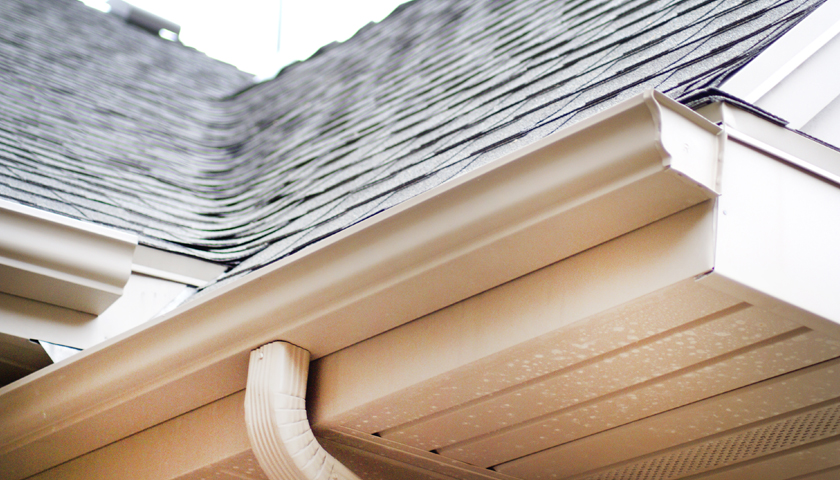 K-Style Gutters
K-Style seamless gutters are the most common for residential gutter sizes. These gutters have a flat bottom with a curved edge that matches up to a home's crown molding, making the design versatile for almost any house.
K-Style seamless gutters offer a reliable and cost-effective solution for homeowners who are looking for an installation that reduces clogged gutters or water damage. Asher Lasting Exteriors can provide K-Style gutters that match the standard gutter dimensions your home may need. The most common sizes for K-Style gutters are 5-inches and 6-inches.
These gutters can also be made with various materials, including:
Aluminum
Copper
Steel
Vinyl
Zinc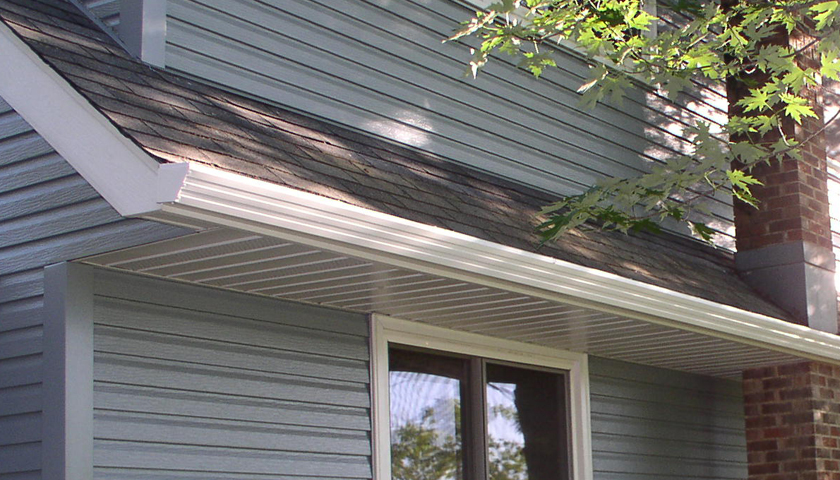 Designer Fascia-Style Gutters
Designer Fascia-Style seamless gutters are much bigger than K-Style gutters, making them ideal for areas with more severe rainfall. They also offer added protection for larger roofs or steeper pitches. These gutters can carry away 33% more water than typical gutter sizes.
These seamless gutters also offer a sleek design that is easy to maintain. If you're looking for a reason to implement seamless gutters over standard ones, Asher Lasting Exteriors is here to guide you. Our seamless gutters are a great way for homeowners who need added water or rain protection while also enhancing the home's natural curb appeal.
Do Downspout Sizes Matter?
Another aspect of gutter sizes you have to take into consideration is your downspout size. If you're wondering, "how many downspouts do I need?", we can also help with that.
Downspouts help direct water from your roof to the ground. Sizing downspouts is imperative in making sure that rainfall is directed away from your foundation. If you have a larger roof or a steeper pitch, there will be more water being directed at a faster pace, meaning more and/or larger downspouts are necessary.
If you have a 5-inch style gutter, the standard downspout size is generally either:
On the other hand, if you have a 6-inch style gutter or larger, you will often have:
3" x 4"
4" x 5"
Something larger, depending on if you have custom gutters
If you have any questions about the downspout size you need, Asher Lasting Exteriors can help. Our magnum sized downspouts divert twice as much water away as traditional downspouts do.
Gutter guards are a great way to help protect your gutters and downspouts throughout the seasons.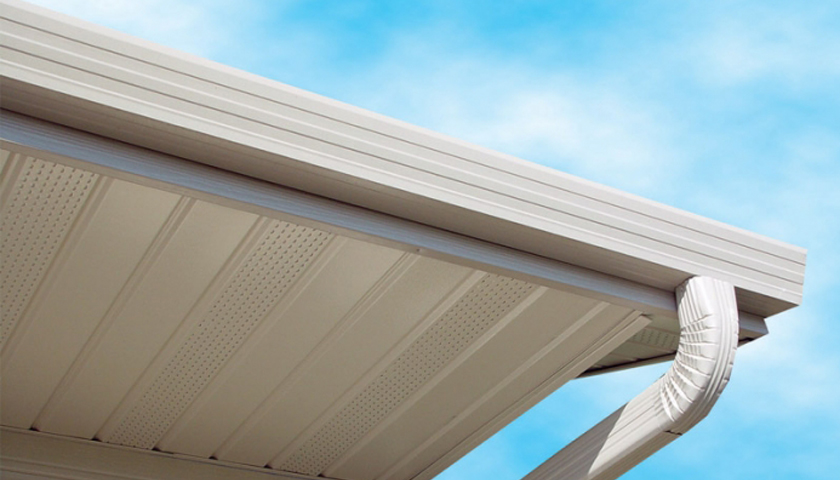 Choosing The Right Gutter Size For Your Home: 7 Considerations
As stated before, there are many considerations you need to make when selecting the appropriate size gutters for your home. Before potentially investing in the wrong gutter system, reaching out to a professional can help ensure that your home and roof stay protected for a long time to come.
Otherwise, the most important factors to think about when looking into the size and amounts of gutters and downspouts your home needs include:
Also, looking at a gutter sizes chart may be helpful in determining what size gutter your home needs. A gutter size chart can give you a good overall look at everything you may need.
Roof Surface Area
The larger the surface area that your roof has, the more rainwater will need to be diverted. Therefore, you may need more downspouts or larger gutter sizes depending on how big your roof is.
To determine the square footage of your roof, multiply the length and width of each section. Then, add them all together. It is a good idea to work with a professional to figure out the square footage of your home, as it can be dangerous to measure your roof as well.
Roof Pitch
A steeper roof pitch also will result in a higher risk for rain to collect in your gutters, as rain will travel faster and over a longer distance than with a flatter roof. To handle the increased water flow, even for a smaller roof, investing in 6-inch or even 7-inch gutters from ABC Seamless will help manage any excess runoff.
Average Rainfall
For areas that receive heavier amounts of rainfall, larger gutter sizes are imperative. This can help make sure that your gutter system doesn't become overwhelmed, especially in the event of a torrential downpour.
Also, if you have a large home with a steep roof in areas with intense amounts of rain, it is best to partner with a professional to install custom-sized gutters to ensure your gutter system works properly.
Water Volume
In conjunction with the amount of rainfall your home gets, the volume of water that accumulates will also affect the gutter sizes you need. Depending on the style of roof you have, how many stories your home is, and the material of your roof can all impact the amount of water volume for your home.
Asher Lasting Exteriors can install our Heated Gutter Protection System to ensure water or ice doesn't build up and affect your gutters. 
Gutter Material
The material of your gutters can also impact the gutter sizes you may need. Generally, thicker materials will hold up better over time, ensuring your gutter system stays effective for years to come.
Asher Lasting Exteriors offers these types of materials for our gutters, including:
Downspout Size
The downspout size you need is also affected by how large your roof is and how much rainwater needs to be diverted. Typically, downspout sizes are anywhere from 2" x 3" to 4" x 5". However, you can also get custom downspouts fitted for your home's needs.
Professional Consultation
Figuring out what gutter sizes your home needs can be a confusing process to undergo by yourself. Therefore, consulting with a professional gutter installer, such as our experienced and friendly team at Asher Lasting Exteriors, can help ensure you get the best gutter system for your home.
Our team will go above and beyond to take care of you and your home's gutter system. We can also recommend various sizes, materials, and systems that work best for your needs.
Western Wisconsin Seamless Gutter Installation By Asher
If you need help getting your home's gutter system installed, Asher Lasting Exteriors is here to help. Our team of experts can provide you with guidance, assistance, and a helping hand throughout the entire process to make sure that your home is taken care of for years to come.
ABC Seamless gutters are designed to carry 33% more water away, and our downspouts can divert twice as much water away from your foundation and home. We only work with the best companies, meaning that your home only receives the best care. Reach out to us today to set up a free estimate so we can help you get the right gutter sizes and system set up for your home.