Overflowing gutters may not seem like a serious problem at the moment. After all, the rain still finds its way into the ground to be absorbed. However, improper runoff from your roof can lead to the erosion of your home's foundation if left untreated for too long. 
Gutter overflow can be hard to spot unless you see it happening during a storm. Look for the tell-tale signs of disheveled landscape and pooling water to spot any trouble areas in your gutter system. Fixing the issue could be as easy as clearing out any debris from your gutters, or it may require less common solutions. Overflowing gutters damage your landscaping, foundation, roofing, and siding, so it's best to find the solution and deal with it immediately.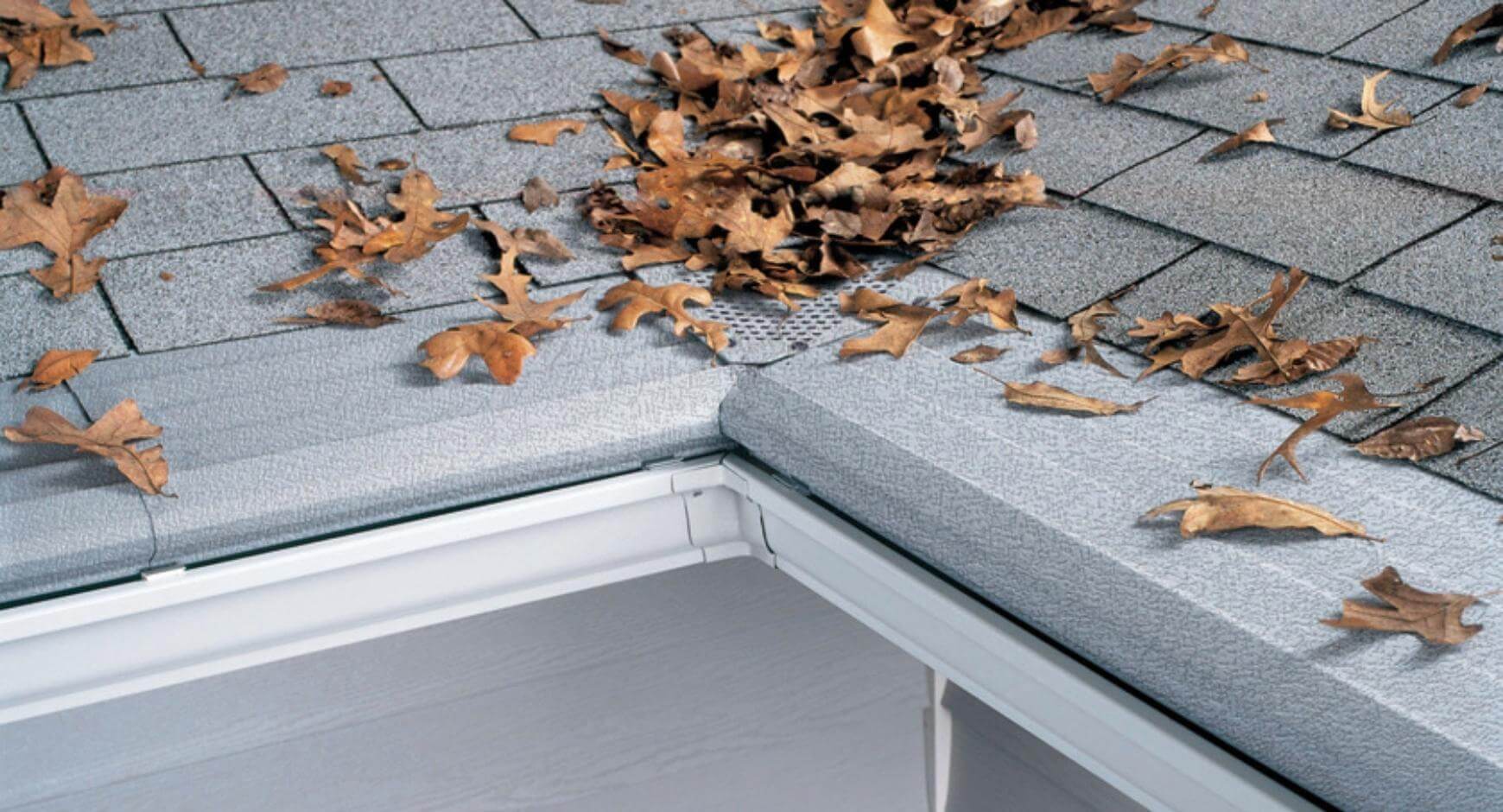 If your gutters are overflowing, contact the experts at Asher for a free consultation and replace your gutter system with our premier gutter solutions featuring the gutter helmet.
Signs and Costs of Gutters Overflowing
Gutters are put in place to direct rainwater away from your home's foundation, but water will spill over the sides with devastating consequences if something happens to be blocking that path. Gutters overflowing into eaves can cause the underlying boards to rot and give way over time. As the water runs down, it can discolor and damage your siding.
Finally, it ends up in your yard, where it can wash away your landscaping, crack your sidewalk, or erode your home's foundation. Look out for the signs of overflowing gutters before it's too late.
Erosion of the foundation
Wash out of the landscaping 
Rotting wood in your eaves
Discolored or damaged siding
Why do my Gutters Overflow in Heavy Rain?
If your gutters can't handle heavy rain, you might be facing a more severe issue. Depending on your climate, heavy rainfall might not occur frequently enough to be cause for alarm. However, if your gutters can't perform against your annual rainy season, it may be worth looking into a solution before the damage is too extensive.
Clogged Gutters
The most common reason for overflowing gutters is a clog somewhere in the gutter or downspout. These can be hard to spot, especially if your problem area is on a second-story roof. Climbing up with a ladder used to be the only solution, but today you can use a drone or extended camera pole to get the same views. If your gutters are clean but still overflowing, you may want to try an alternative approach.
Incorrect Pitch or Tilt
If your gutters are overflowing but not clogged, the next thing to check is the pitch and tilt of your gutters. As the rain collects in your gutters, it should run towards the downspout because gutters are installed with a slight pitch in that direction. Without that slight angle, water will collect in your gutter and cause it to sag. A gutter not draining will slowly pull away from the house and eventually collapse.
Gutters are Too Narrow
In order to stop rain from overshooting a gutter that is clean and pitched right, you might need to look into getting a wider gutter. Homes in areas with frequent heavy rainfall are usually equipped with a wide gutter to collect the torrents of water before they spill over the edge. If you're experiencing overflow only during intense storms, your issue is likely a narrow gutter.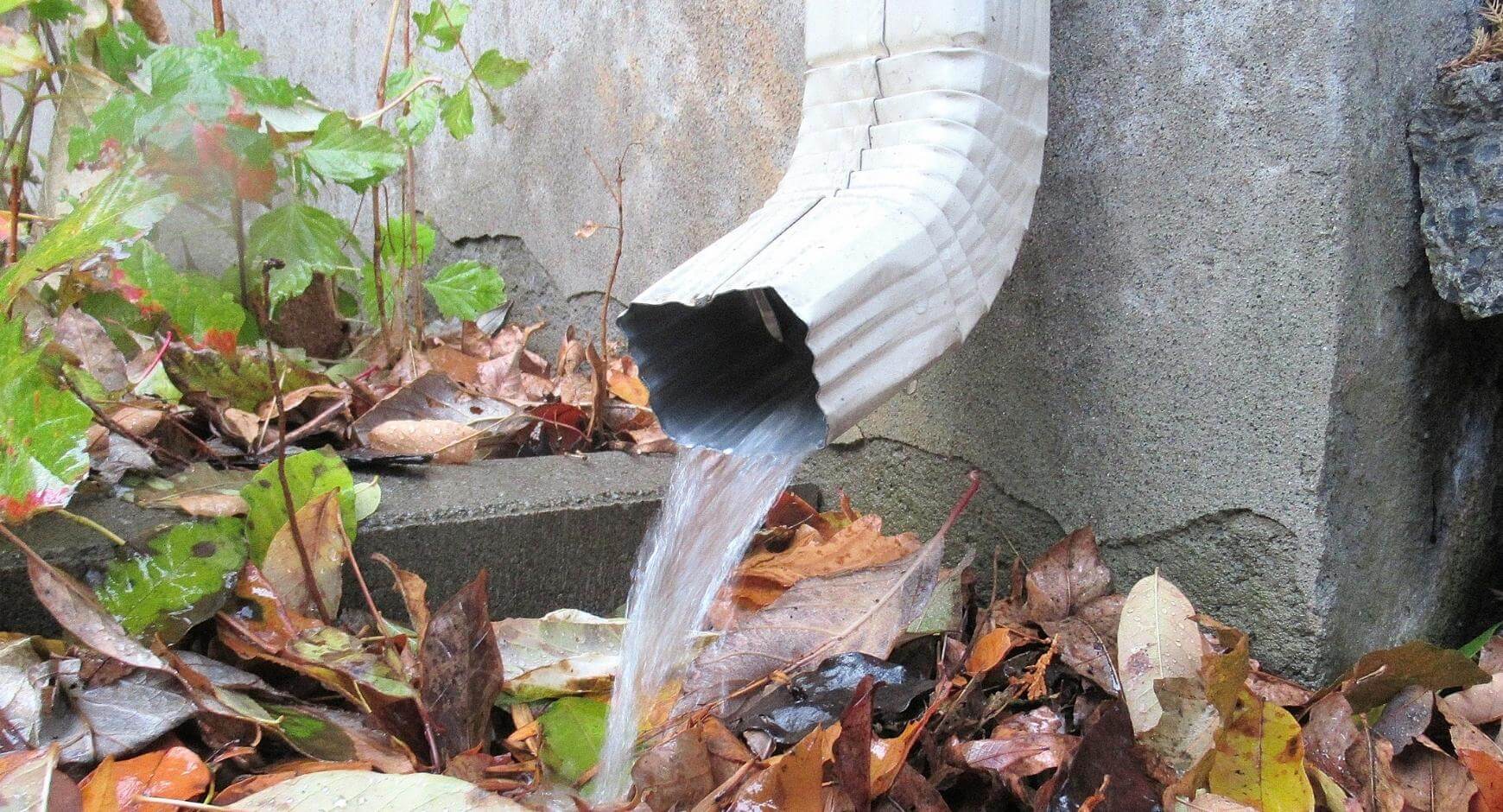 How to Fix Gutters that Overflow
You are limited in the number of ways you can fix your gutters by yourself. You can clean them and rehang them with little assistance, but if your issues persist, we recommend contacting a trusted professional to take a look.
Remove Debris
The most common gutter overflow solution is to remove the debris that collects on your roof and gets washed down into the gutter. You can take a ladder up to the gutters to clean them by hand or try one of our ladder-free cleaning methods.
Use a flashlight to examine the downspout and make sure there is a clear path for the water to flow through. If you need to, the downspout can be easily taken apart to remove a clog and put back together with a few screws.
Check the Pitch and Tilt
You can take a level up to your gutters to check the tilt perpendicular to your roof, which should ideally be perfectly level. Next, you'll want to check the pitch toward your downspouts. The pitch should be between ⅛" and ¼" for every 10 feet of gutter.
If your pitch is too flat, the water won't drain out, and if it's too high, the water will splash out as it reaches the downspout. Rehanging your gutters can be done yourself or with a partner if you have little construction experience.
Install Wider Gutters
If your pitch and tilt are correct and you have no internal gutter problems like stuck debris, your next solution could be to install wider gutters. Not only will they be able to direct more water away from your home, but they are also less likely to get clogged with debris. If your gutters are old and showing signs of aging, installing new seamless gutters could be a great way to boost your curb appeal and give your house a fresh new look.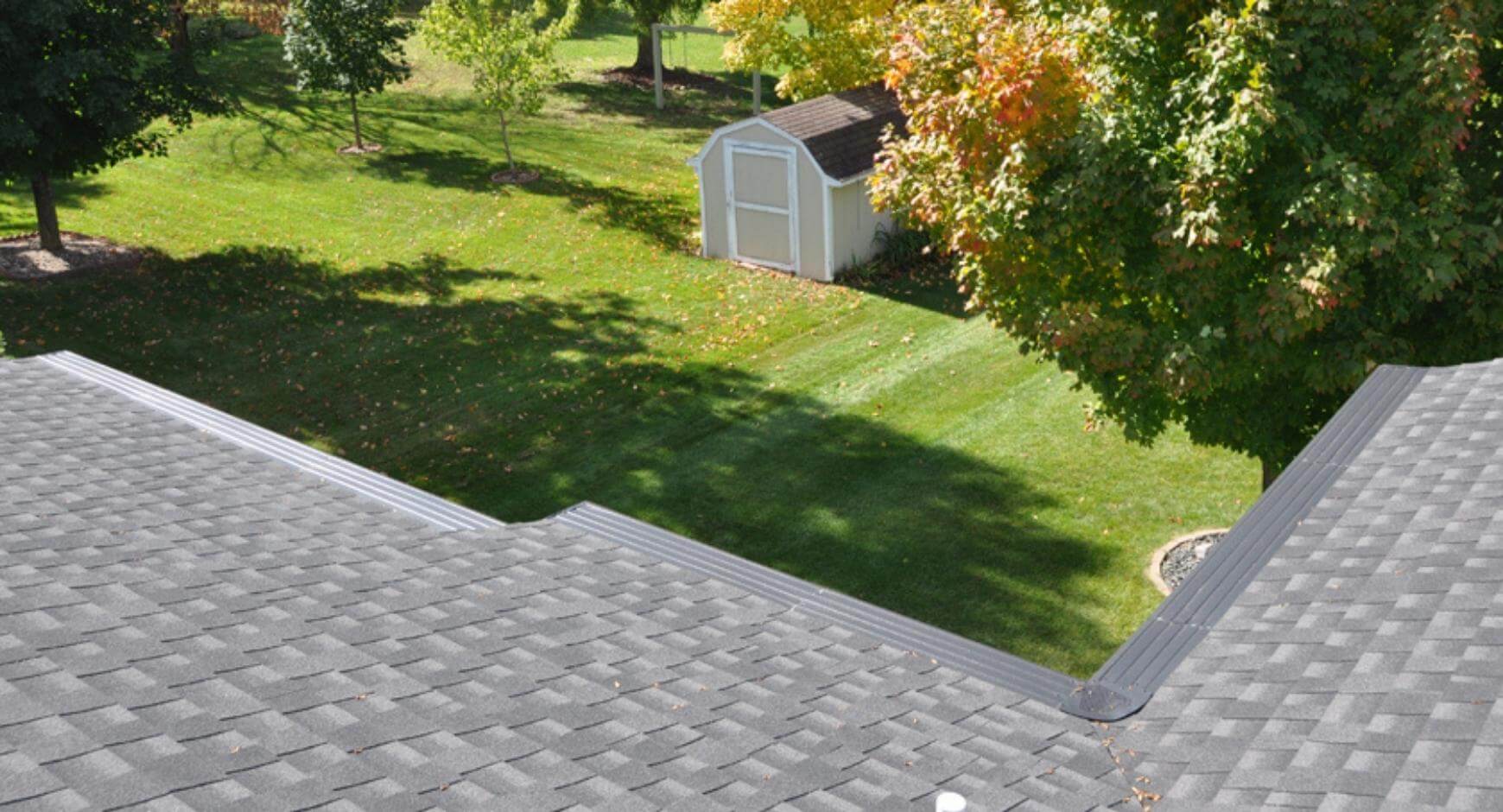 Maintenance Tips to Stop Overflowing Gutters
Overflowing gutters are a common occurrence and something most homeowners need to deal with each spring and fall. If you're having the same issues, don't fret, as the most common solutions are ones you can do yourself with minimal expertise. We've compiled a list of our favorite maintenance tips to make your gutters flow smoothly year-round.
Clear Gutters Seasonally: Gutters should be cleaned after the fall leaves have dropped and again in the spring before the heavy rains begin.
Prevent Ice Dams: Ice build-up in your gutters can cause them to sag and pull away from your home, which will cause an overflow in the spring.
Explore Gutter Guards: There are several gutter guard options available to keep debris out of your gutters. Just make sure your gutter guard isn't causing overflow by preventing rain from collecting.
Get Gutter Helmet: The premier solution to gutter guard water overflow issues is the Gutter Helmet, a cap that can be fitted with heaters to prevent ice dams in the winter.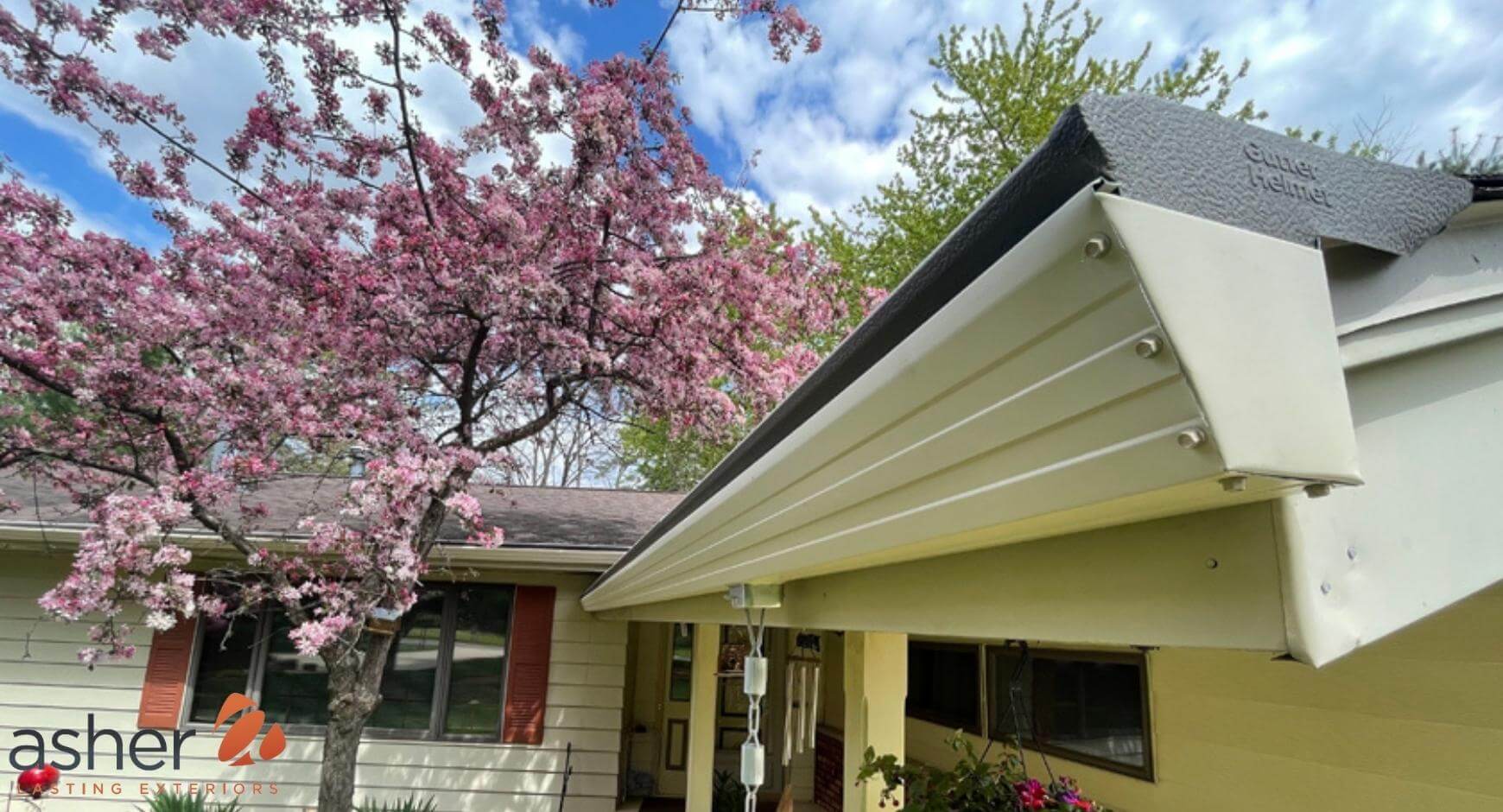 Get Gutter Helmet from Asher to Prevent Gutter Overflow
Overflowing gutters won't have any lasting effects if caught in time. If you're struggling with this year after year, we recommend installing a Gutter Helmet to get rid of the headaches of gutter cleaning for good.
At Asher Lasting Exteriors, we have been servicing gutters and home exteriors for 48 years and built our reputation on excellent customer service. We understand that gutter replacement is a significant investment, and we want you to be confident in your decision, so contact us today for a free estimate. Check out our blog for more tips and advice on exterior home maintenance and renovations.