Gutters are integral for roofs, but how do you know whether you should invest in seamless gutters vs traditional gutters? Both have their pros and cons. Our guide can help you figure out what type of gutter to invest in and why.
There are multiple advantages and disadvantages of seamless gutters vs traditional ones. Depending on the type of home you have and your roofing system's needs, you may find yourself leaning one way or the other to help protect your home. Read on to learn more about seamless gutters vs regular ones.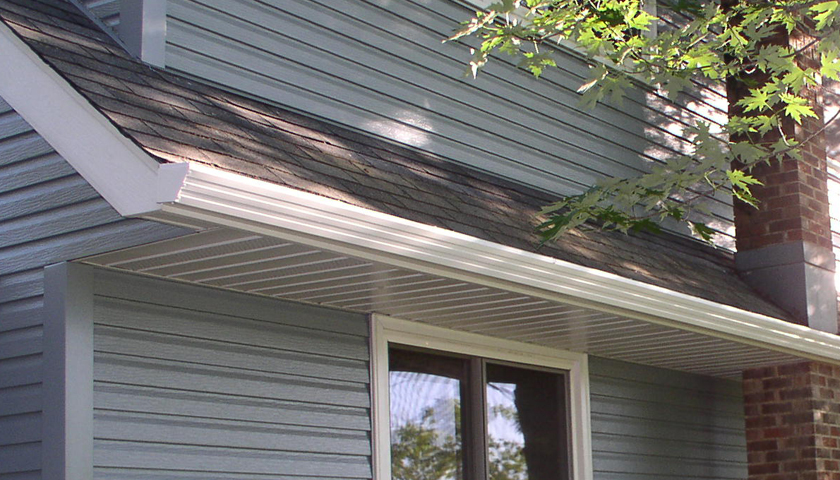 Looking for seamless gutters? Asher's seamless gutters can help protect your home for the long term.
What Are Seamless Gutters?
If you're looking for new gutters for your home, you may have come across seamless gutters. But just what is a seamless gutter, and how can it help your home? Seamless gutters are also known as continuous gutters, as they only have a seam at the corners and downspouts. They are more durable and long-lasting than traditional gutters.
Due to their seamless design, they offer more leak protection and generally don't need any maintenance either, as they are designed to fit your home's needs exactly. A few common materials that seamless gutters are made out of include:
Aluminum
Steel
Vinyl
Copper
Depending on the amount of rain your home gets, you may need larger gutters for efficient and safe drainage. An expert from Asher Lasting Exteriors can help you determine what size and gutter material would work best for your home's needs.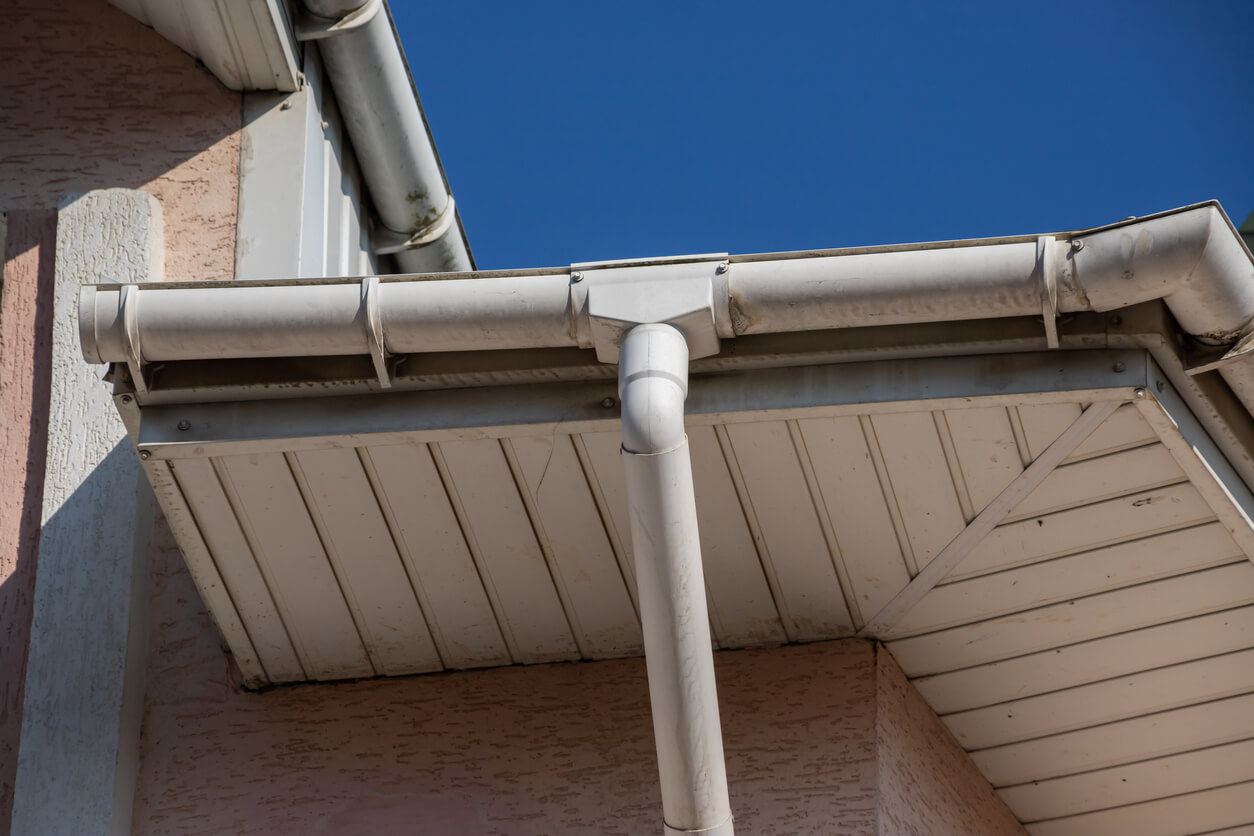 What Are Regular Gutters?
Regular gutters, on the other hand, are crafted in premade sections that are then connected together. These gutters have multiple seams compared to continuous gutters, which can make them more prone to leaking or wear and tear over time. Regular gutters are available to purchase at most hardware stores, along with their hangers and downspouts.
Seamless vs regular gutters both offer multiple benefits for your roof. Overall, though, regular gutters are much cheaper and still work to protect your home from excess rainwater building up. These gutters do have to be regularly maintained, however, due to the added seams and their potential for blockage.
What Is The Difference Between Seamless Gutters And Regular Gutters?
Knowing the difference between seamless gutters and regular ones can help ensure that you get the best gutters for your home. Most notably, seamless gutters are tailor-made for your home and are more leak-proof than traditional gutters.
Despite the benefits of seamless gutters vs traditional gutters, there are still multiple benefits of traditional gutters as well. They are much cheaper and easier to install than seamless gutters. Seamless gutters vs regular gutters cost is often the primary reason why homeowners tend to go with regular gutters instead of the more custom-fitted seamless ones.
Pros And Cons Of Seamless Gutters
If you are wondering what the pros and cons of seamless gutters are, this section can help answer all your questions. They can provide your home with long-lasting care, especially with Asher Home Exteriors' Fascia Style Seamless gutters and downspouts.
Pros
Superior Performance: Most notably, seamless gutters vs traditional ones offer better overall performance.
Sturdier: They are also less prone to buildup, meaning they hold up better over the years as well.
Sleek and Seamless Look: Due to their customizable nature, seamless gutters also tend to offer a sleeker look that can help your home's curb appeal as well.
Minimal Maintenance: Seamless gutters, since they are tailor-made for your home and have no seams except at the downspouts and corners, also means they require less maintenance and are meant to last a lifetime.
Cons
More Expensive: Since seamless gutters are made specifically for your home and are made to last a lifetime, they are also more expensive.
Can't DIY Install: Seamless gutters are all one piece, meaning that you can't install new sections or the entire length of them yourself. They require professional installation.
Costlier Repairs: Also, as seamless gutters are all one piece, repairing them often means repairing the entire system in some way.
If you are in Western Wisconsin and need help with your gutters or are having issues, Asher Home Exteriors is here to help you figure out your next steps. 
Pros And Cons Of Regular Gutters
Regular gutters come in sections that then have to be connected or soldered together, depending on the material they are made from. While regular gutters are much cheaper to install, they also come with their own set of cons to take note of before investing in them.
Pros
Less Expensive: Regular gutters are available for purchase at most hardware stores, meaning they are often much cheaper to invest in.
Installation Is Easy: Since regular gutters come in multiple sections, many homeowners can do the installation themselves without having to hire a professional.
Repairs Can Be DIY: If one part of the gutter is having issues, purchasing and implementing a repair can be easy and cost-efficient as well.
Cons
Aren't as Durable: Regular gutters, however, do not last as long as seamless ones. They require much more maintenance, care, time, and money in the long run.
Greater Risk of Leakage: Since these gutters come in multiple sections that are then connected, they are much more prone to leaks and build-up, which could lead to other issues down the road as well.
Not Custom-Fitted: While seamless gutters are customized for your home, traditional ones are not, meaning they often offer less curb appeal and don't fit as well as they should.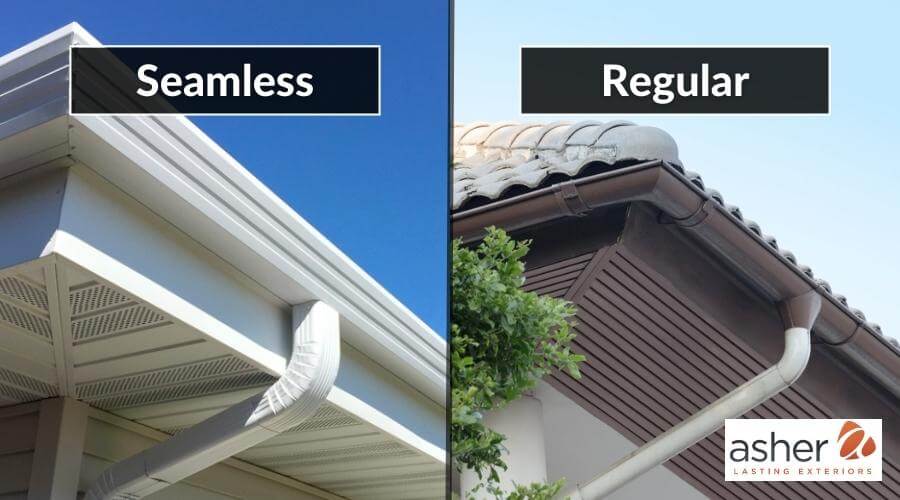 Seamless Gutters vs Regular Gutters: Which Is Better For You? 
Are seamless gutters better than regular gutters? The answer to this question depends on your home's needs, your budget, and how much rain your area gets. If you have a smaller budget and don't think you'll be in your home forever, it may be a better idea to go with regular gutters.
However, investing in seamless gutters will save you time, money, and maintenance hassle. Over time, seamless gutters vs traditional ones will make up for the initial cost of installation, as you generally will not have to worry about upkeep, maintenance, or potential water damage like you would with regular gutters.
Asher Home Exteriors can give your Western Wisconsin home the care it deserves with our Fascia Style Seamless rain gutters. 
Seamless Gutter FAQ 
If you still have a few questions about whether or not seamless gutters vs traditional gutters are the way to go, this FAQ can help settle your concerns and make sure you're getting exactly what you and your home need.
Are Seamless Gutters Worth It?
The benefits of seamless gutters make the cost worth it. They offer longevity, minimal upkeep, and added curb appeal, making them the perfect choice for numerous homeowners. Seamless gutters vs regular gutters are a great investment to last a lifetime.
How Long Do Seamless Gutters Last?
Seamless gutters are made to last for decades, even without routine maintenance. Due to their custom-fitted nature and continuous design, they offer less leakage or buildup as well. Our team at Asher Lasting Exteriors is here to help ensure your gutters last for many years to come.
Who Makes Seamless Gutters?
Depending on where you live, there may be many manufacturers of seamless gutters. However, Asher Lasting Exteriors in Wisconsin will meet with you personally to help customize your gutters with Fascia Style Designer Seamless gutters and also professionally install them. This will help ensure your gutters and home stay safe with a complete water management system.
In Western Wisconsin, Asher Lasting Exteriors Has Your Seamless Gutter Solutions
If you have been thinking about getting new gutters, we can help. Our team was founded on the principles of customer satisfaction, quality craftsmanship, and long-lasting and environmentally-safe construction. We only partner with the best systems and manufacturers, meaning that the gutters from Asher will keep your home protected for years to come. These gutters and downspouts also help carry away 33% more water than traditional ones.
You can trust us with all of your home's exterior needs. We have also cultivated great relationships with our suppliers, which means they have our best interests in mind as well. Get in touch with us today if you're looking to install seamless gutters for your home.