Black windows offer a bold and modern look to your home. For this reason, they've become an increasingly popular trend for many homeowners. Black windows can enhance your curb appeal and increase your home's overall value as well.
Choosing the right windows for your home can be tricky. There are plenty of considerations to keep in mind, such as price, style, and maintenance. This guide to black windows and black window frames can help answer any questions you may have about implementing this trend in your own home.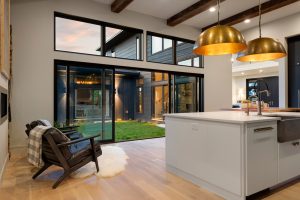 Asher Lasting Exteriors can help install specialty windows for your Wisconsin home. 
Why Are Black Windows and Black Window Frames Trendy?
Modern black windows provide a bold look to your exterior, especially if the rest of your home is a lighter color scheme. Industrial buildings originally used them in the 1900s, but recently, they have started appearing more frequently in homes because of the industrial style trend.
Black framed windows can complement both traditional and modern homes. Black exterior window frames provide versatility, as the frames seemingly blend into the glass. You can also install black interior windows. For interior black trimmed windows, many choose not to install curtains or shades to not take away from the contrast the windows provide. 
Where Do Black Windows Work Best?
Black windows work best for multiple types of rooms or homes. They are also beneficial for homes in colder climates, as the black absorbs more heat from the sun. 
They also look sleek and stylish in sunnier climates, but it may be helpful to utilize curtains or shades in this case. 
Advantages Of Black Interior Windows
There are multiple advantages to black interior windows. They help draw the focus of the room to your windows and, subsequently, the landscape outside as well. This is a great way to highlight the great outdoors while giving your house a sleek look.
There are various other advantages of installing a black window frame to your interior windows, such as:
Contrast: Black window frames create contrast, especially against light colors. If the interior of your home already has a modern, lighter color scheme, black windows would pair perfectly with the look you're going for.
View: Windows with black frames also outline the exterior beautifully. The black frame will blend into the glass well, highlighting the landscape outside.
Focal Point: Black windows create a clean focal point in your home. 
Advantages Of Exterior Black Windows
Exterior black windows also provide many benefits for homeowners. You can have your interior windows match your exterior ones if you want to create a cohesive look, but this isn't a requirement. Exterior black window frames can provide just as much of a modern look outside your home as in. 
Other examples of exterior black window advantages include:
Contrast: Black windows create contrast against lighter color homes, along with light siding and trim.
Versatility: Black windows provide lots of versatility when it comes to design and overall look. It can either blend in with darker color schemes or make lighter ones pop. 
Curb Appeal: Black windows give homes a bold, trendy look. This can help increase your home's curb appeal, especially if you plan to sell it later on.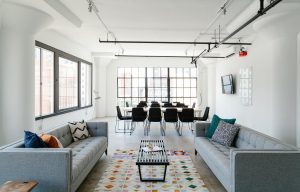 Asher Lasting Exteriors can help you install black combination windows, which can provide a sleek look to your home. 
Black Window Frame Materials
It's important to choose the materials for your windows with black frames wisely. Many things can affect what kind of material you may want to utilize for your black windows, such as:
Climate
Sunlight
Moisture
Cost
Lifespan
Aesthetics
Durability
For example, sunnier or hotter areas can heat up metal much faster, potentially increasing the temperature inside your home. This can even affect your utility bills over time. 
Some of the most common materials utilized for black windows include:
Should we add the exclusive Fibrex material or keep it generalized? 
Fiberglass: Fiberglass windows are very durable. They are generally much stronger than other materials. They are also ideal for warmer climates.
Aluminum: Aluminum is also strong and long-lasting. However, this material is best used in milder climates, and it can heat up quickly in hot, sunny weather.
Steel: While steel windows tend to be the most expensive, they are also the most durable for many homeowners. Steel may rust over time, so it's important to take this into account if you live in a rainy area. However, many manufacturers can treat them to prevent corrosion.
Vinyl: Vinyl windows are generally the cheapest window option, but they also aren't as durable as other materials. However, you'll still get many years of use out of vinyl windows.
Fibrex: It's worth noting that Andersen Windows is the sole producer of this distinctive window material. This composite wood is composed of wood fibers and thermoplastic polymer, providing strength and durability.
Black Window Frame Styles
No matter if you're looking to replace your windows or get entirely new ones, considering the frame style of your exterior or interior black windows is also important. Depending on your home's style, size, and ventilation, different frame styles will work better than others. 
Some of the most common frame styles for black windows include:
Double Hung: These windows can open either at the top, bottom, or both. This is great for ventilation purposes. It also makes cleaning the exterior and interior much easier.
Casement: Casement windows operate like doors, meaning they open in or out with hinges on the side. However, if your casement windows open outward, they may be more exposed to the elements. Keep this in mind depending on the climate where you live.
Picture: These large windows don't have any obstruction, so they provide a "picture frame" look to your window and the scene outside. 
Bay and Bow: Both of these windows are sectioned and designed to push outward away from your home.
Sliding: Sliding windows can open either horizontally or vertically. They offer lots of interior light and ventilation for homes.
Awning: These types of windows have hinges at the top that can be pushed to open. 
Common Questions Around Black Windows
Before deciding on investing in black windows, you may still have some questions about whether they are the right choice for your home. It's important to consider all aspects before taking the plunge for this modern look. Common questions about black windows generally include the following:
Why Are Black Windows More Expensive Than Regular Windows?
While still more expensive than lighter-colored windows, the added cost of black windows isn't enough to deter buyers. The added cost comes from an extra step during manufacturing, as it's important to ensure the black window color won't fade over time. 
Do Black Windows Fade?
Black windows can fade if not taken care of properly during manufacturing. It's also important to choose the right material for your windows based on the weather and climate where you live. Moisture or sunlight can make some materials fade faster.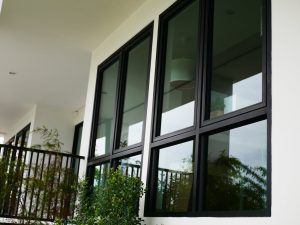 How To Get Black Windows In Western Wisconsin: Call Asher's Window Experts
If you're looking to upgrade your home's decor and create a trendy, modern look, installing black windows can be just what your home needs to elevate its look. Asher Lasting Exteriors only works with the best materials and companies. Our Renewal by Andersen windows are high quality, and we also promise expert consultation and installation for your home's needs. 
Get in touch with our team today if you're looking to install black windows for your home. Our windows are durable and efficient and require low maintenance. Contact us for a free estimate today so we can start the installation process as soon as possible for any of your window needs.