Sunroom design is rooted in flooding a room with natural light by incorporating as many windows as possible. Modern sunrooms can create the ideal escape from the stresses of life where rest and relaxation take center stage. If you're looking for that all-year sunshine spot, use these modern sunroom designs to start dreaming up your build.
Modern sunroom design ideas range from the plant-filled nature oasis to cozy fireplace reading nooks, minimalist open concepts, and more. Learn how to design a sunroom that fits your needs and captures the best features of your home's location. Let these ten sunroom design ideas be the inspiration for you to create a wholly unique and personal room for you to call your own.
Browse the Asher blog for more great home improvement tips and inspiration. 
Sunroom Inspiration and Design Ideas
Modern sunroom additions are great for any home in any climate, and unlike a screened-in porch, they can be used all year long. Whether you're designing a sunroom from scratch or redesigning an existing room in your house, there's something here to spark an idea.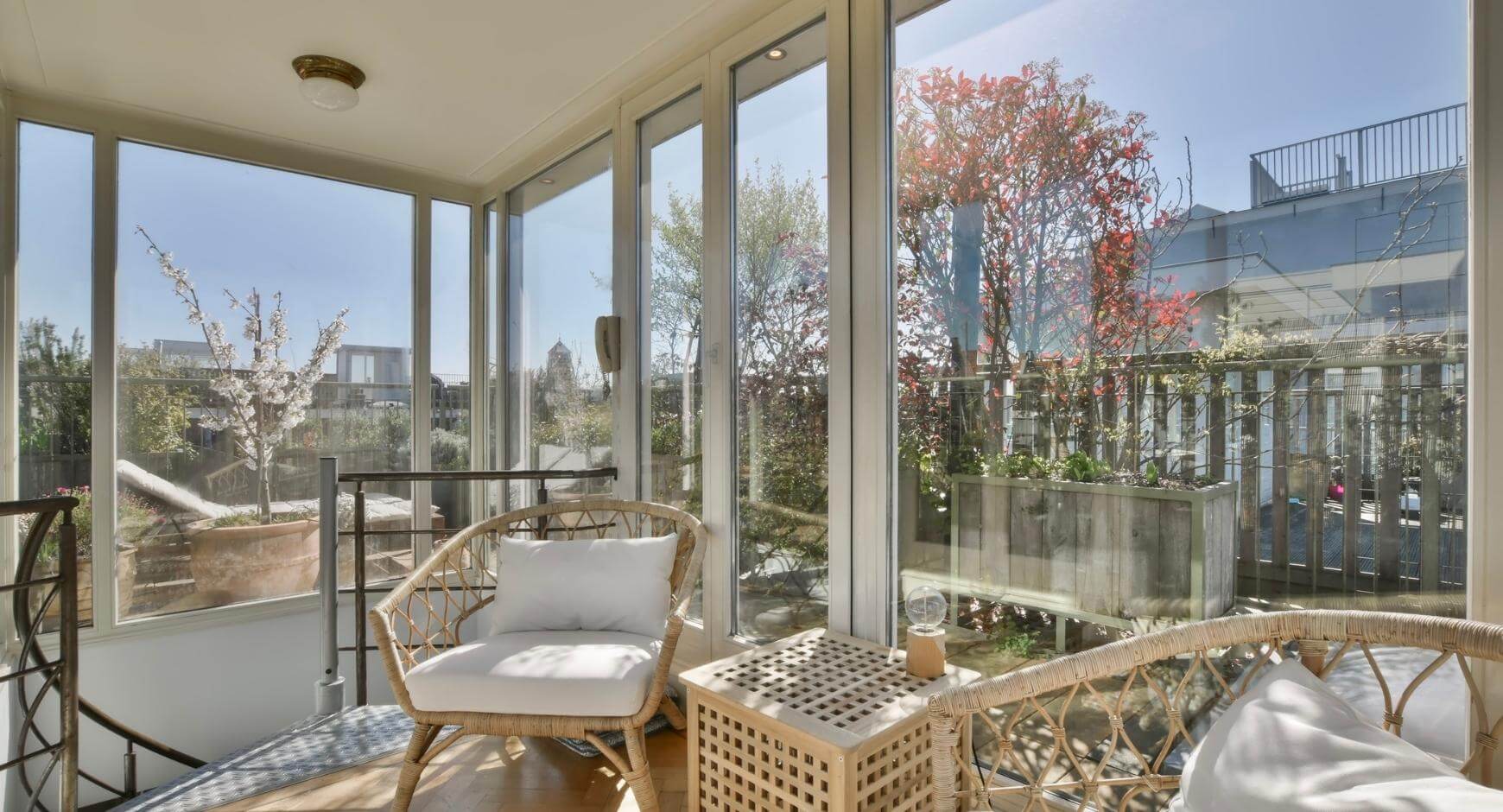 Expand Your View with Big Picture Windows
Windows are a great place to start when brainstorming ideas for a sunroom. Big picture windows are ideal for filling the room with natural light and making it feel like an outdoor space. Use them in combination with other window types to allow plenty of ventilation.
There are many different window types and styles to choose from for your sunroom, but they all share a few excellent advantages:
Increases the natural light
Brings in surrounding beauty
Creates a flow of fresh air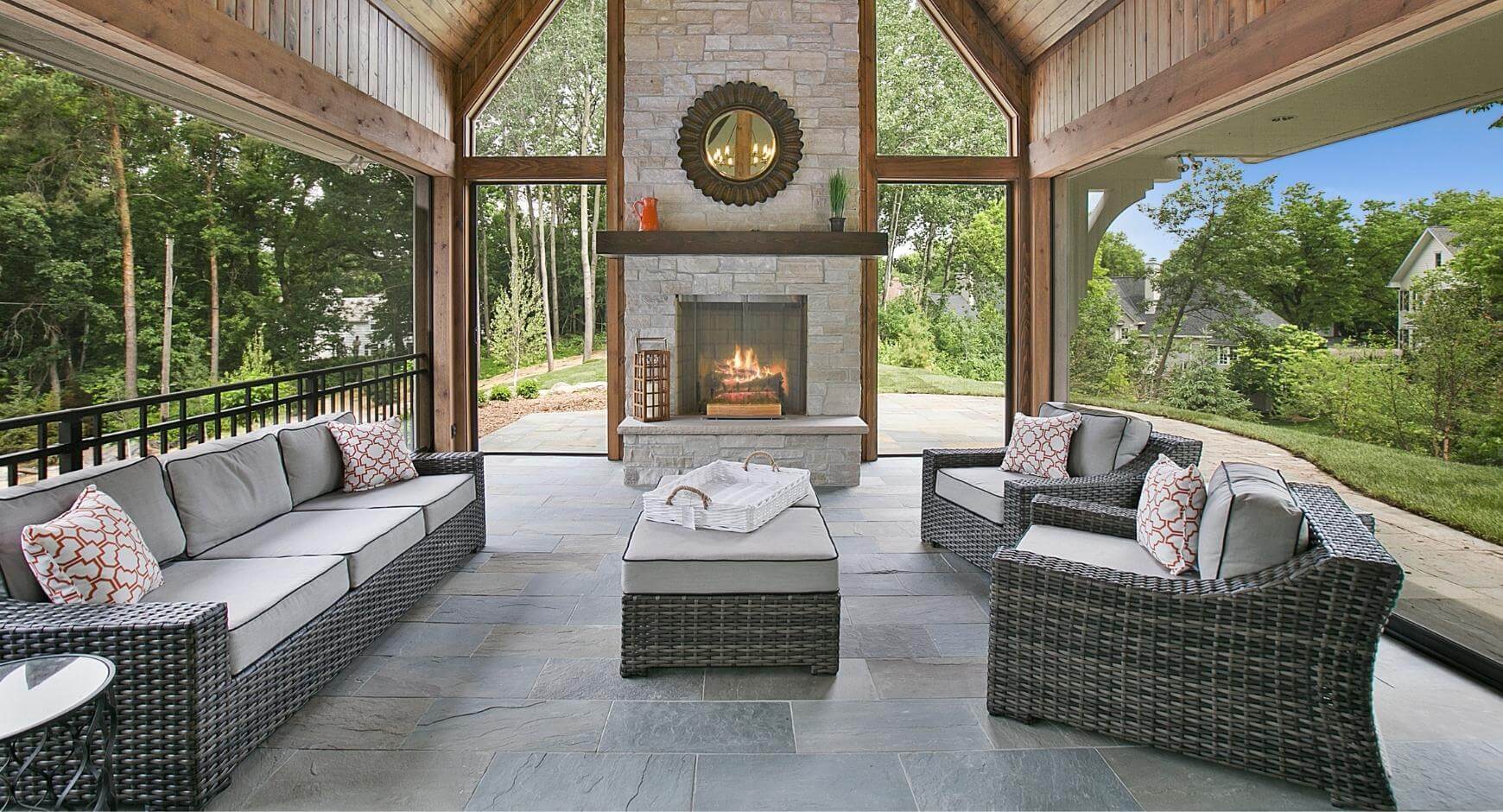 Keep it Cozy with a Fireplace
Contemporary sunrooms can be incredibly versatile. Some even have a stone fireplace to recreate that outdoorsy vibe. The bright flicker of flames and sounds of crackling wood are a welcome touch to any relaxing nook. In the winter months, it can make a great gathering spot for family events as the falling snow outside only makes it a cozier place to be. Take a look at all the advantages of a sunroom fireplace before you decide:
Enjoy summer fires bug-free
Add a double-sided fireplace for versatility
Make your sunroom popular all winter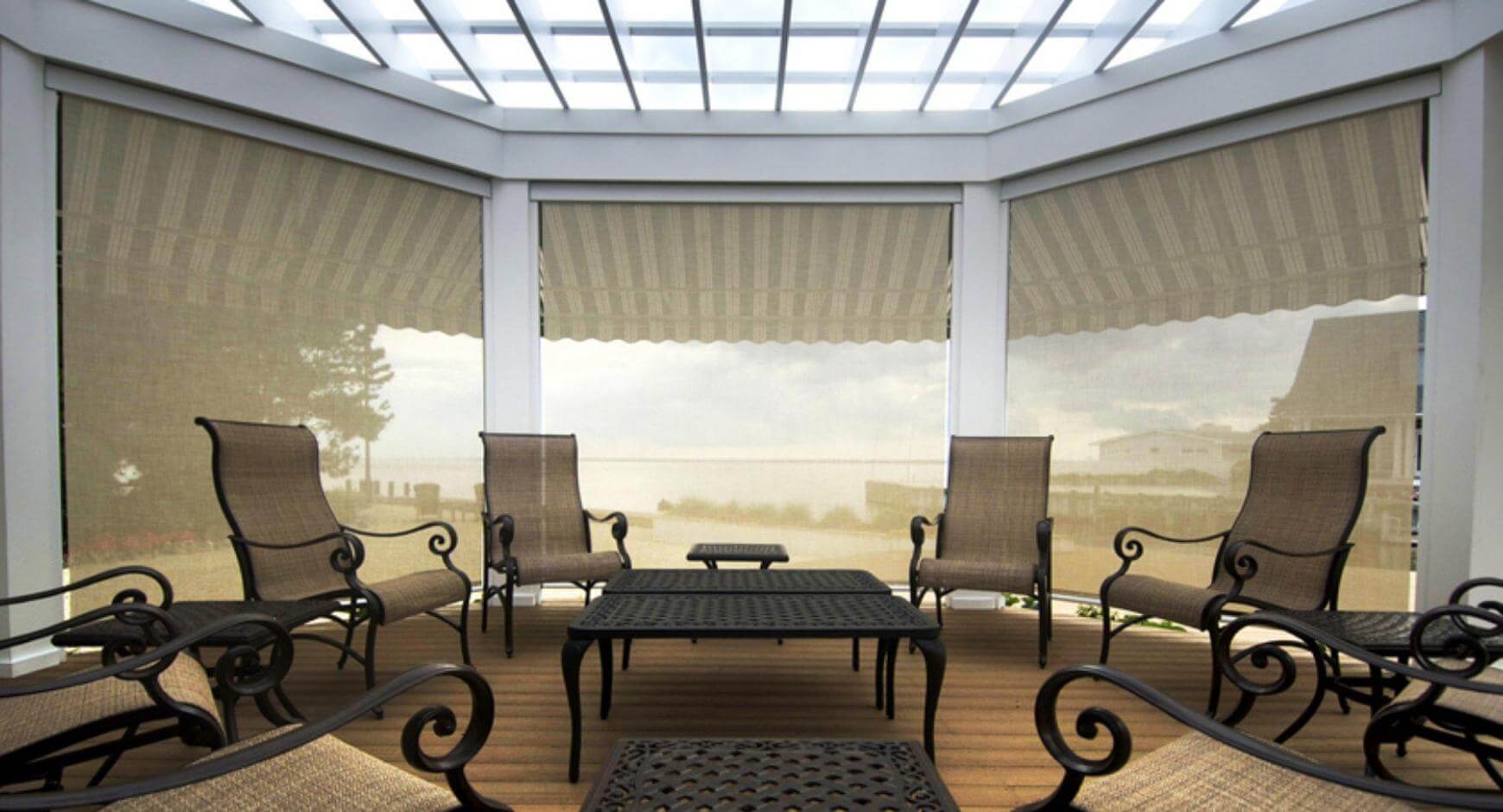 Create Moveable Shade Options
Modern all-season sunrooms benefit from having various climate control options, from fireplaces to ceiling fans and window shades. Solar screens are a popular option for outdoor spaces and sunroom designs alike since they are fully automated and can protect your furniture from sun damage. You can also create shade with a retractable awning on your sunroom's exterior, whether that's connected to a patio or an outdoor grilling space.
Decorate with Sustainability in Mind
Modern contemporary sunrooms are a place to reconnect with nature, and that connection starts with the design. If you're creating the addition from scratch, look for sustainable building materials like bamboo, wood, clay, stone, and sand. When looking for sunroom decorating ideas, you can find sustainable wool, linens, and coconut to accent your room in a more natural and eco-friendly way. If you're looking for more sustainable choices, try these:
Buy second-hand furniture to refinish 
Select energy-efficient LEDs for lighting
Install thermal curtains to curb your energy use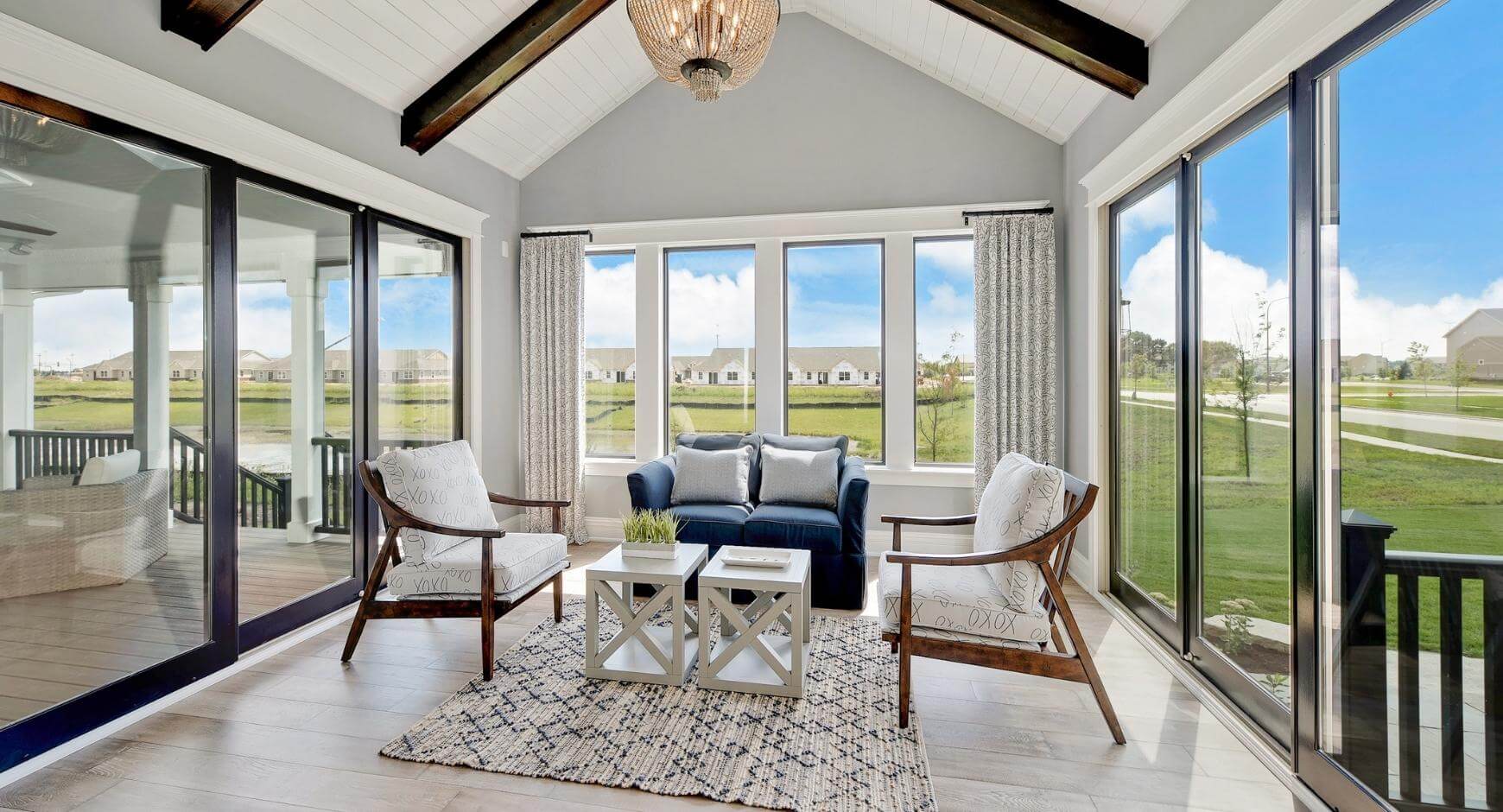 Inspired by Scandinavian Elements
Sunroom ideas for modern living are all about form and functionality. Take some inspiration from the minimalist designs of Nordic countries that focus on simplicity and are devoid of clutter. Clear, bright spaces accented by soft dark woods remind us of the serenity of mountain vistas and clear skies.
Scandinavian-inspired sunroom designs are increasingly popular as the world becomes more cluttered with ads and information. Take a moment to consider the benefits of this sunroom interior:
Minimalist aesthetic where form follows function
Light, airy colors help fill the room with light 
Dark woods that recall stark landscapes
Open Design Concepts
Easy sunroom ideas tend to gravitate towards minimalism, with open design concepts at the head of that pack. An open concept leaves room for your sunroom to be used as a yoga studio or a dance floor on the weekends. Sunroom interior design can be a daunting task for new homeowners, but oftentimes less is more in a space where you want to relax. Similar to Scandinavian design, you'll want to declutter so you can decompress.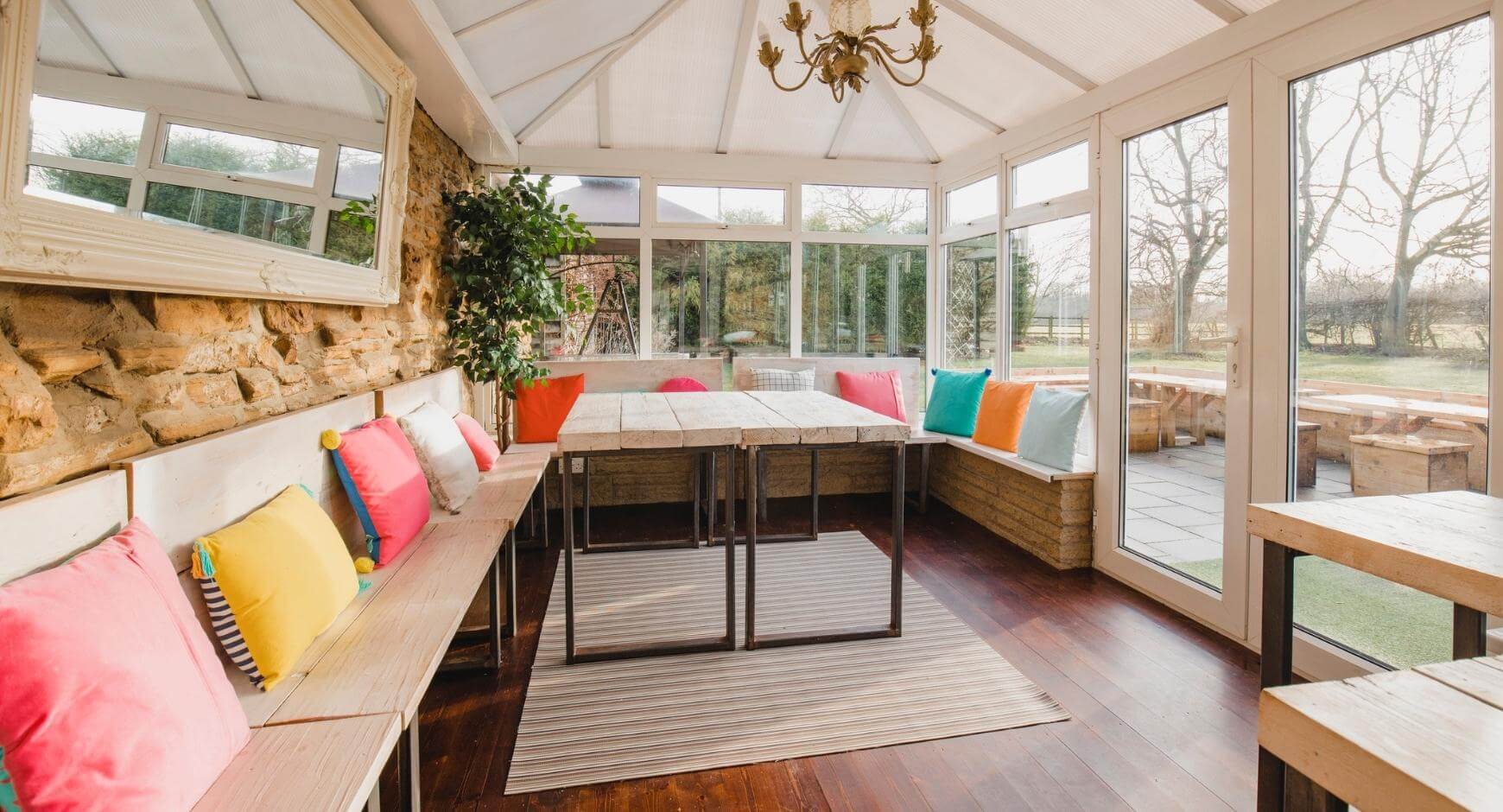 Strategic Pops of Color
A clean, minimalist design may be ideal for some but feel a bit dull to others. You may like the form and functionality of a particular design but want to liven it up with a few bright accent colors. Throw pillows and blankets are the perfect medium to express your style as they can be swapped out with the changing of the seasons. If you're looking to add a bit more color, check out these fun sunroom ideas:
Create an accent wall or patio door
Throw in a colorful rug or ottoman
Alternate pillows and blankets with the season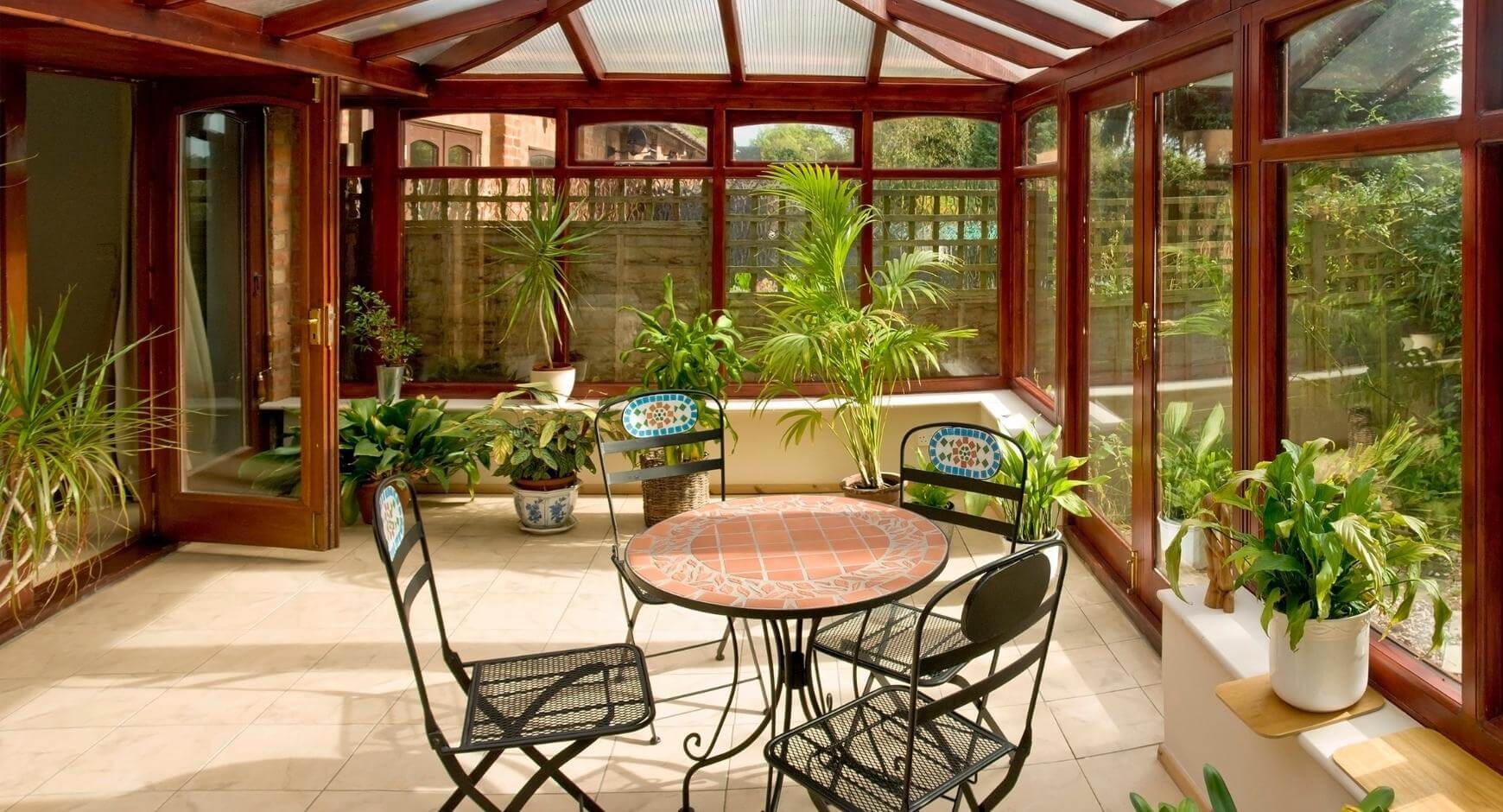 Don't Forget the Greenery
A well-cared-for collection of plants is high up on our list of home sunroom ideas. They are also on our list of ways to add privacy to your outdoor living spaces. Bringing plants into your sunroom is a great way to bridge the gap between indoor and outdoor spaces.
You can enjoy the fresh air and beautiful greenery without being exposed to the elements. Just be careful that your modern solarium doesn't turn into an attached greenhouse over the years.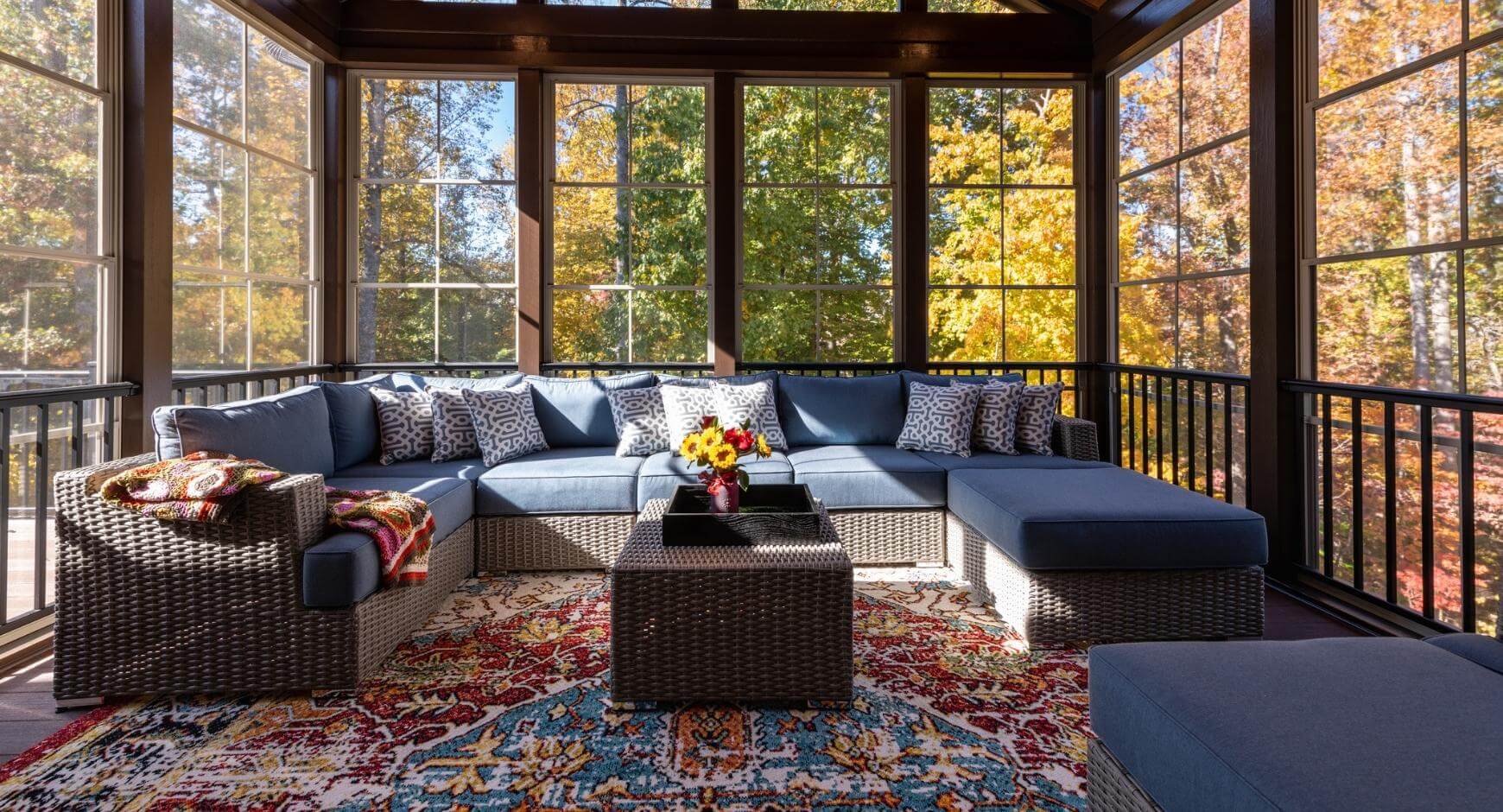 Consider All Four Seasons
The best sunrooms are those you can enjoy while watching the falling leaves, snow, and rain. Modern window designs have made it possible for these rooms to remain habitable all year round. Although it may seem unconventional, a black sunroom design makes the most of the sun's heat while giving a stark contrast to the light colors outside. Whatever your aesthetic choices, consider how you might use the room in colder months as you choose your windows and doors.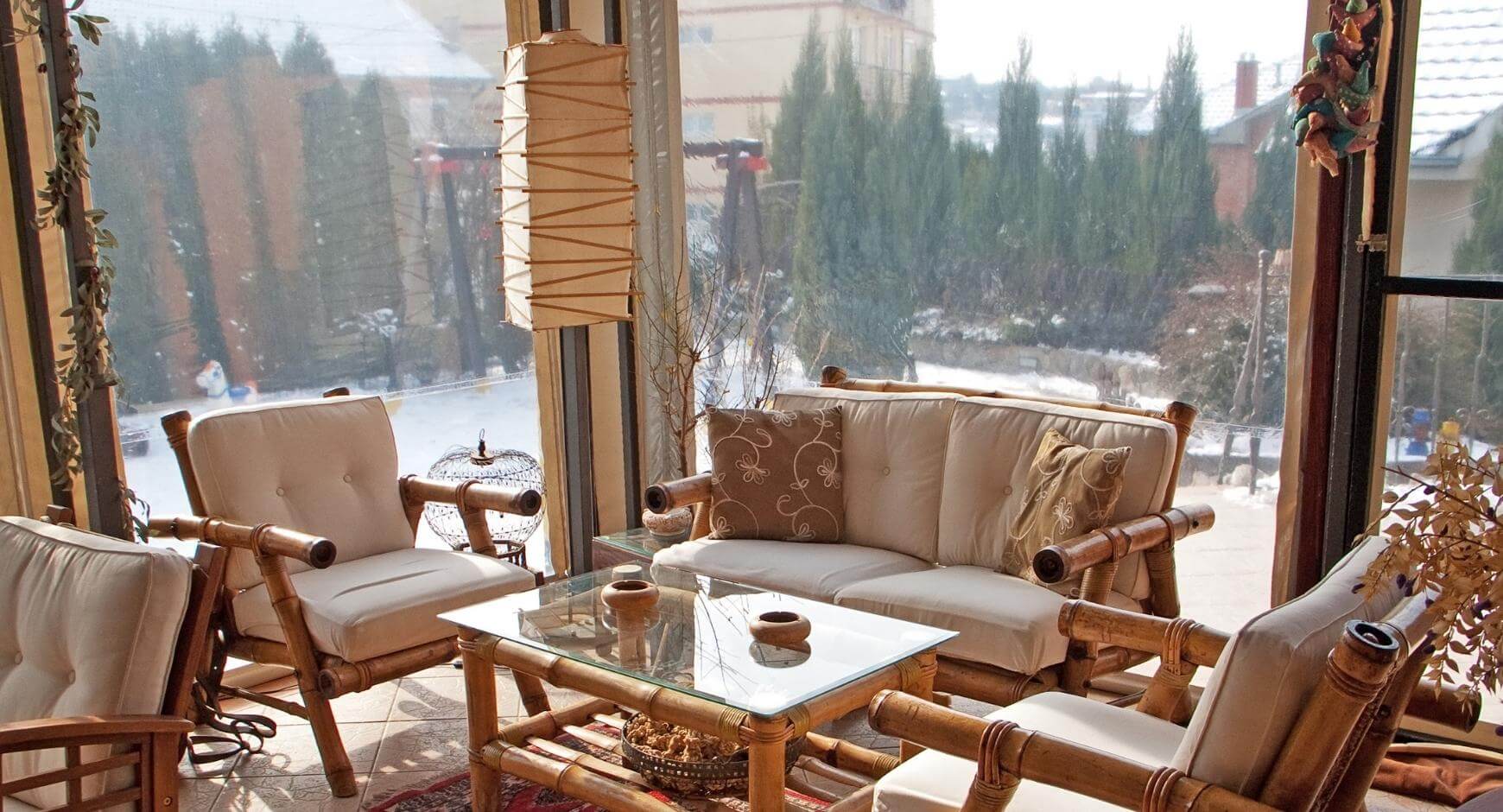 Get Creative with Textures and Materials
Modern sunroom ideas should reflect your personality and the atmosphere you like to create. There is no correct way to design and decorate, so try to create a space that you enjoy.
You can showcase your spirit through unique materials like paper lanterns and bamboo or get creative with the materials growing in your backyard. The variety of different materials and textures available to create with is endless, but here are a few of our favorites:
Repurposed timber decking
Chandeliers of found materials
Stone or wood slab coffee table
Explore Asher's Blog for More Great Home Improvement Tips and Advice
We hope that these ten modern sunroom ideas have given you some inspiration to create your own unique space. Whether you're renovating or starting from scratch, our experts are here to help every step of the way. Contact us with any questions you may have about windows, shades, awnings, patio doors, or any questions you might ask a contractor.
Since 1974, our family-owned company has worked with thousands of satisfied customers and has become one of the Eau Claire area's top choices for homeowners seeking exterior home improvements. For more expert home improvement tips and advice, explore our blog.