Gutter cleaning is never fun, but gutter protection solutions like Gutter Helmet and Leaf Guard make it easier to keep your home protected. But how do you know which is best for you? In this article, we'll take a closer look at a common comparison of Gutter Helmet vs LeafGuard.
While both options will certainly be an improvement over gutters with zero protection, adding gutter protection is a significant investment that's worth careful consideration. We're here to guide you with a comparison of gutter guard options, answering the question, "Which is better: gutter helmet or leaf guard?"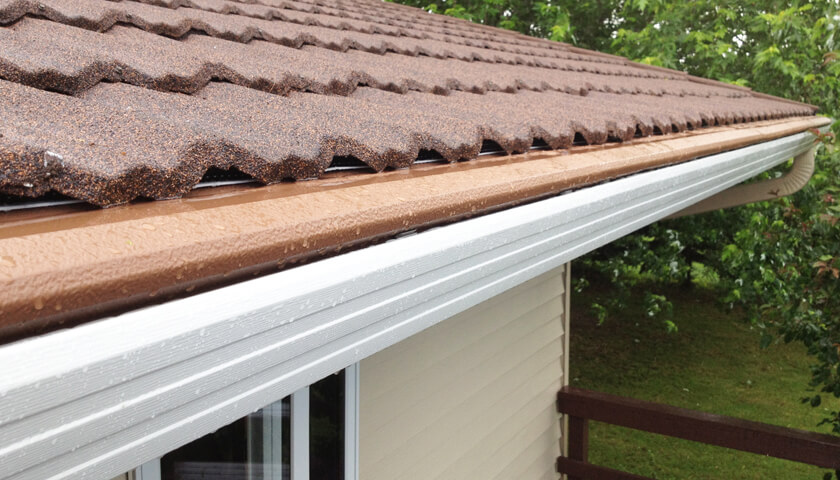 On the fence about gutter guards? Check out "Are Gutter Guards Worth It? A Guide to Gutter Protection" 
What Is A Gutter Guard?
Generally speaking, a gutter guard is an attachment or device that aims to prevent leaves, sticks, and other debris from accumulating in your home's gutter system. These guards can come in a variety of formats. Some designs are overhanging hoods that rely on surface tension to bring water in and keep debris out. Others use screens or micro-mesh screen systems to filter small debris from gutters.
Gutter Guard Benefits
While not the solution to every gutter-related issue, installing a gutter guard system and keeping your gutters free-flowing and clear of clogs can come with some significant benefits. This includes:
Minimizing Maintenance: It's recommended you clean guardless gutters at least twice yearly to ensure all accumulated debris is cleared. Gutter guards can greatly reduce or eliminate that need, which is welcoming news for anyone who dreads climbing ladders.
Limiting Rust and Corrosion: Gutters with blockages are likely to have pooling or standing water that can accelerate the rusting and corrosion of metal gutters.
Mold and Water Damage Prevention: Blocked gutters can and will lead to rainwater flowing into places on your home that are not equipped to handle it. This presents a major risk for mold and other costly water-related damages.
Pest Prevention: Bugs, mice, and other critters tend to hole up in and around blockages, and gutter failure-related damage can provide additional unwanted entry points.
Ice Dam Prevention: As winter temperatures fluctuate in colder climates, additional debris and blockages can make the proper flow of melting snow in your gutters impossible without the help of a heated gutter guard. This can lead to large and potentially damaging ice blockages.
Gutter Helmet Review: The Best Gutter Guard For Your Home
"Chris and Nick installed gutters and Gutter Helmet on our home in Chetek. They provided great attention to detail and provided an excellent result. They worked very carefully and made sure it was done correctly. They answered all my questions and are easy to work with. I would welcome them on any project. We are very satisfied with the project and would recommend this team for future work. Thanks!"
John, Satisfied Customer of Asher Lasting Exteriors
Gutter Guard Drawbacks
Gutter guard systems are not without drawbacks. While some of these drawbacks may depend heavily on the design, there are a few potential issues to keep in mind:
Price: Quality gutter guard systems will require a substantial financial investment that may not be feasible for all budgets.
Screen/Mesh Failures: Some screen or mesh-based guards have openings that still allow for bits of debris to accumulate and eventually cause issues.
Overconfidence: While a quality gutter guard system will drastically reduce your need for gutter maintenance, it's still a good idea to check your gutters to ensure water is flowing properly.
Compatibility with Surrounding Vegetation: There's a big difference between a pine needle and a maple leaf, and some systems may be better equipped to handle one or the other.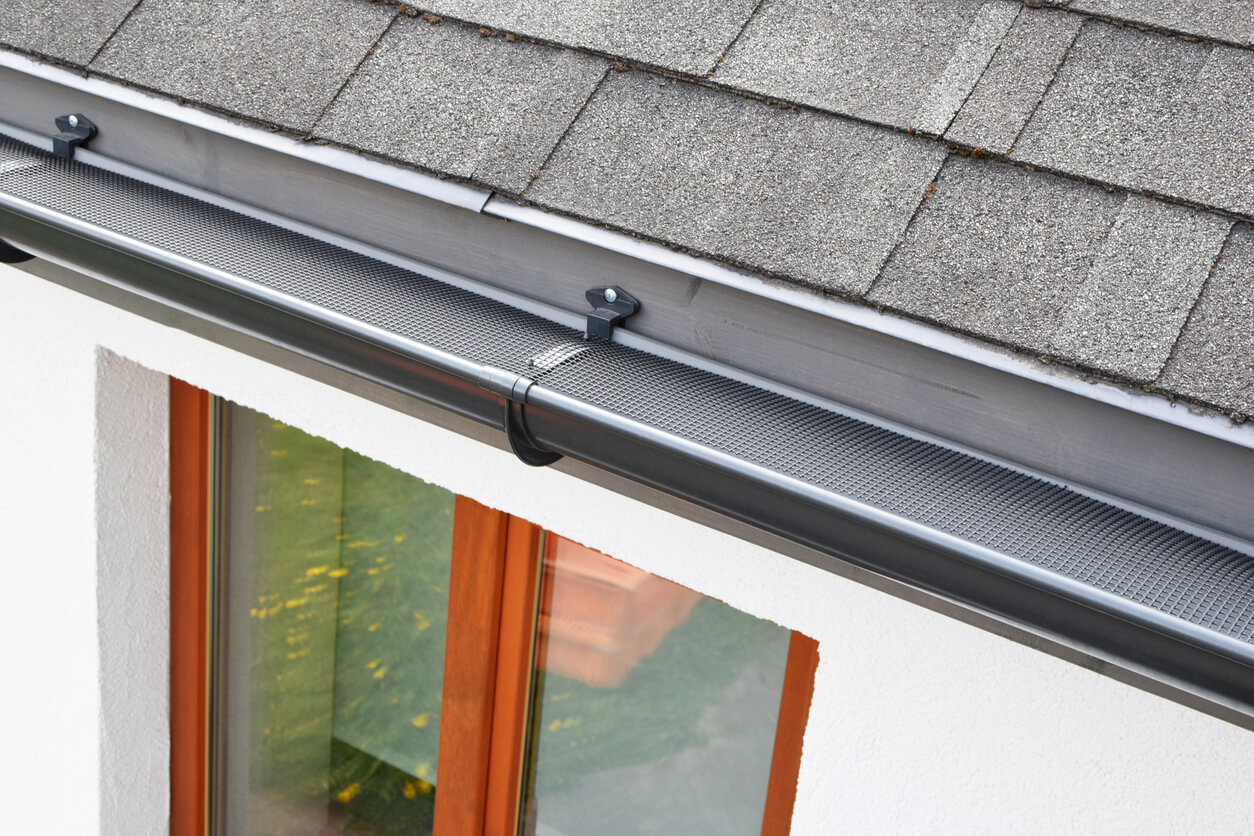 Which gutter guard is best for you? Check out our article on the 3 Best Types of Gutter Guards.
What Is A Leaf Guard?
LeafGuard is a brand of gutter guard that uses an overhang design that relies on surface tension to keep water flowing into your gutter and keep debris out. This system is made from aluminum and uses a durable one-piece design.
LeafGuard Benefits
LeafGuard is a quality gutter guard option with several benefits that go beyond the general benefits of a gutter guard outlined above. Some of the highlights include:
Shield/Overhang Design: Completely covers your gutters with no potential screen or mesh failure.
Customizable: LeafGuard systems can be built to match the exact specifications of your gutters.
Sturdy Design: A one-piece design reduces the number of potential installation failure points. Materials are thick and well-supported.
Guaranteed to Never Clog: LeafGuard manufacturer claims their system will never clog for as long as you own the home.
LeafGuard Drawbacks
While a quality product, LeafGuard gutter protection systems do have some potential drawbacks you should be aware of:
All-in-one System: While LeafGuard's all-in-one system eliminates compatibility issues, it also requires you to replace your existing gutter system, as it can't just be added on.
Installation: While not always applicable, the LeafGuard system uses additional mounting supports that may require professional installation.
Custom Fitting, Custom Costs: LeafGuard's systems are built to fit your home's exact specifications, which can add to the overall cost.
Availability: These built-to-order systems may not be as readily available for timely projects.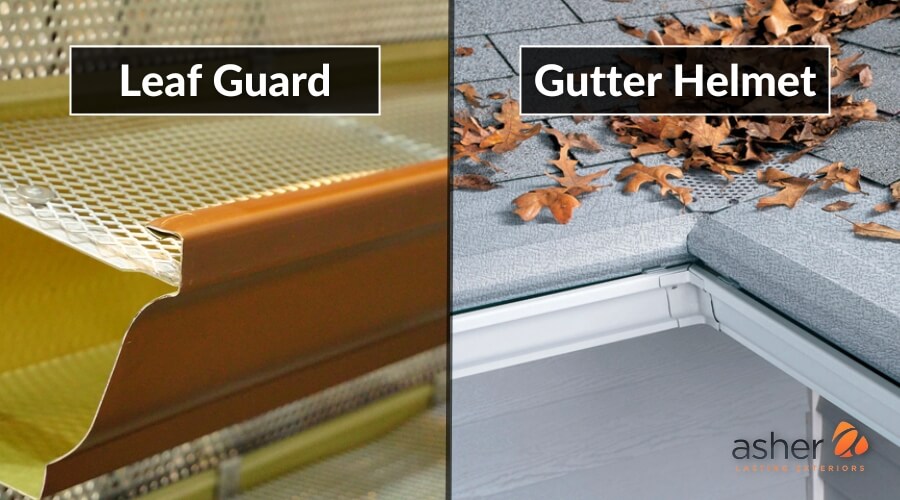 Support matters for your gutters. Learn more about the seven potential gutter hanger types for your home.
Leaf Guard VS Gutter Helmet
When comparing gutter guard systems, the Gutter Helmet vs. LeafGuard debate is hard to avoid. There's a lot to like about these seemingly-similar systems, but it can help to break down their similarities and differences head-to-head in more detail.
Leaf Guard VS Gutter Helmet: Similarities
There's a fair amount of overlap, so let's start with what these two premium gutter guard systems have in common:
Overhang/Surface Tension Designs: Both systems' designs use surface tension to wick away debris while also collecting rainwater for proper routing and drainage.
Quality: Gutter Helmet and LeafGuard both use aesthetically pleasing, high-quality components that are built to last.
Price: While the details of the Gutter Helmet's cost and LeafGuard's price will vary depending on factors like the size of your home, the angle of your roof, and ease of access, both the leaf filter vs gutter helmet price will come with a higher-end price point.
Maintenance: LeafGuard and Gutter Helmet systems are low maintenance and will drastically reduce your need for overall gutter maintenance.
Leaf Guard VS Gutter Helmet: Differences
Despite their similarities, Gutter Helmet and LeafGuard systems do have some small but important distinctions to keep in mind before making a purchase.
Installation: LeafGuard systems require supports in two-foot intervals. While that may provide peace of mind for stability, this requirement can also raise installation costs for some homes.
Custom-fitting: LeafGuard's built-to-order approach minimizes seams, but this can also have a negative impact on the availability of materials.
Existing Gutter Compatibility: Gutter Helmet systems are able to be attached to your home's existing gutter components, while LeafGuard's all-in-one system does not offer this compatibility.
Gutter Helmet VS LeafGuard: Which To Choose?
So which is better: a gutter helmet or a leaf filter? Choosing a gutter guard system isn't an easy decision. Both Gutter Helmet and LeafGuard products can be seen as worthwhile investments into your property as well as your peace of mind. That being said, some considerations tend to make Gutter Helmet the top option for gutter protection.
Gutter Helmet's compatibility with existing gutter systems eliminates the need to remove a perfectly fine (aside from the potential to clog) established system. If you've recently purchased gutters for your home, removing them for LeafGuard's all-in-one approach can feel a bit like throwing the baby out with the bathwater.
Additionally, the installation process for Gutter Helmet tends to win out. Gutter Helmet's approved technicians can quickly and securely install this system without the potentially long waits for custom-built components. Additionally, the Gutter Helmet has heavy-duty mounting brackets that will keep it secure for years to come.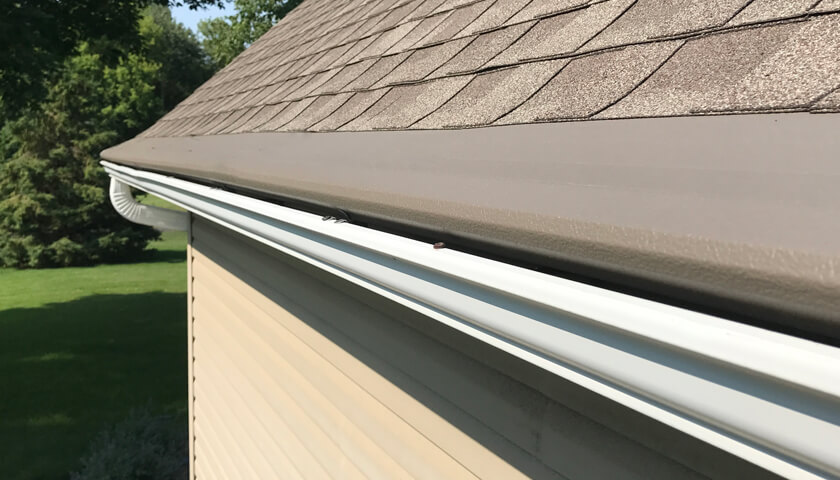 Asher Can Install Your New Gutter Helmet For Gutter Protection
Choosing the right gutter guard system for your home requires some careful consideration before making a purchase. Now that you know more about the similarities and differences between a Gutter Helmet vs Leaf Guard gutter protection system, it's time to give your ladder a break and talk to a professional at Asher Lasting Exteriors.
Our knowledgeable staff can help walk you through the estimate and installation process with a free consultation so you'll have a clear understanding of the cost of a Gutter Helmet and installation timelines. Visit the Gutter Helmet page to learn more about the product and book your free consultation.