Your front door is the first impression you'll be making on guests coming to your home, so it needs to be beautiful and functional. Learn about the best exterior door brands and options to find the perfect front door for your home. 
A great front door is not just for curb appeal; it can also save on energy and help your home resist harsh weather. A new front door installation is one of the most impactful ways to update the front of your house, along with landscaping and adding fresh paint.
It's also one of the easiest home renovation projects with a high ROI, so — according to the National Remodeling Cost vs Value Report — you may see as much as 60% of your investment returned to you. All this adds up to make replacing your front door a no-brainer. All that's left to do is decide on a doorway.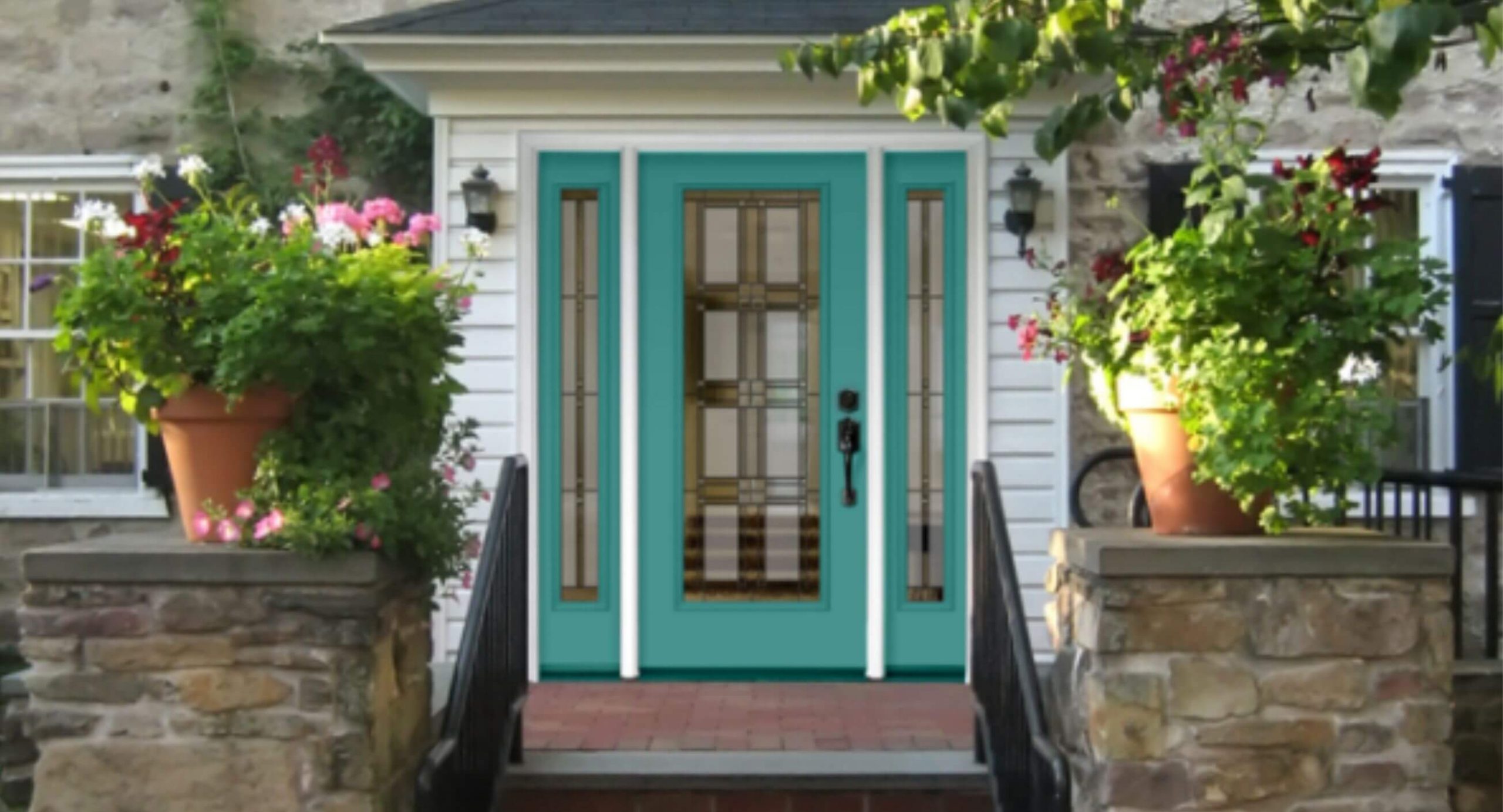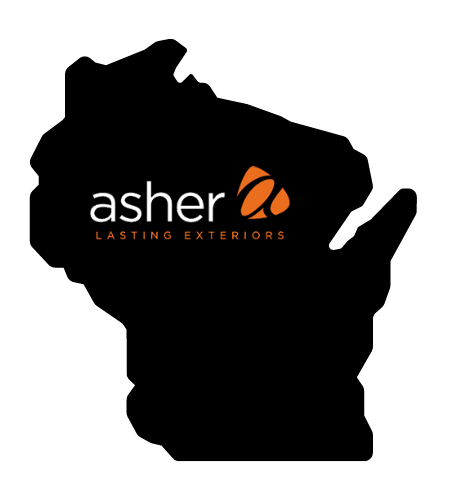 Visit the Asher showroom in Eau Claire, WI, to see our beautiful collection of front doors for yourself.
What Makes an Ideal Front Entry Door?
The best exterior doors are well suited to a home's design, architecture, and climate. A large part of what makes an ideal front entry door will depend on your own preferences for style and curb appeal.
For example, a home entrance door can blend seamlessly into the siding and trim or stand out completely with a bold color or material. For a traditional look, use solid wood, or for a modern design approach consider brightly painted fiberglass, like the door featured above.
But style isn't just about looks – it's also about your lifestyle and the function your door serves. When looking for the perfect door to fit your style, keep in mind your need for weather resistance and energy efficiency. You can stay cozy inside and cut costs with a fresh weather seal. The ideal front entry door has:
Energy efficiency
Weather resistance
Curb appeal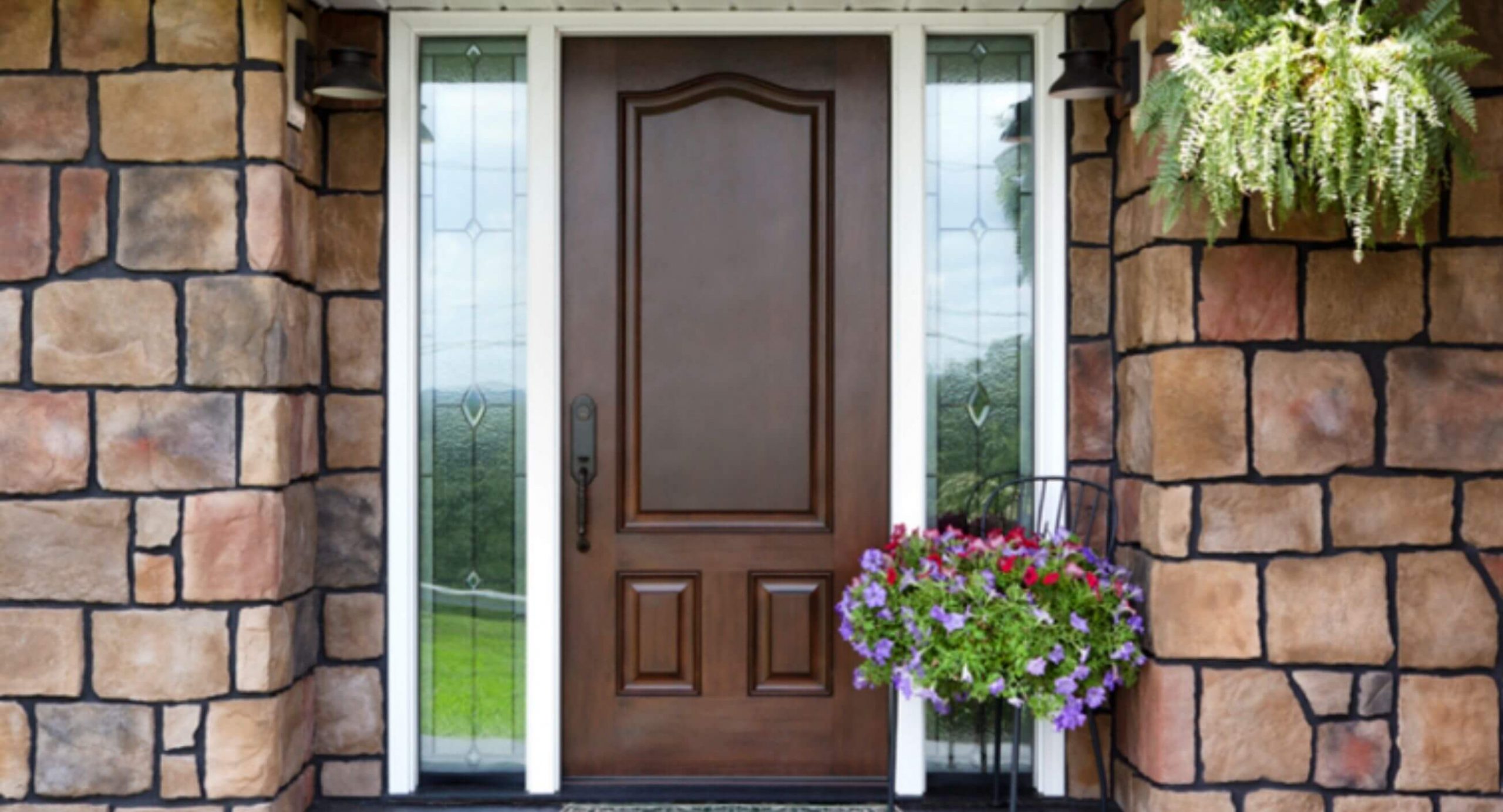 3 Best Entry Door Brands
Today's door market has grown to include many door brands, each with varying quality, style, and cost. Navigating the market can be pretty tricky, so we've taken the three best door brands and broken down what makes them stand out among the rest.
There are a few essential considerations to make when deciding which of these brands is right for you. Keep in mind the style you prefer for a home entrance door, your budget, and installation time.
Provia Doors 

The best door manufacturers are the ones that keep your home safe and secure in any weather. Provia has been making high-quality doors for the past 40 years. It boasts some of the best door reviews in the industry.
Provia offers doors in fiberglass and steel. While some companies also offer wood, Provia doesn't because wood requires a whole lot of maintenance to remain an acceptable front door year after year. The company has chosen to focus on fiberglass and steel because they're the sturdiest materials for a truly dependable front door and can be made to match any style.
Another reason that Provia is the best in the industry is that it offers customers a lifetime limited warranty on doors. If a company is willing to warranty their products against material or building defects or failure, that's a brand you can trust. Whether your front entry door ideas involve simple single front doors or double front doors with glass, Provia has a door to complement and protect every home.
What Sets Provia Apart?
Provia offers the highest quality front doors available. The Embark series of fiberglass doors offers the best energy efficiency on the market, featuring a dual perimeter seal, insulation channels, and a custom bottom sweep to keep out unwanted elements. The key features of Provia doors include:
The highest energy efficiency ratings
Excellent warranty coverage
Beautiful designs in fiberglass and steel
Realistic wood grain textured fiberglass
Customer Experience with Provia Doors
Holt, David C., and Brady R. did an awesome job installing my new French patio door. They did beautiful work, and I am super happy that I finally was able to replace my old patio door. If I need new windows in the future, I will be using Asher again.
Christine Myers, Asher Lasting Exteriors Customer
Pella Doors
Pella has been continuously innovating and expanding its line of doors since 2000. The company offers doors in fiberglass, steel, or wood.
You also have the option to pre-finish a door with paint or a stain that can make a fiberglass door look like wood. Fiberglass with a wood-inspired finish is a great option if you want the energy efficiency of fiberglass with the look of natural wood.
What Sets Pella Apart?
The craftsman-style entry doors Pella manufactures are one of a kind. They are sturdy with a classic design that can be adapted to fit any aesthetic. Pella warranties all of its doors and offers expert certified installation. Pella's key features include:
Options for wood, fiberglass, or steel
Realistic wood finish on fiberglass
Certified installation and warranty
Jeld-Wen Doors
Jeld-Wen has grown into a worldwide door brand since its founding in 1960. The company's early success has allowed it to grow its manufacturing base at the same rate as its expanding product lines.
Jeld-Wen exterior doors are available in wood, fiberglass, or steel with options for a glass panel, all panel, or Dutch panel finish. Compared to Pella, Jeld-Wen entry doors are slightly less expensive but offer equal quality and variety.
What Sets Jeld-Wen Apart?
Unlike Pella, Jeld-Wen doesn't offer installation services, which means you'll have to find a trusted company to install these doors. However, you can see significant savings up-front because you can buy Jeld-Wen doors directly from big box stores. Other key features of Jeld-Wen doors include:
High energy efficiency ratings
More affordable styles and options
Architectural fiberglass doors offer beauty and brawn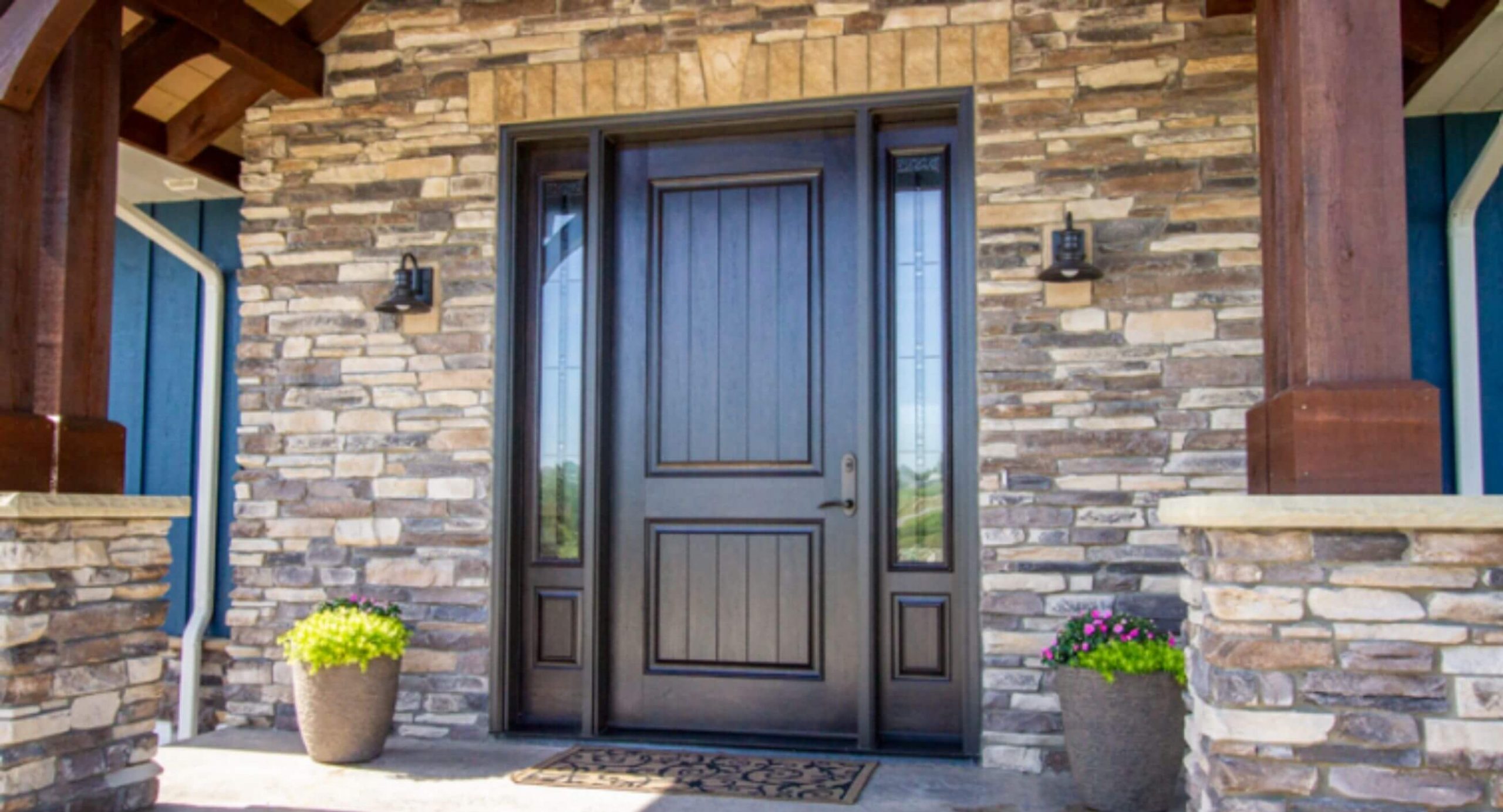 Front Door Options: Materials and Features
The best front door manufacturers will all have several materials and features to choose from, so deciding on your door brand name can be a useful first step. Then you can dive in further to find the exact look you want for your house front door.
Materials 
The materials you choose for your front door will influence its look, longevity, and weather resistance.
Fiberglass and steel are the most popular because they hold up better to weather, denting, scratches, and require less maintenance. Wood doors offer a beautiful traditional look but require regular repainting or varnishing to look their best. While Pella and Jeld-Wen offer all three materials, Provia specializes in only fiberglass and steel doors.
Fiberglass: A perfect choice for most people, these doors are affordable and hold up to wear and tear better than steel. They come in smooth and woodgrain finishes that can be painted or stained and require little maintenance.
Steel: Nearly half the market is made up of steel doors, as they are inexpensive and offer comparable energy savings to fiberglass doors. Though they require little maintenance, dents and scratches are harder to fix than they would be on fiberglass doors.
Wood: The elegance of wood can be mimicked in other materials, but nothing compares to the real thing. Wood doors resist wear and tear as well as fiberglass, and dents and scratches are easy to fix. However, they do require yearly maintenance to look their best.
Features 
No matter the material, the front door is more prone to cracks and heat loss when combined with glass panels. If you want the best of both worlds, a front door with side windows is a good alternative. This allows for plenty of natural light while maintaining the energy efficiency and weather resistance of a solid door.
There is an endless number of ways to combine doors and windows to create something perfectly suited to your home.
Sturdy Construction: Resistance to weather, denting, and scratches will keep you from having to replace your door too quickly. A quality door will also improve your home's security by eliminating the weak points an intruder might check first.
Energy Efficiency: Steel and fiberglass doors are typically more efficient than wood, but the main heat loss in a doorway is the area around the door, and not the door itself. Provia's Embark series is a leader in efficiency because it creates a complete seal around the edges of the door.
Design Options: While adding glass panels may lessen your energy efficiency, the added natural light is a fair trade-off in most climates. Your front door's design is a great way to express your creativity in your home without breaking the bank.
Hinged vs. Slab: A slab door is the main rectangular piece that you can install directly on your existing hinges. A hinged door comes with the frame and hardware needed to install it to the frame of your house and generally has a tighter seal around its edges.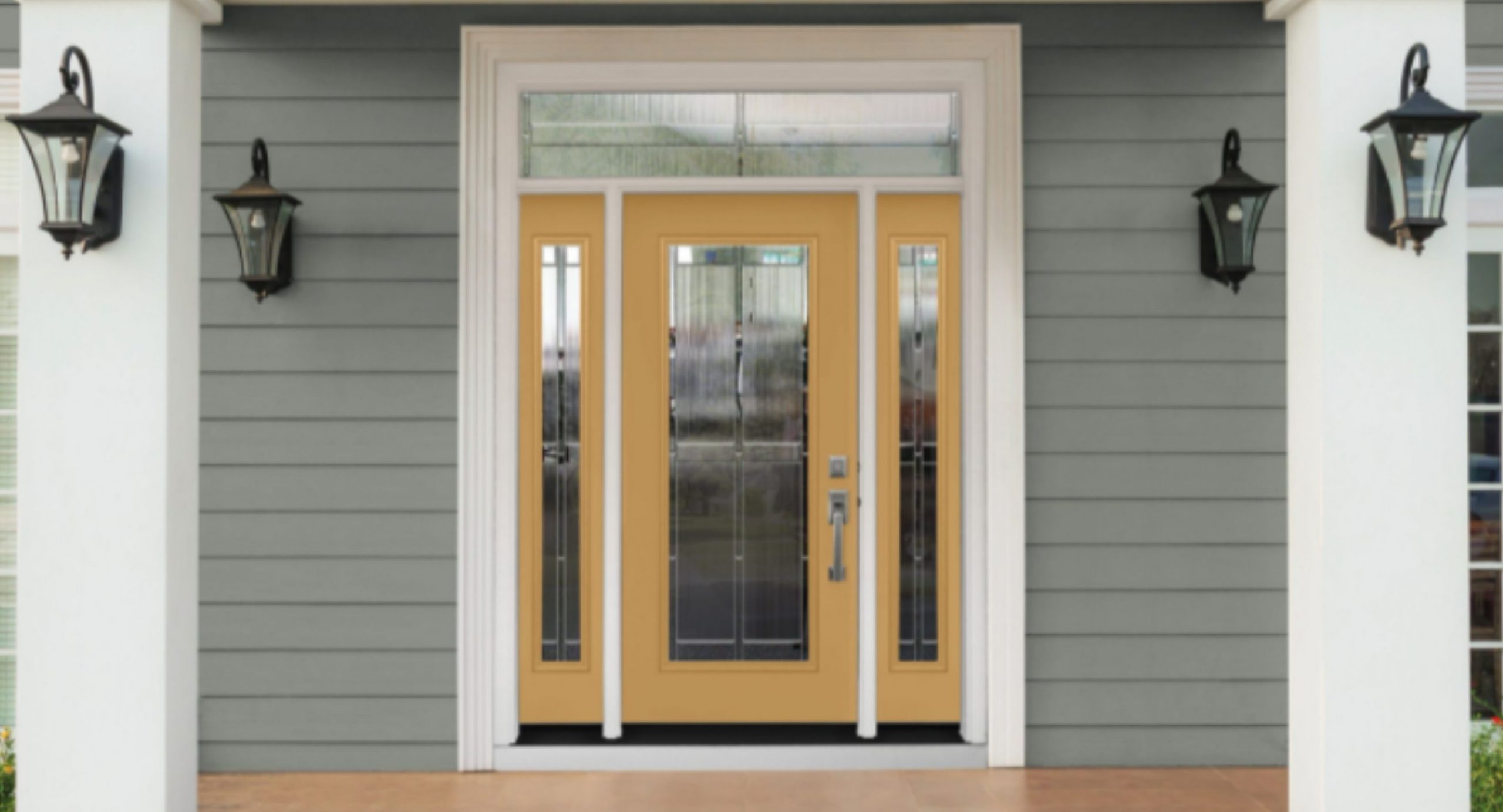 When Is It Time for an Entry Door Replacement?
If you can feel the cold seeping through your main entryway, you may be wondering if it's time to replace your front door. The best door companies can come to your home and give you an estimate on your potential energy savings with an entry door replacement.
We suggest using one of the best entry door brands, like Provia, to get the most mileage and savings on your new door. Here are a few more tips to help you find out when you might need an exterior door replacement.
If your door is hard to open, try rehanging it before getting a replacement.
If you find rust, that means moisture is getting in, and you should replace your door soon.
If you feel a draft, try adding weather strips or sweeps before deciding on a new door.
If your door is cracking or warping due to weather, you should consider replacing it soon.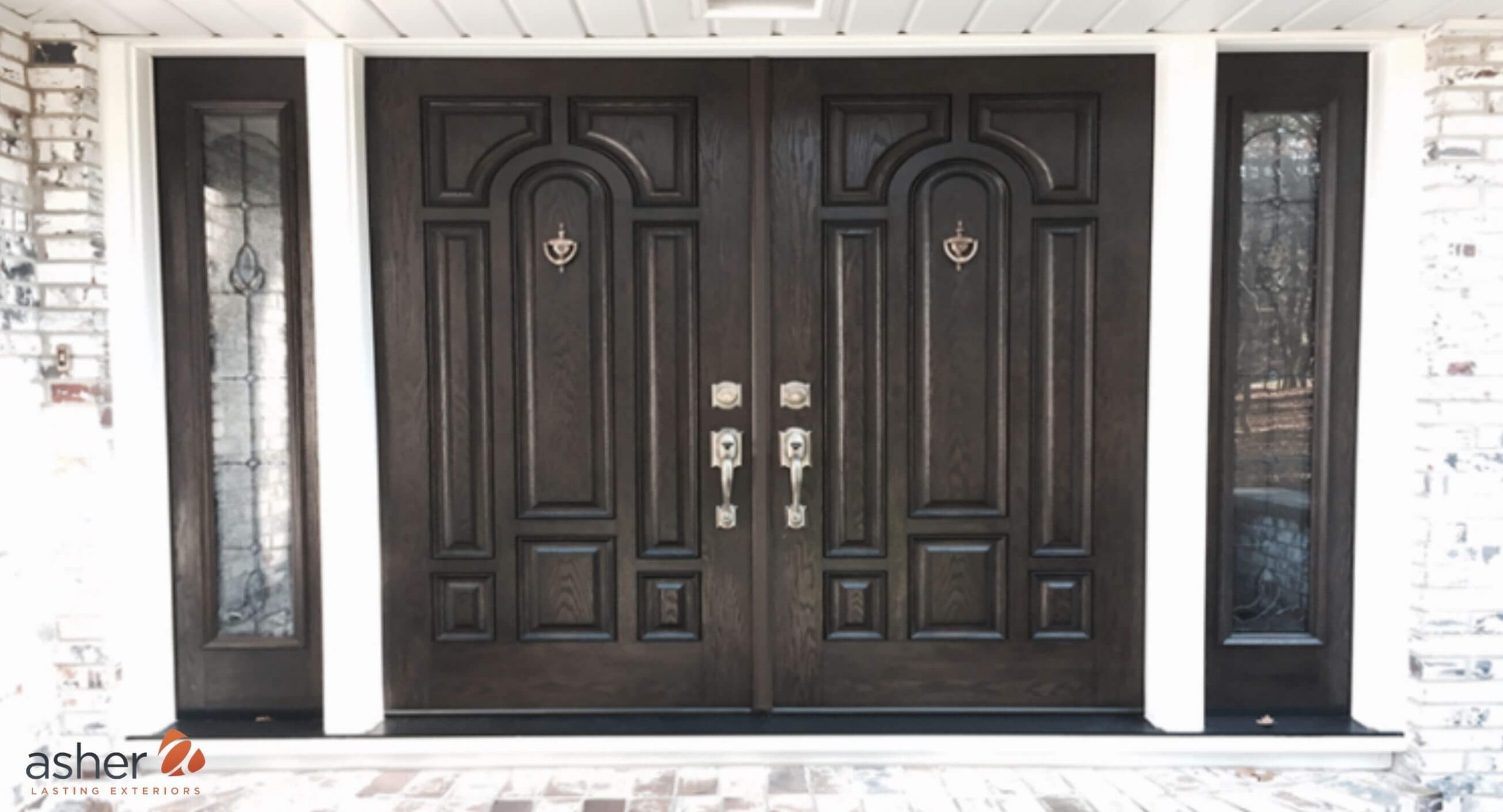 Explore an Amazing Selection of Provia Front Doors at Our Showroom
Entry doors must stand up to extreme heat, cold, snow, and rain, all while welcoming friends and family into your home. Exterior front doors can completely change your home's style and appearance, which means choosing a front door replacement may be a bigger decision than you realized.
At Asher Lasting Exteriors, we do high quality work in our local communities across Wisconsin. That's why we only carry Provia brand entry doors. Contact our home exterior experts to learn more about Provia home entry doors today. For more home exterior tips and guides, visit our home improvement blog.