Since purchasing your home, have you been envisioning sweeping views of your property or neighborhood through a panoramic window that floods the room with natural light? Bay and bow windows are perfect for this, but how do you choose between a bay vs. a bow window?
Bay and bow windows are very similar to one another. Yet, there are a few key differences in their design and functionality that may make one better for you than the other. See the details below for further information on what distinguishes a bay window vs. a bow window.
Bay vs. Bow Windows: Are They The Same Thing? 
At first glance, bay and bow windows appear to be virtually the same thing to most people. Each of these window styles extends outward from the home with a gradual curvature that peaks in the middle, allowing the viewer to get sweeping views of the land and let more light inside. Still, they're not the same thing, and neither is perfect. For one, either a bay or bow window can develop structural issues, depending on the size and installation area (flat surface or corner). Size also influences the price since an extra-large bay window will cost much more than a small, compact one.
Long story short: bay and bow windows are closely related – yet very different window styles – that come with many pros and cons. Either may be perfect for your home. It just depends upon your wants and needs.
What is a Bay Window?
So, what is a bay window? It's a window that usually projects 13-19″ out from the house and consists of two small or moderately sized, operable window panes and one large, permanently fixed pane in the center. The center window is 50% bigger than the other two, which sit at 30° or 45° angles to the wall.
What is a Bow Window?
Now, what is a bow window? A bow window is composed of several window panes (typically 4-6) identical in size and shape. The panes all sit at 10° angles, giving this style its signature gentle curve. Most bow windows project 4-24″ from the wall.
Key Differences Between Bay vs. Bow Windows
Given their curvatures and how they protrude from the house, bay and bow windows look very similar. However, a closer look will help you identify whether you see a bay window or bow window:
The window panes: Bay windows typically contain three window panes only, with the center pane being 50% larger than the adjacent panes. Bow windows have more window panes (4-6) that all have identical dimensions.
Angle of installation: Bay and bow windows differ greatly in the specifics of the curvature. Since there are only three panes in the bay window, bay window angles include 30° or 45°. Bow windows are normally at 10° angles.
Distance of projection: Some bow windows can extend 24″ from the wall, while the average bay window reaches 19″. Bay windows often extend further than bows, but there are different sizes and dimensions available for each.
Understanding Cost Differences
Installing a window of any kind is a pricey investment. This is why, before committing to either a bay or bow window, you should consider the necessary material (i.e., Fibrex ® hardware encasing the windows, type of glass, etc.), number of window panes, the window's size, and desired installation area in your home.
Still, how much does a bay window cost? Generally, bay and bow windows tend to be significantly more expensive than flat windows because you're paying for several windows at once (each pane is a separate window).
You can generally expect to pay $150 per single window installation. With that said, additional factors may increase or decrease that price, such as labor, clean-up, and disposal.
Bay Windows: Styles, Pros, Cons, and Options
Bay windows are an appealing window style for homeowners who want to open up their home interior with a beautiful geometric angularity that compliments a modern house's exterior. Here's a look at some of the most popular types of bay windows to give you an idea of what might work best for your home.
Types of Bay Windows
Bay windows come in various forms that can greatly enhance the aesthetic and monetary value of your home. The bay window styles below are popular additions to properties across the nation.
Box Bay Windows
These types of bay windows have a rectangular shape, making the window appear very "boxy." These usually have a roof (also known as a "bay window awning") and are flat on the sides and front, making it an excellent kitchen window. Expect to pay around $500-900 for a box bay window.
Casement Bay Windows
If you opt for casement windows as the side options in your bay window, you can open the two side windows outward with a crank. (So, if you've ever wondered, "do bay windows open?" rest assured that they can.) You might pay $250-500 per window when installing a bay window with a casement window.
Double Hung Bay Windows
A double-hung bay window has two operable sashes, making them the best option for rooms that require high levels of ventilation. Double-hung bay window prices have a wider range than most others, starting at lows of $250 and reaching $3,000, depending on the material, size, and design.
Corner Bay Windows
A corner bay window is installed on the corner of the home. This can be pricey, as this is more difficult to install.
There is no specific range for a corner bay window cost of installation since this depends heavily on the extent of structural support (i.e., steel cables, braces, etc.). The window requires and the material of said support.
Bay Window Options
There are several options available for bay window installation. Remember, since the two side windows can open, there is greater potential for functional versatility with each customization option, unlike bow windows.
The options below include major elements that Asher can customize to your liking, whether you have a double-hung, casement, or another type of window:
Window Type: Asher offers three types of high-performance glass that can be installed in the style of a casement, double-hung, or fixed window. Your preferred style influences both functionality and price.
Angle: Asher can install the side panels of a bay window at 30° or 45° angles.
Color: Asher offers several options from the Renewal by Andersen color palette. Black trim is great for contrast on white modern home exteriors, but earthy colors like oak and maple are the most versatile.
Hardware: There is a wide selection of hardware colors available as well. These should follow the same color scheme as the trim and overall house. Finer details, such as an antique, distressed, or polished finish depending on whether you aim for a rustic style, modern minimalism, or another design.
Shape: Bay windows are typically quite angular, which is more evident from the bay window outside view. However, you can have them customized to achieve a less boxy or rectangular appearance or lean into it with a box bay window.
Pros of Bay Windows
Bay windows aren't just great for improving your home's aesthetic. They are practical additions to your home as well. The benefits listed below will clue you in on just how beneficial a bay window can be to your home.
The expansion offers more floor space for seating or storage
Increases the amount of sunlight flowing into the house
Casement and double-hung windows improve ventilation
Creates a more open layout in a room, even in small spaces
Boosts your house's curb appeal and market value
Cons of Bay Windows
Despite how wonderful these windows are in terms of their visual quality and functionality, there are a few drawbacks to be aware of. These include:
Developing structural weaknesses over time
Without Asher's high-performance glass options, the larger window can heat the house in the summertime.
May require custom drapes
Bow Windows: Styles, Pros, Cons, Options
Bow windows are just as popular as bay windows, but for different reasons. These windows reflect historical eras' architecture and are more closely associated with authority and distinction, given this window's place in the Oval Office. Below are some bow window styles you might enjoy in your home.
Types of Bow Windows
Bow windows are available in many different styles; unique advantages for the household distinguish each. Here are some of the most popular types (all bow window prices are roughly the same as above).
Casement Bow Windows
Bow windows can also feature casement windows in the design. In fact, it may be better to have windows that can open and close with this style since bow windows typically have four or more panels. This provides significantly more ventilation than you would get with a flat or bay window.
Double-Hung Bow Windows
These windows feature two sashes that can be opened or closed to maximize the room's ventilation. Since bow windows have four or more windows, this is an excellent choice for large areas like living rooms.
Corner Bow Windows
Corner installations are significantly more common for the modern bow window than a bay window. Their curvature is much more conducive to the panoramic view that many are looking for with a corner design, thanks to the higher number of window panes.
Bow Window Options
Bow windows tend to be more complex in their design and installation than bay windows. Although they lack two operable side panels like those in a standard bay window, they can still boost a room's sunlight and ventilation with the right set-up. Here are some of the most important factors to consider:
Windows: Most bow windows consist of 4-6 individual windows. These can be fixed or operable, depending on your needs. Fixed or casement windows are very popular, as they offer the most aesthetically pleasing and simplistic design.
Colors: Bow windows tend to be used as design pieces instead of purely functional home architecture. If this is the case for you, bold color like dark bronze, forest green, or red rock is perfect.
Hardware: Since bow windows are more connected to the Victorian era, you might want to embody that design period in your hardware choices. Antique, distressed, or oil-rubbed brass and bronze are great for this look.
Shape: Bow windows are known for having a much stronger curve than bay windows. However, you can customize the shape of your window with Asher's window experts.
Pros of Bow Windows
Bow windows can add so much to your home in terms of functionality, aesthetics, and market value. Here are some of the specific benefits you'll reap with an Asher bow window installation.
High-performance glass improves energy efficiency in your home
The high number of windows allows for gorgeous panoramic views of your property and neighborhood
Option to include several operable windows for maximum ventilation
The curvature achieved by the high number of identical windows is great for Victorian-style architecture
The high number of windows allows a significant amount of light into the home
Cons of Bow Windows
As wonderful as they are, bow windows might not check all the boxes for you and your home. Here's a look at this style's weaknesses to give you a more thorough understanding:
Requires more complex installation
These are usually not as wide as bay windows, which can minimize their effect.
More windows can lead to more possible vulnerabilities and structural weaknesses.
Bay vs Bow Windows: Find Your Home's Perfect Design with Asher Lasting Exteriors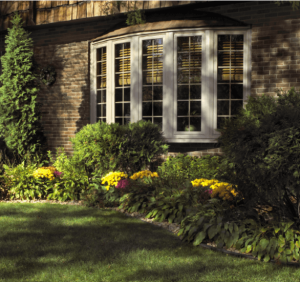 Bay and bow windows are a trendy yet timeless window design option that can boost your home's aesthetics and market value. The expansive windows will open up your interior space, allowing warm natural light to flood into the room. This factor alone makes these windows excellent choices for study rooms, reading nooks, or large entertainment spaces.
With Asher's window installation services, you can be confident that your new window will last for decades, improving your home's energy efficiency and ventilation. Whether you're building a new home or remodeling your current home, bay and bow windows add unique elements of beauty and comfort to any room.
At Asher Exteriors, our talented team of remodeling professionals gets the job done right every time. From new windows and doors to gutters and outdoor structures like solar screens, sun structures, and retractable awnings, we do it all. If you're ready to upgrade your home, contact us today.