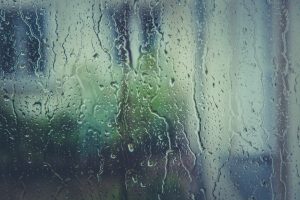 There's nothing better than finding shelter in the calm sanctuary of your home, especially during a thunderstorm. But if you're noticing rain leaking from your windows, you might not feel as safe and protected from the outdoor elements.
A popular question we hear from customers is "why are my windows leaking?" The answer can vary, but over time, windows weaken with age. And without regular inspection and required maintenance, other elements that help support the foundation of your window (e.g. frame, caulking, sealant, etc.) can wear out as well, leaving your windows more vulnerable to water damage and mold. 
Top 3 Reasons Why Your Windows Are Leaking
Older Windows:

If you've recently purchased an older home, or you've had the same window fixtures for decades (i.e. 20 years), it's more than likely you're experiencing water leaking issues and noticing signs of rotting or damage on your window frames. 

Poor Filtration System:

Your home's rain gutters help protect your yard, foundation, and basement from leaks and water damage. However, if your current filtration system is damaged, rusting, or overflowing, it can cause concentrated amounts of water to pour over your windows. And over time, your windows' sealant may weaken and fail to block incoming water, which may create cracks in the exterior lining, where water can enter into your home. 

Poor Exterior Molding

: Windows experience a lot of wear and tear throughout the seasons, and over time, your exterior casing may begin to crack or loosen, creating entry points for rain and moisture to seep in and cause damage.  
How Do You Stop a Window from Leaking?
Depending on the condition of your windows and how water is getting in, a simple repair may do the trick! However, if your windows are outdated, showing early signs of decay, or causing your energy bill to increase each month, a professional window replacement may be the best option! 
At Asher Lasting Exteriors, we proudly offer a full range of Renewal by Andersen® replacement windows to suit your home's needs, architectural structure, and budget. Whether you're noticing leaking from your bow or bay window, double-hung windows, or specialty windows, you can find the support and professional replacement you need to keep your exterior spaces protected and prevent water damage inside your home. 
Home Window Replacement Companies Near Me
Trust Asher Lasting Exteriors for high-quality windows replacement services. Our trained technicians will equip your home's windows with quality brand name products and professional installation services, so you never need to worry about leaking windows disrupting your home's tranquil setting. Request a free quote today, or schedule a tour of our showroom to view samples. 
We look forward to helping you with your window replacement needs!